Route to Resilience for Drinking Water and Wastewater Utilities
On this page: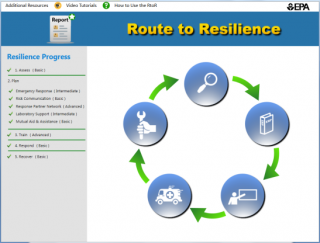 ---
EPA's Route to Resilience Tool (RtoR) uses brief videos to guide users through the process of building their own unique Roadmap to Resilience.  The RtoR presents five stops along the "Route" (Assess, Plan, Train, Respond, and Recover) where utility personnel learn what it means for their utility to be resilient, and what tools and resources are available for their utility  to become resilient. 
---
To run EPA's Route to Resilience, the following minimum system hardware and software requirements must be met.
Operating System: Windows 7 (64-bit)
Microsoft Office 2007
Other software: Adobe Acrobat Reader (or Adobe Acrobat Professional)
Disk space: 730 MB
---
Closed captioning of the tool's videos is available, select the appropriate link below:
Download the Route to Resilience Tool
Download the Route to Resilience Tool (with closed captioning) 
After downloading EPA's Route to Resilience:
1. Open the setup file (RtoR_StandradSetup.exe or RtoR_CaptionsSetup.exe) to launch the installer.  If there are any security settings on the machine, click "Run" when prompted.
2. Click "Next" on the following two screens to begin installation.
3. On the "Ready to Install the Program" screen, click "Install".
4. When the installation is complete, click "Finish".  The tool is now installed.