Route to Resilience for Drinking Water and Wastewater Utilities
On this page: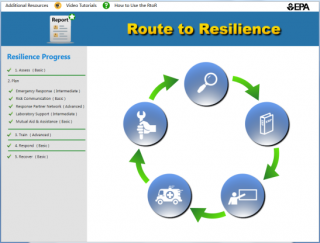 ---
EPA's Route to Resilience Tool (RtoR) web application uses brief videos and an easy to navigate interface to guide users through the process of building their own unique Roadmap to Resilience report.  The RtoR presents five stops along the "Route" (Assess, Plan, Train, Respond, and Recover) where utility personnel learn what it means for their utility to be resilient, and what tools and resources are available for their utility  to become resilient. RtoR contains the Roadmap report, which includes America's Water Infrastructure Act (AWIA) water sector related products. 
---
To run EPA's Route to Resilience, an internet connection and a standard web browser is required, such as Firefox, Chrome, Edge, or Safari. The RtoR web site also requires that cookies are enabled within your browser.
---
The RtoR tool has options for both closed captioned and uncaptioned videos. We recommend making your preferred selection as you watch the Introduction video. This selection will be saved for all future videos.