The WaterSense Current: Fall 2017

Issue XLIV
In This Issue:
Saving Water Together: These Partners Lead the Way
Over the past decade, nearly 2,000 WaterSense partners have come together to save consumers and businesses 2.1 trillion gallons of water and more than $46.3 billion in utility costs. At the WaterSmart Innovations Conference and Exposition in Las Vegas on October 5, 2017, WaterSense recognized partners that have gone above and beyond in their commitment to pursuing the environmental and economic benefits of water efficiency.
Seven WaterSense partners demonstrated their sustained commitment to WaterSense's mission in 2016:
Athens-Clarke County (Georgia) Public Utilities Department Water Conservation Office (WCO), a two-time WaterSense Promotional Partner of the Year and previous Excellence Award winner, held 126 interactive programs promoting water efficiency to nearly 9,000 participants. During Fix a Leak Week, WCO partnered with a local hospital to replace the facility's 140 showerheads with WaterSense labeled models.
Cobb County (Georgia) Water System, a five-time Promotional Partner of the Year, earned its first Sustained Excellence Award by participating in every WaterSense campaign in 2016. During Sprinkler Spruce Up, its "Inspect, Direct, Connect" program encouraged residents to find and fix irrigation system leaks. Cobb County volunteer ambassadors educated more than 13,000 residents about WaterSense and water efficiency.
Delta Faucet Company, a three-time Sustained Excellence Award winner, donated WaterSense labeled showerheads and faucets to local plumbers supporting clean water efforts in Flint, Michigan. Delta also held 35 eLearning courses for more than 8,500 Delta employees, customers, and sales representatives, in addition to five water efficiency continuing education courses for more than 500 professionals.
The Home Depot received its third Sustained Excellence Award through online promotion of WaterSense labeled products, including its Eco Options website that generated 33 million impressions. To encourage consumers to select WaterSense labeled products, the company also offered more than $59 million in product markdowns.
Eight WaterSense partners received Excellence Awards to recognize their achievements in specific aspects of the program in 2016:
Alliance for Water Efficiency, The City of Plano (Texas), and Niagara Conservation Corp., for Excellence in Strategic Collaboration.
---
City of Durham (North Carolina) Water Management, Sonoma-Marin Saving Water Partnership, and The Toro Company for Excellence in Education and Outreach.
---
City of Forth Worth (Texas) and Metropolitan Water District of Southern California for Excellence in Promoting WaterSense Labeled Products.
KB Home earned its third Sustained Excellence Award by building 265 WaterSense labeled homes and installing approximately 400,000 WaterSense labeled fixtures in its homes in 2016. KB Homes' Cadanera community, built in 2016 in West Covina, California, consists solely of WaterSense labeled homes, which together are expected to save 1.4 million gallons of water each year.
Kohler Co. received its fifth Sustained Excellence Award by debuting its 1.0 gallon of water per flush Highline toilet, which was featured in Kohler's Sustainability Campaign targeting customers in states experiencing drought conditions. The company's nationwide, mobile marketing campaign exhibited WaterSense labeled products in semi-trailer trucks to more than 36,000 plumbing professionals and other guests.
Sonoma-Marin (California) Saving Water Partnership (SMSWP), a three-time Partner of the Year Award winner, earned its first Sustained Excellence Award as a professional certifying organization. SMSWP expanded irrigation professional training opportunities to community college students and collaborated with other WaterSense partners to teach residents about improving outdoor water efficiency.
Five partners received 2017 Partner of the Year Awards; four of these outstanding partners will be highlighted in future issues of the WaterSense Current, and one is profiled in this issue.
Promotional Partners of the Year: Citrus County (Florida) Utilities; The City of Charlottesville (Virginia); and Metropolitan North Georgia Planning District

Professional Certifying Organization Partner of the Year: G3, Green Gardens Group

Manufacturer Partner of the Year: American Standard (see profile below)
Learn more about the 2017 WaterSense award winners.
Give the Gift of Water Savings
Whether you are sprucing up your home before the holiday season or searching for a gift that won't end up in the "returns" pile, water- and energy-saving products are a gift guaranteed to give back. Present your favorite handyperson with year-round water savings from WaterSense labeled plumbing or irrigation fixtures! WaterSense labeled products are independently certified to be at least 20 percent more water-efficient and perform as well as or better than standard models.
As an added splash of holiday cheer, WaterSense labeled products can also reduce energy use. For the average family, installing a WaterSense labeled faucet and showerhead can save 370 kilowatt-hours of electricity per year. That's enough electricity to run your refrigerator for 7 months!
Add WaterSense labeled products to your holiday wish list, and use these tools to help you unwrap water, energy, and cost savings:
Use the WaterSense Product Search Tool to search thousands of available WaterSense labeled toilets, faucets, showerheads, and irrigation products in a wide variety of price points and styles.
Did you know that many WaterSense utility and government partners offer rebates for WaterSense labeled products? Use the Rebate Finder Tool to search your area for available rebates on select WaterSense labeled products and other high-efficiency fixtures.
Looking to surprise the hard-to-please, landscape-loving member of your family? Schedule a session with a pro certified by a WaterSense labeled professional irrigation program, who can audit your in-ground system for opportunities to save water and a grow healthier landscape.
Whether you are searching for a stylish showerhead that cuts utility costs or looking for a rebate to help you save on holiday renovation plans, these tools will help you treat yourself and others to major water savings—the more the merrier! ​
Remodel Your Way to a Better Bathroom
You've always wanted that dream bathroom. New fixtures. Sleek lines. A fresh, modern style. Now that dream can come with very real savings. WaterSense labeled products can help elevate the look and performance of your bathroom while literally saving water—and energy and money—by the gallon. ​
Taking the plunge on a complete bathroom makeover is a big step, but diving right in can set you up for long-term savings. The water you use in your bathroom for showering, shaving, and washing up also requires energy to heat that water, making energy savings a bonus of selecting water-efficient plumbing fixtures. In fact, installing new WaterSense labeled toilets, faucets, and showerheads can reduce the average family's water and electricity costs by more than $150 per year and save 10,000 gallons of water annually.
Get started saving water, energy, and money by remodeling your bathroom with these fixtures:
Replacing showerheads with WaterSense labeled models will not only update your shower's look, but also save more than 3 gallons of water every time you shower and enough energy annually to power a house for 11 days.
Twisting WaterSense labeled aerators onto your bathroom faucets or replacing existing faucet aerators with WaterSense labeled models can save more than 700 gallons of water annually.
Replacing all your home's old, inefficient toilets with WaterSense labeled models can save 260,000 gallons of water and nearly $2,900 in utility costs over the lifetime of the toilets.
Using water wisely helps preserve this vital resource for future generations, and no matter your personal aesthetic, water efficiency never goes out of style. If one in every 10 American homes upgrades a full bathroom with WaterSense labeled fixtures, we could save approximately 93 billion gallons of water and $1.3 billion on utility costs nationwide per year. With thousands of colors, brands, and styles to choose from, make your bathroom remodel dreams a reality by looking for the WaterSense label.
American Standard Puts Water Efficiency in Motion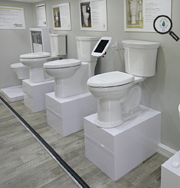 Two-time WaterSense Manufacturer Partner of the Year American Standard took water efficiency on the road, launching its "Beauty in Motion" nationwide tour in May 2016. The mobile tour showcased design and technology innovations in water efficiency, including WaterSense labeled showerheads, faucets, and ultra-high efficiency toilets. Throughout 2016, the traveling exhibit made more than 130 stops and reached more than 6,000 professionals and consumers.
Housed in two tractor trailers, the traveling showroom allowed visitors to try out innovative, working fixtures from American Standard, DXV by American Standard, and GROHE. Of the many products exhibited, one of the showstoppers was American Standard's WaterSense labeled H2Option dual-flush ultra-high efficiency toilet, which earned the Maximum Performance PREMIUM certification for flushing at least 600 grams of solid waste using an average of only 1.1 gallons of water per flush.
The tour of high-performing, water-saving fixtures made a splash through a variety of media outlets, including American Standard's social networks, and used the hashtag #BeautyInMotionTour to engage its social media followers in the campaign. In the end, the tour generated over 646,000 impressions.
American Standard put water efficiency into motion through other outreach and partnership efforts in 2016. To raise awareness about Fix a Leak Week, the company hosted a Facebook contest and gave away 49 WaterSense labeled Portsmouth Widespread faucets. It also supported Plumbers Without Borders by creating exhibit materials promoting the group's mission to increase worldwide access to safe water and sanitation by connecting plumbers with international aid organizations.