News Releases from
Region 02
Carolina Mayor José Carlos Aponte Dalmau Named to National EPA Advisory Committee and Subcommittee
(San Juan, PR) The U.S. Environmental Protection Agency (EPA) recently announced the appointment of Mayor José Carlos Aponte Dalmau of Carolina, Puerto Rico, to the Local Government Advisory Committee (LGAC) and Small Community Advisory Subcommittee. The 33-member LGAC, to which Mayor Aponte Dalmau was appointed, helps EPA develop strong partnerships with local governments to provide more efficient and effective environmental protection at the community, state, and federal level. Mayor Aponte Dalmau has also been appointed to the Small Community Advisory Subcommittee, which helps EPA develop robust partnerships with small communities to address environmental and public health issues.
"EPA's efforts to protect public health and the environment are most effective when the Agency works cooperatively with state and local governments," said EPA Administrator Scott Pruitt. "I look forward to working with the committee members on important environmental issues while developing stronger and more robust partnerships across states, tribes, and local communities."
"EPA is committed to partnering with Puerto Rico's dedicated local leaders as we work to address our toughest environmental and public health challenges," said Pete Lopez, EPA Regional Administrator. "I have had the honor of personally meeting with Mayor Aponte Dalmau as EPA continues to assist Puerto Rico in hurricane recovery and improving the management of solid waste across the island. His dedication and passion for service is unmatched."
"It is truly an honor to be able to collaborate with EPA's effort to ensure public health and optimal manage of environmental problems. Carolina has surpassed many obstacles to become an effective example of recycling management and has achieved true balance between economic growth, infrastructure development and the ecological protection that guarantee the resilience of natural resources. Our Flood Mitigation Plan proved to be effective during the recent hurricane heavy rains benefiting thousands of citizens that, for years, had to overcome flood damages. Our experience has made us stronger and wiser when developing safety approaches to environmental issues," stated Mayor Aponte Dalmau who's eager to develop strategies that will benefit communities nationwide.
Mayor Aponte Dalmau's commitment to improving his community through various economic development projects and cultural initiatives were a factor in his selection for the committee. These include Carolina Bella, an initiative focused on improving the city through environmental efforts including recycling and composting, and Carolina's Children Museum, the largest interactive educational children's museum in the Caribbean.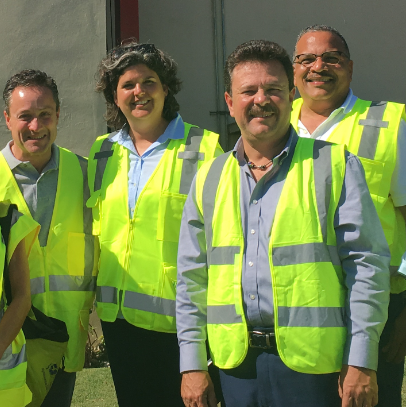 EPA Regional Administrator Pete Lopez, Carmen Guerrero, Director of Caribbean Environmental Protection Division (CEPD) for EPA Region 2, Mayor Aponte, and Jose Font, Deputy Director of CEPD. April 24, 2018 visit to the Carolina Municipal Landfill to discuss recycling and the island's management of solid waste.
Background on the LGAC:
The panel was selected based on their demonstrated leadership experience, proven record of service to their communities, and involvement in effective environmental protection services and programs at the community, state, and federal level.
Chartered in 1993 under the Federal Advisory Committee Act, the Local Government Advisory Committee provides independent and objective policy advice to the EPA Administrator. The Small Community Advisory Subcommittee was established by EPA in 1996 to advise the Administrator on environmental issues of concern to the residents of smaller communities. It is a subcommittee of the Local Government Advisory Committee. The committee and subcommittee intend to meet in early summer to begin their work.
For more information and to see the full list of newly appointed LGAC and SCAS members, please visit http://www.epa.gov/ocir/scas_lgac/lgac_index.htm.
18-033