News Releases from
Headquarters
›
Office of the Administrator (AO)
EPA Acting Administrator Wheeler Completes California Visit
SAN FRANCISCO — On Thursday, October 11, U.S. Environmental Protection Agency (EPA) Acting Administrator Andrew Wheeler concluded his first visit to EPA's region 9 office in San Francisco, California, where he met with regional leadership and held an all hands staff meeting. Later he visited the Stanislaus River with Congressman Jeff Denham (CA-10) to survey the Weir traps, and engage with local stakeholders and tribes on water quality standards.
"EPA is working closely with California's farmers and landowners to help protect their valuable water resources and provide them greater certainty with respect to where federal jurisdiction begins and ends," said EPA Acting Administrator Andrew Wheeler. "Hearing directly from Californians and our Region 9 EPA staff is vital to our efforts to protect the public health, environment, and natural resources of this unique and beautiful region of our country."
"I'm fighting to protect the Central Valley from Sacramento's water grab and save our farms and communities," said Representative Jeff Denham (CA-10). "I will continue to bring the administration here to see firsthand the damage this plan would have."
"Administrator Wheeler and I heard directly from representatives of the agricultural community and various irrigation districts in the San Joaquin Valley," said EPA Region 9 Administrator Mike Stoker. "We take their concerns and recommendations seriously and we will work with them as we seek to address important water resource issues."
Administrator Wheeler started his day meeting with EPA regional leadership, including EPA Region 9 Administrator Mike Stoker, on issues affecting Region 9. Afterward, Administrator Wheeler sat down with EPA union leadership to discuss the ongoing reorganization efforts within the Agency. Finally, he held an all hands meeting with Region 9 staff where he outlined his plans for the Agency and took questions from staffers. 
Administrator Wheeler then visited the Weir traps on the Stanislaus River, where he saw firsthand efforts to ensure the protection of the local salmon population. Congressman Denham then hosted a roundtable with the members of the Turlock and Modesto Irrigation Districts and tribal leaders, where Administrator Wheeler was able to hear from residents and farmers about water quality issues impacting regional agriculture. 
Finally, he met with the Stanislaus Farm Bureau where local farmers discussed local water issues and the Agency's proposed repeal and replacement of the 2015 "Waters of the United States" (WOTUS) rule.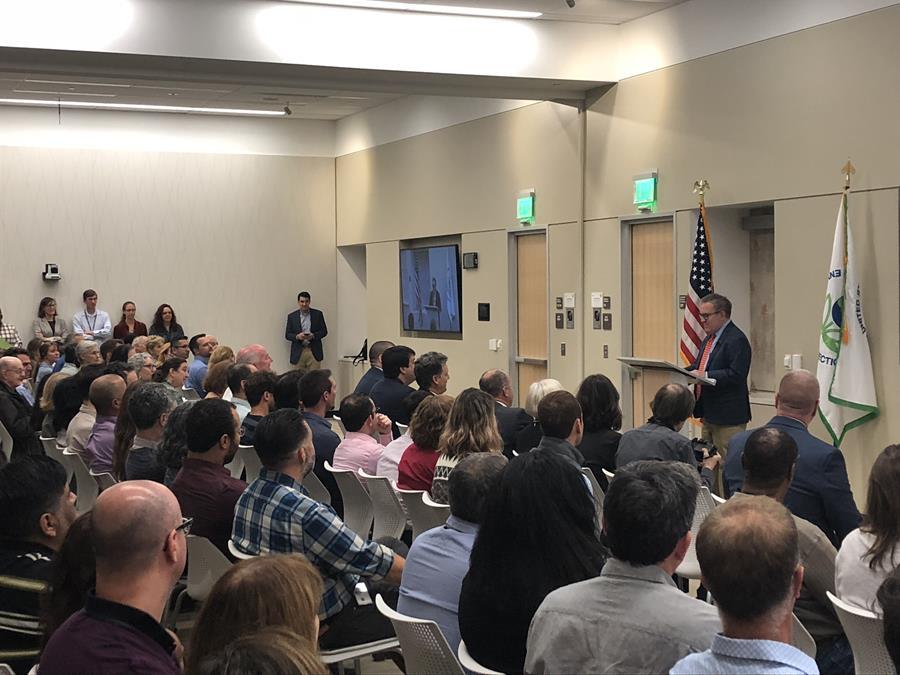 Administrator Wheeler addresses EPA Region 9 staff at the all hands meeting. 


Administrator Wheeler visits the Weir traps with Congressman Jeff Denham, EPA Regional Administrator Mike Stoker, FISHBIO's Andrea Fuller.


Administrator Wheeler meets with the Turlock and Modesto Irrigation Districts, and tribal leaders.


Administrator Wheeler meets with the Stanislaus County Farm Bureau.