News Releases from
Headquarters
EPA Administrator Pruitt and Congressman Hudson Discuss Environmental and Economic Issues Important to North Carolina and the Nation
WASHINGTON -- Environmental Protection Agency Administrator Scott Pruitt met with U.S. Representative Richard Hudson (N.C.-8) on Wednesday in the Congressman's Washington, D.C., office.  The two discussed environmental and economic issues important to both the nation and the people of the State of North Carolina.

"I appreciated the opportunity to meet with Congressman Hudson today and discuss the issues important to our nation and to the people of North Carolina," said Administrator Pruitt. "The people of North Carolina and their elected representatives deserve an EPA that is focused on the basics of protecting the environment, engaging with state and local partners, and ensuring sensible regulations for economic growth."

"I enjoyed meeting with Administrator Pruitt and sharing my district's priorities, including the advancement and improvement of North Carolina energy and infrastructure," said Representative Hudson. It's refreshing to have leadership at the EPA who takes a common sense approach to protecting our environment without crippling progress and jobs across the country."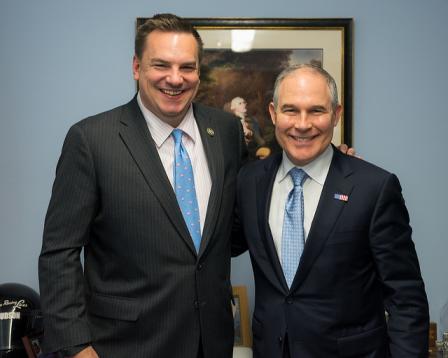 Pictured: EPA Administrator Scott Pruitt and Congressman Richard Hudson (N.C.-8) meet on Capitol Hill.

R073