News Releases from
Headquarters
EPA Administrator Scott Pruitt Hosts Western Governors for Sunday Morning Breakfast Meeting
Governors welcome a renewed sense of trust between the states and EPA
WASHINGTON – U.S. EPA Administrator Scott Pruitt this morning hosted eleven members of the Western Governors Association (WGA) for a breakfast roundtable discussion. The non-partisan group of governors included Republicans, Democrats and Independents.

"The change in the federal administration offers us as governors the opportunity to develop new relationships and to build stronger state and federal relationships,"* said WGA Chairman, Governor Steve Bullock of Montana.

"I look forward to working together with the Western Governors on issues unique to the Western States and with each of these Governors on issues important to their individual states. These Governors and their states are great stewards of their natural resources. They want to protect their water and air and grow their economies. The Environmental Protection Agency is going to help them do that," said EPA Administrator Scott Pruitt.

In his first week on the job as EPA Administrator, Scott Pruitt has now met with 18 Governors and Lieutenant Governors, putting into action his promise of an open door policy and a new beginning of partnership with the states.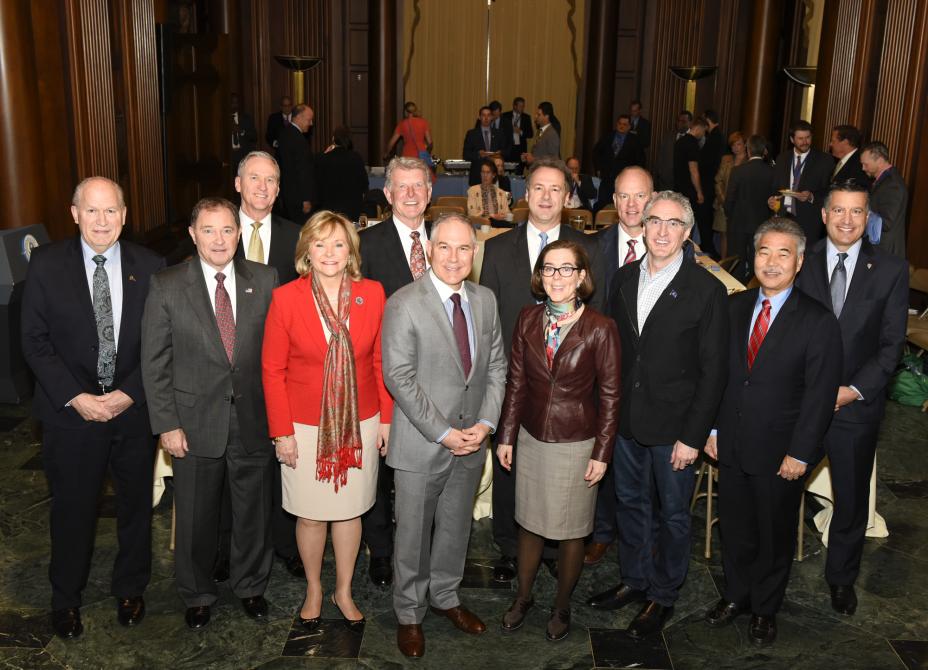 Participants in this morning's breakfast (Left to Right): Governor Bill Walker (Alaska ), Governor Gary Herbert (Utah), Governor Dennis Daugaard (S.D.), Governor Mary Fallin (Okla.), Governor Butch Otter (Idaho), EPA Administrator Scott Pruitt, Governor Steve Bullock (Mont.), Governor Kate Brown (Ore.), Governor Matt Mead (Wyo.), Governor Doug Burgum (N.D.), Governor David Ige (Hawaii), and Governor Brian Sandoval (Nev.). Also in attendance but not in photo: Governor John Hickenlooper (Colo.).

About the Western Governors Association: https://www.westgov.org/

R031

* updated 2/28/17