News Releases from
Headquarters
EPA Administrator Scott Pruitt Speaks at Ag America Conference
WASHINGTON – U.S. Environmental Protection Agency Administrator Scott Pruitt today spoke to American farmers and agriculture leaders, during the Ag America national conference in Washington, D.C.

"No one has a greater interest in the stewardship of our land and water than our country's farmers and ranchers," Administrator Pruitt said to the Ag America attendees. "The EPA is committed to partnering with agriculture producers, and through a cooperative relationship with both the agriculture community and the states, we can ensure federalism is restored so that we can achieve clean air and water across our country."

The lunchtime event was organized as a discussion moderated by Kentucky Department of Agriculture Commissioner Ryan Quarles, who serves as chairman of Ag America.

Wednesday's event included several dozen agriculture related stakeholders, appointed and elected state agriculture officials and other leaders.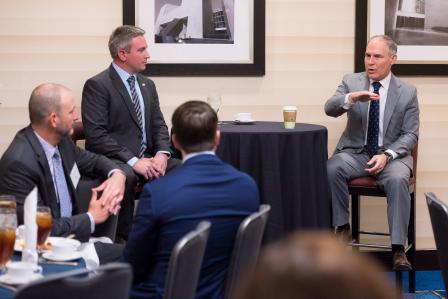 Administrator Scott Pruitt speaks at the Ag America conference in Washington, D.C., on April 5, 2017.

R052