News Releases from
Region 02
EPA Announces Settlement with Northeast Dredging Equipment Company LLC, Puts Cleaner Diesel Engines on Floating Crane in NY/NJ Harbor
(New York, N.Y.) The U.S. Environmental Protection Agency (EPA) announced Northeast Dredging Equipment Company, LLC has completed the installation of two cleaner diesel engines on a floating crane as part of a legal settlement reached in April of 2017 for alleged violations of the Marine Protection, Research, and Sanctuaries Act. As part of the settlement, Northeast Dredging LLC invested at least $250,000 to replace two old diesel engines from its floating crane with cleaner models, resulting in improved water and air quality. The crane operates in or around the New York/New Jersey Harbor. In addition, Northeast Dredging paid a $100,000 penalty.
"These newer engines, which have been installed, are reducing the amount of air pollution being released into the densely populated New York/New Jersey Harbor area," said EPA Regional Administrator Pete Lopez. "The outcome of this settlement benefits air quality and underscores the importance of proper disposal in protecting our public waters. It's a win-win."
Among the alleged violations were placement of dredged materials in an unauthorized location in the Atlantic Ocean.
The purchase and installation of these engines is considered by EPA to be a "supplemental environmental project," which is an environmentally-beneficial project that a business or individual voluntarily agrees to undertake in partial settlement of violations. The new cleaner diesel engines installed emit 71% less nitrogen oxides and 86% less particulate matter than the 1972 diesel engines they replaced.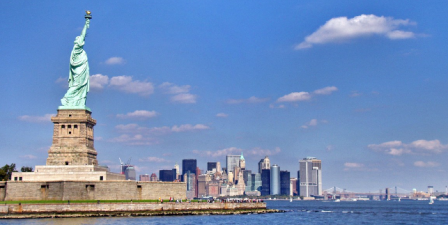 Photo Courtesy of the National Park Service.
Background:
In September 2011, Northeast Dredging entered into a contract with the U.S. Army Corps of Engineers (Army Corps) to perform dredging work in the Arthur Kill Channel, along the northern shore of Staten Island. In 2012, Northeast Dredging began its dredging work without full inclusion of the Army Corps to discuss ocean placement requirements. Shortly thereafter, Northeast Dredging disposed of dredged material in an area that was not designated for disposal. In March 2013, Northeast Dredging transported, and then disposed of, the contents of five vessels loaded with dredged materials. The disposal was done without adequate photographic evidence of their contents. All three of these actions were violations of the Marine Protection, Research, and Sanctuaries Act.
The Marine Protection, Research, and Sanctuaries Act governs the transportation and disposal of any material into ocean waters. Under the law, EPA designates dredged material disposal sites for long-term use. Before designating these sites, EPA conducts an extensive environmental review process, and there are opportunities for public participation. Each designated site has its own site management and monitoring plan. Disposal is strictly prohibited outside these sites because of the potential to adversely impact the aquatic environment.
More information on the EPA's role in dredged materials management:
https://www.epa.gov/ocean-dumping/ocean-disposal-dredged-material
Follow EPA Region 2 on Twitter at http://twitter.com/eparegion2 and visit our Facebook page, http://facebook.com/eparegion2.
18-042