News Releases from
Headquarters
›
Land and Emergency Management (OLEM)
EPA Assesses Sunken, Leaking Marine Vessels
WASHINGTON – The U.S. Environmental Protection Agency (EPA) continues its response to Hurricanes Maria and Irma in close coordination with federal, commonwealth, territory, and local partners. EPA remains focused on environmental impacts and potential threats to human health as well as the safety of those in the affected areas.
"Our role is to assist both Puerto Rico and the U.S. Virgin Islands to minimize environmental damage from boats leaking gasoline, fuel or other contaminants," said EPA Regional Administrator Pete Lopez. "We are doing this in a way that respects the vessel owner's rights while still protecting people from spills and hazardous substances that might be onboard the vessels."
Marine Vessels Recovery Operations
EPA is supporting Puerto Rico, the U.S. Virgin Islands and the U.S. Coast Guard in marine vessel recovery work. Teams continue to locate, assess and retrieve sunken, damaged and derelict vessels around Puerto Rico and the USVI.  We are also assisting with the recycling and disposal of recovered oil and hazardous materials from the vessels.
EPA's support role includes recording the vessel's location and collecting information such as the name of the vessel and identification number, condition, impact to surrounding areas and/or sensitive/protected habitats (e.g. mangroves, coral reefs) for future recovery missions and owner notifications.  A higher priority is placed on vessels found to be actively leaking fuel or hazardous materials, where containment and absorbent booms are placed to decrease contamination.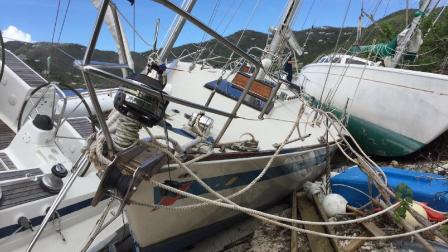 Damaged vessels in the US Virgin Islands. Photo courtesy of U.S. EPA.
Once the damaged vessels are brought to shore, or are processed on a staging barge, EPA will be handling various hazardous materials for recycling and disposal, including petroleum products (oil, gas or diesel fuel), batteries, and e-waste, which can harm the environment if they're not removed from the waters. EPA will also recycle or dispose of any "household hazardous wastes", such as cleaners, paints or solvents and appliances from the vessels. It is important to properly dispose of these items to prevent contamination to the aquatic ecosystem.
Vessels are being tagged by assessment teams with a sticker requesting that owners contact the U.S. Coast Guard to either report their vessel's removal, or to request U.S. Coast Guard assistance in its removal. There is no cost, penalty or fine associated with the removal of the vessels.
As of November 16, 2017,  
340 vessels were identified as being impacted in Puerto Rico
589 vessels were identified as being impacted in the U.S. Virgin Islands
To inquire about vessel recovery, please contact the U.S. Coast Guard hotline: (786) 521-3900.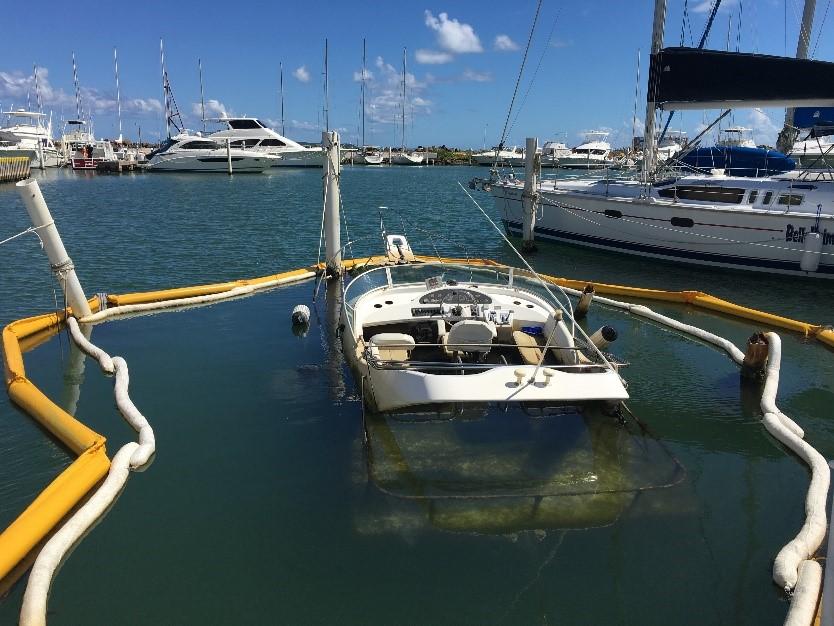 EPA and Coast Guard are finding and recording sunken and damaged vessels. Photos courtesy of U.S. EPA.