News Releases from
Region 09
EPA awards $1.34 million to Arizona to reduce hazardous waste in Arizona and along U.S.-Mexico Border
For Immediate Release:   September 22, 2016
Media Contact: Margot Perez-Sullivan, 415-947-4149, perezsullivan.margot@epa.gov
EPA awards $1.34 million to Arizona to reduce hazardous waste in Arizona and along U.S.-Mexico Border
SAN FRANCISCO — The U.S. Environmental Protection Agency has awarded $1.34 million to the Arizona Department of Environmental Quality to support hazardous waste reduction and environmental cleanup activities in Arizona, including activities along the U.S.-Mexico border.    
This year's funding will be used to facilitate ADEQ's participation in the Border 2020: U.S.-Mexico Environmental Program, and maintain a border enforcement program. In addition, ADEQ will use funds to support sustainable materials management practices, energy efficiency, a fuel efficient fleet, and sustainable water infrastructure.
"These funds help ensure hazardous waste is properly regulated in Arizona and the border area," said Alexis Strauss, EPA's Acting Regional Administrator for the Pacific Southwest. "Arizona has successfully reduced hazardous waste along the border that impacted our public health and safety, shared waters and wildlife habitats."
Last year's funds were used to clean up 29 tons of trash, co-mingled with potential hazardous waste in the Nogales Wash. This effort funded an assessment of trash cleanup needs in the Ambos Nogales border area. Using that information, cleanups were prioritized based on several factors including the amount of debris and proximity to aging sewer lines. The Nogales Wash cleanup averted a possible sewer line break and removed debris including clothing, plastics, rubber hosing, car parts, vegetation, construction and demolition materials, and metal.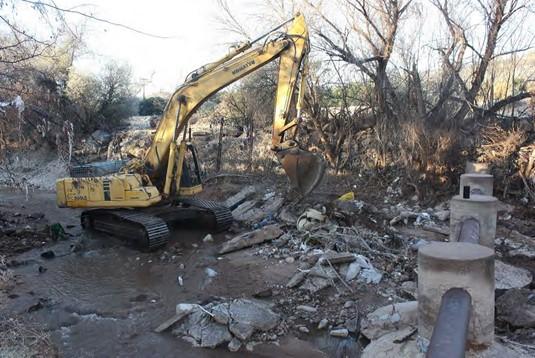 The Nogales Wash and trash cleanup removed tons of debris and hazardous waste and averted a potentially catastrophic sewer line spill.

Since 1995, the EPA has awarded Arizona over one million dollars per year to support hazardous waste inspections, enforcement, permitting, and program management.
EPA is celebrating the 40th Anniversary of RCRA and the tremendous impact this groundbreaking federal environmental law has had and will continue to have. RCRA protects human health and our environment from hazardous and solid wastes and advances Sustainable Materials Management.
For more information on the EPA's Resource Conservation and Recovery Program, please visit:  https://www.epa.gov/rcra/resource-conservation-and-recovery-act-rcra-overview
For more information on the EPA's U.S. – Mexico Border 2020 program, please visit: https://www.epa.gov/border2020