News Releases from
Region 02
EPA Awards $2.6 Million to Cut Diesel Emissions in New York and New Jersey
(New York, N.Y. – February 20, 2018) The U.S. Environmental Protection Agency has awarded two Diesel Emissions Reduction Act (DERA) grants totaling $2,614,907 to The Port Authority of New York and New Jersey and the Connecticut Maritime Foundation, Inc. to curb harmful pollution from trucks and ferries in the greater New York area.
"This grant program is a perfect example of how EPA's grants incentivize public and private entities alike to invest in innovative technology that not only produces environmental benefits but also boosts business, said EPA Regional Administrator Pete Lopez. "As we strengthen our partnerships, EPA will continue to work toward reducing harmful air pollutants and improving air quality in and around New York and near Port Newark-Elizabeth."
The Port Authority of NY & NJ has been awarded $1,750,000 for its Truck Replacement Program. This project will replace model year 2006 and older short-haul trucks serving Port Authority facilities, such as Port Newark-Elizabeth, with cleaner 2012 and newer models. This investment will reduce about 246 tons of nitrogen oxides and about 16 tons of fine particles.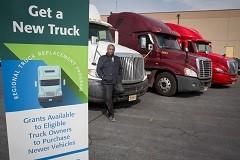 Photo courtesy of Port Authority of New York and New Jersey
"We applaud the EPA's actions in working cooperatively with us to secure much needed funding to continue our successful Truck Replacement Program," said Port Authority Port Department Director Molly Campbell.  "We are excited about these grants and we are looking forward to working with our environmental stakeholders to ensure that we remain good neighbors to those who live and work around the port.  This year, we are laser focused on continuing our existing programs and exploring new initiatives to improve air quality."
The Connecticut Maritime Foundation has been awarded $864,907 to replace marine diesel engines on vessels that operate in the waterways of the New York City metropolitan area. This project will reduce about 118 tons of nitrogen oxides and about five tons of fine particles.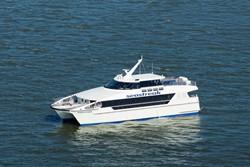 Photo courtesy of Connecticut Maritime Foundation, Inc.
"CT Maritime Foundation is pleased to once again collaborate with EPA to reduce diesel emissions from marine vessels," said Executive Director William Gash.  "Benefits attributed to the early replacement of diesel engines include reduced emissions, fuel conservation, and a better air quality for the region."
The replacement of diesel trucks and marine engines will reduce harmful diesel emissions, providing important public health and air quality benefits. Exposure to diesel exhaust can lead to serious health conditions, like asthma and respiratory illnesses and can worsen existing heart and lung disease, especially in children and the elderly.
For more information about EPA's National Clean Diesel campaign and DERA program, visit www.epa.gov/cleandiesel.
Follow EPA Region 2 on Twitter at http://twitter.com/eparegion2 and visit our Facebook page, http://www.facebook.com/eparegion2.
18-006