News Releases from
Region 04
EPA Celebrates Inaugural Environmental Justice Academy Graduation
ATLANTA – During a ceremony Saturday at Kennesaw State University in Kennesaw, Ga., representatives from the U.S. Environmental Protection Agency (EPA) honored 21 graduates from five Southeastern states in the inaugural class of the Environmental Justice Academy. The EJ Academy is a rigorous, in depth leadership development program. EPA provided the 9-month environmental justice training program to cultivate skills participants can use to identify and address environmental challenges in their communities.
"EPA Region 4 launched the EJ Academy to better equip community leaders to address public health and environmental challenges," said Denise Tennessee, EPA Regional Director of Environmental Justice and Sustainability. "We have graduated a remarkable class with the ability to make a visible difference in the communities they serve.  Their achievement underscores EPA's commitment to help improve the health and viability of all communities, including some of the most vulnerable populations."
The graduates, by state, include:
Alabama
Lella B. Lowe of Mobile, Ala., representing the Mobile Environmental Justice Action Coalition (MEJAC);
Ramsey K. Sprague of Mobile, Ala., representing the Mobile Environmental Justice Action Coalition (MEJAC);
Kimberly M. Pettway of Mobile, Ala., representing the Mobile Bay National Estuary Program;
Ruth Page Nelson of Dothan, Ala., representing Smart North America Inc./ Community Matters; and
Gilda K. Walker of Fairfield, Ala., representing Belwood Action Committee.
Georgia
John H. Miller II of Decatur, Ga., representing the Dekalb Watershed CIP Citizens Advisory Group;
Sheryl A. Brown of Atlanta, Ga., representing the Neighborhood Planning Unit - R, APCAFEST, Adams Park;
Vernell Cutter of Savannah, Ga. representing the Georgia Research Environmental Economic Network (GREEN);
Deborah Ortiz of Decatur, Ga., representing the Environmental Justice Alliance;
Charlotte K. Cartagena of Lithonia, Ga., a Georgia State University student;
Gwendylon P. Smith Watson of Atlanta, Ga., representing the Collier Heights Community Association;
Garry A. Harris of Atlanta, Ga., representing the Sustainability Solutions Group, Center for Sustainable Communities; and
Donna Stephens of Atlanta, Ga., representing the Proctor Creek Stewardship Council.
Mississippi
Vinson Ballard of Jackson, Miss., representing the National Association for Fair Access, Anti-Profiling and Culture;
Adrenance V. Williams of Jackson, Miss., representing the Southeast Reinvestment Corporation and RJW Enterprises of MS LLC;
Alethea M. Shaw-Milton of Hattiesburg, Miss., representing Twin Forks Rising Community Development; and
Joan M. Wesley of Jackson, Miss., representing Jesus People Against Pollution and Jackson State University.
South Carolina
Herbert J. Fraser-Rahim of Charleston, S.C., representing the Lowcounty Alliance for Model Communities;
Earnest Omar Muhammed of Summerville, S.C., representing the Lowcounty Alliance for Model Communities; and
Ann W. Fultcher of Warrenville, S.C., representing the Graniteville Brownfield Project.
Tennessee
Chet A. Kibble of Memphis, Tenn., representing Inform the People
The EJ Academy launched in September 2015 and participants met monthly from Friday afternoon through Saturday. The EJ Academy is primarily based on EPA's Collaborative Problem-Solving (CPS) Model, which is a seven-step process for bringing about positive change and community revitalization by having community leaders, community members, and their stakeholders working together. Each module focuses on one element of the CPS Model and includes a combination of lectures by subject-matter experts, in-class exercises, and homework assignments.
The EJ Academy taught participants:
How to leverage human, social, intellectual, technical, legal, and financial resources to make long-term progress in a community;
How to use consensus-building processes and skills to help ensure successful collaboration and negotiations;
How to increase capacity to address communities' environmental and/or public health issues; and
A basic understanding of environmental justice and environmental regulations
As a result of participating in the EJ Academy, graduates received the following benefits:
Completed a community portfolio, which may assist in securing funding, describing community resources and challenges and establishing credibility amongst stakeholders;
Completed an action plan to guide organizational activities;
Identified and secured potential partners to assist communities with addressing their challenges;
Interacted directly with technical experts from EPA and other organizations;
Networked with regional community leaders to establish mutually beneficial relationships;
Matched with nearby academic institutions in EPA's College Underserved Community Partnership Program (CUPP) to provide ongoing technical assistance; and
Received individualized feedback, guidance, and assistance from experts.
The next EJ Academy will be announced later in May. For more information, contact: R4_EJAcademy@epa.gov  
Connect with EPA Region 4 on Facebook: www.facebook.com/eparegion4

And on Twitter: @EPASoutheast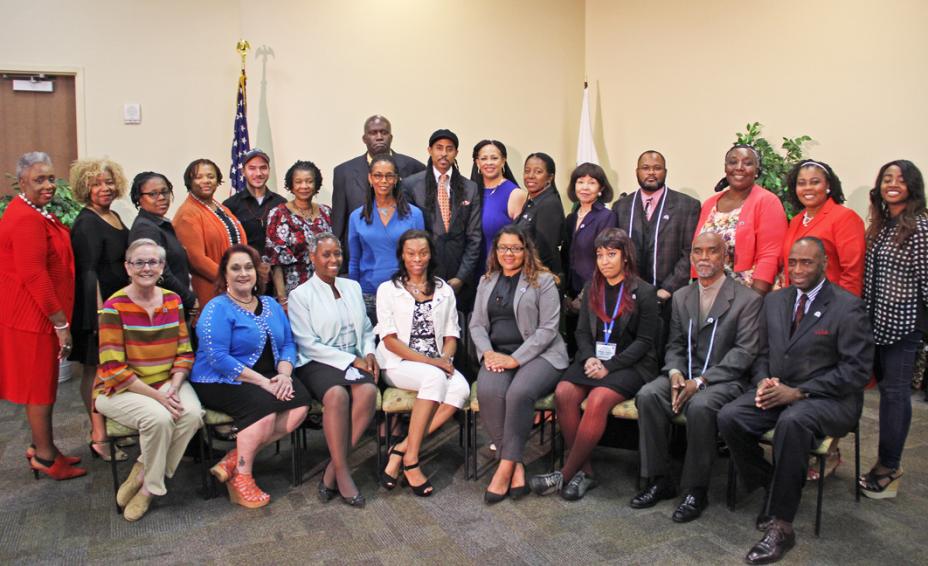 Pictured above: Environmental Justice Academy graduates with EPA officials and Nashville, TN Councilwoman-at-large Sharon Hurt (far left) who spoke at the May 7 graduation.