News Releases from
Headquarters
›
Land and Emergency Management (OLEM)
EPA Helps Collect Hazardous Household Materials in Puerto Rico
San Juan, P.R. (November 27, 2017) - The U.S. Environmental Protection Agency (EPA) is working with the U.S. Army Corps of Engineers, the government of Puerto Rico and municipalities, as well as residents, to protect people and prevent hazardous materials from reaching landfills.

EPA is assisting the government of Puerto Rico and municipalities in the collection of household hazardous waste, electronic, and abandoned or "orphan" containers, which include drums, tanks, containers, and cylinders that were found floating in or near water bodies. In Puerto Rico, almost 8,000 drums, propane tanks, cylinders and other containers have been collected to this date and prevented from reaching landfills as a final destination.

"We want to protect people and their families from potential dangers of hazardous items such as batteries, motor oil, old paint and pesticides," said EPA Regional Administrator Pete Lopez. "These items can pose a threat to people and to the environment, so it's important that they are disposed of properly. Please protect yourself and your community by separating potentially hazardous products from your regular trash and EPA will work to ensure that the materials are disposed of properly."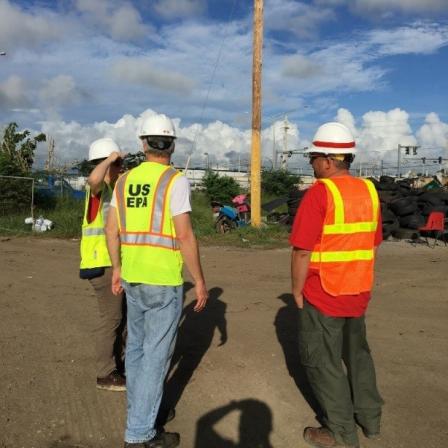 EPA and U.S. Army Corps personnel at the Santa Isabel Municipal waste collection site. Photo courtesy of U.S. EPA.
Hazardous household waste includes aerosol cans, household cleaners and chemicals, paint and electronics such as computers and televisions. Domestic hazardous materials also include batteries, which have become a major concern due to the large volume of batteries used by residents who do not have electrical service. Household hazardous waste should not be thrown away with regular trash as it can contaminate the land, bodies of water and groundwater.
Examples of household items that are hazardous.
In many parts of Puerto Rico, domestic hazardous materials left on the sidewalk or along the road are being collected. Residents are advised to segregate such hazardous household waste from their regular trash and put it near a sidewalk or road in front of their property. Care must be taken to avoid blocking stormwater drains. Labels must be left on the bottles or containers. Likewise, you should not combine chemicals or liquids or mix them.

In most municipalities in Puerto Rico, there are collection centers for hazardous domestic waste, where residents must leave their hazardous materials. For more information about specific collection centers, residents should contact their municipality.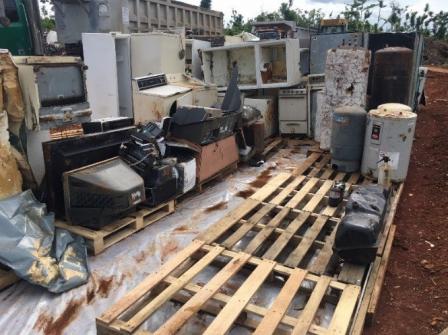 Household hazardous waste collection pad in Manati. Photo courtesy of U.S. EPA.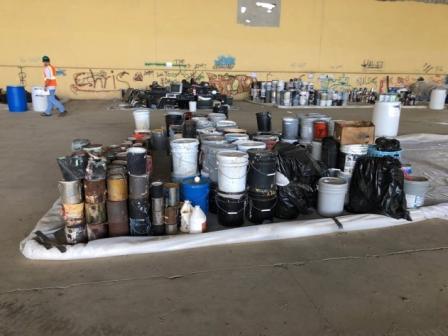 View of EPA's hazardous waste collection pad in Salinas. Photo courtesy of U.S. EPA.
EPA Community Involvement Coordinators and Field Coordinators are collaborating with government officials in Puerto Rico to identify and secure access to domestic hazardous waste collection centers and provide information to residents on how to segregate and dispose of dangerous domestic materials.

In order to share the information, public service announcements are being disseminated through loudspeaker or loudspeaker trucks, radio, flyers, newspapers, social media and other means of communication. EPA and local governments are identifying needs and concerns in the field that could have an impact on the overall operations of the response.

If people have questions about EPA's program for the collection of household hazardous waste in Puerto Rico, they can call the EPA toll free line at 888-283-7626.

For more details and to see photographs, please visit the Hurricane Maria Website and the Hurricane Maria Story Map.

Hurricane Maria Site:  https://response.epa.gov/site/site_profile.aspx?site_id=12403

Hurricane Maria Story Map: https://epa.maps.arcgis.com/apps/MapJournal/index.html?appid=051533ab716c4f5e821dc361cbb1876f