News Releases from
Region 03
EPA Honors Environmental Educators and Students
Centerville, Va. and Philadelphia, Pa. Educators
PHILADELPHIA (August 31, 2017) – Earlier this week, the U.S. Environmental Protection Agency honored 12 educators and more than 75 students for their exceptional contributions to environmental education and stewardship.
The agency gave awards to the winners of the Presidential Innovation Award for Environmental Educators (PIAEE) and the President's Environmental Youth Award (PEYA), at a series of events in Washington, D.C. on Monday.
"Through their work, these impressive educators and students demonstrate how community partnerships — between schools, business and government — can build and sustain environmental change," said EPA Administrator Scott Pruitt.  "Together, EPA and our partners are working to improve environmental literacy across the nation."
This week's events featured speakers from the National Oceanic and Atmospheric Administration, Toyota's North American Environmental Sustainability Programs, and the North American Association for Environmental Education.
"The educators being honored provide the foundation from which the next generation of environmental leaders will grow," said acting NOAA Administrator Ben Friedman.  "It is also heartening to recognize the achievements of the student winners, who will undoubtedly unleash more innovation in the future and serve as role models to their peers."
The PIAEE awards recognize innovative educators who bring environmental education into their classrooms through hands-on, experiential approaches..
The Mid-Atlantic PIAEE winner, Mary Ann Settlemyre, was recognized for her accomplishments at Centreville Elementary School in Va. where she integrates environmental lessons into all the school's classes including art, math, writing and technology.  Her approach is for students do research and learning both inside the classroom and outdoors.  In a school where the students speak 55 languages, Settlemyre inspires student leadership and stewardship through hands-on learning.  She also was a major factor in Centreville Elementary's recognition as a U.S. Department of Education Green School, and one of the National Wildlife Federation's Top Ten Greenest Schools in the U.S.  Settlemyre is currently at Milford, NJ teaching at the Holland Township School.
PIAEE honorable mention was awarded to Joseph Bentz, a middle school teacher at Albert M. Greenfield Elementary in Philadelphia.  Bentz was recognized for his teaching that extends beyond his Greenfield students to families, community members and other teachers in the Philadelphia School District.  He reaches out to students, parents and residents to discuss environmental issues and green solutions to topics such as storm water management for their inner city neighborhood.
The PEYA awards recognize outstanding environmental stewardship projects by K-12 youth.  The 15 winning student projects, announced in June 2017, includes two projects by brothers Devin and Roldan Kramer in Ardmore, Pa. and 11 students in George Mason High School's environmental group in Falls Church, Va. 
The winning PEYA projects in the Mid-Atlantic region are:
Save the Frogs and Toads
Devin Kramer and Roldan Kramer
Ardmore, Pennsylvania 
Healthy and Sustainable Farming Practices in Urban School Districts
Team: George Mason High School Environmental Group (Jacob Brady, Zoe Cooper, Olivia Foster, Justin Gemond, Isaiah Gomez-Saballoz, Adrian Kamel, Ian Leach, Marjorie Lopez Morillo, Eric Lowery, Farhid Negahban, Andrew Pishner and Matthew Zampella) Falls Church, Virginia
As a result of the Kramers' project, brothers Devin and Roldan raised tadpoles and observed not only an increase in frog and toad populations, but improvement in the overall ecosystem, with a decrease in the number of mosquitoes and a growing number of native animals, such as snakes, fish, and birds.
The students in George Mason's environmental group worked for the past two years to implement two projects, with a focus on providing healthy, sustainable food sources that can be produced in an urban area.  Through a hydroponics project and an aquaculture project, the students are contributing fresh food to their high school cafeteria.
For details on the 2017 PIAEE winners, visit http://www.epa.gov/education/presidential-innovation-award-environmental-educators-piaee-winners.  
For details on the 2017 PEYA winners, visit http://www.epa.gov/education/presidents-environmental-youth-award-peya-winners.
For information on environmental education at EPA, visit https://www.epa.gov/education.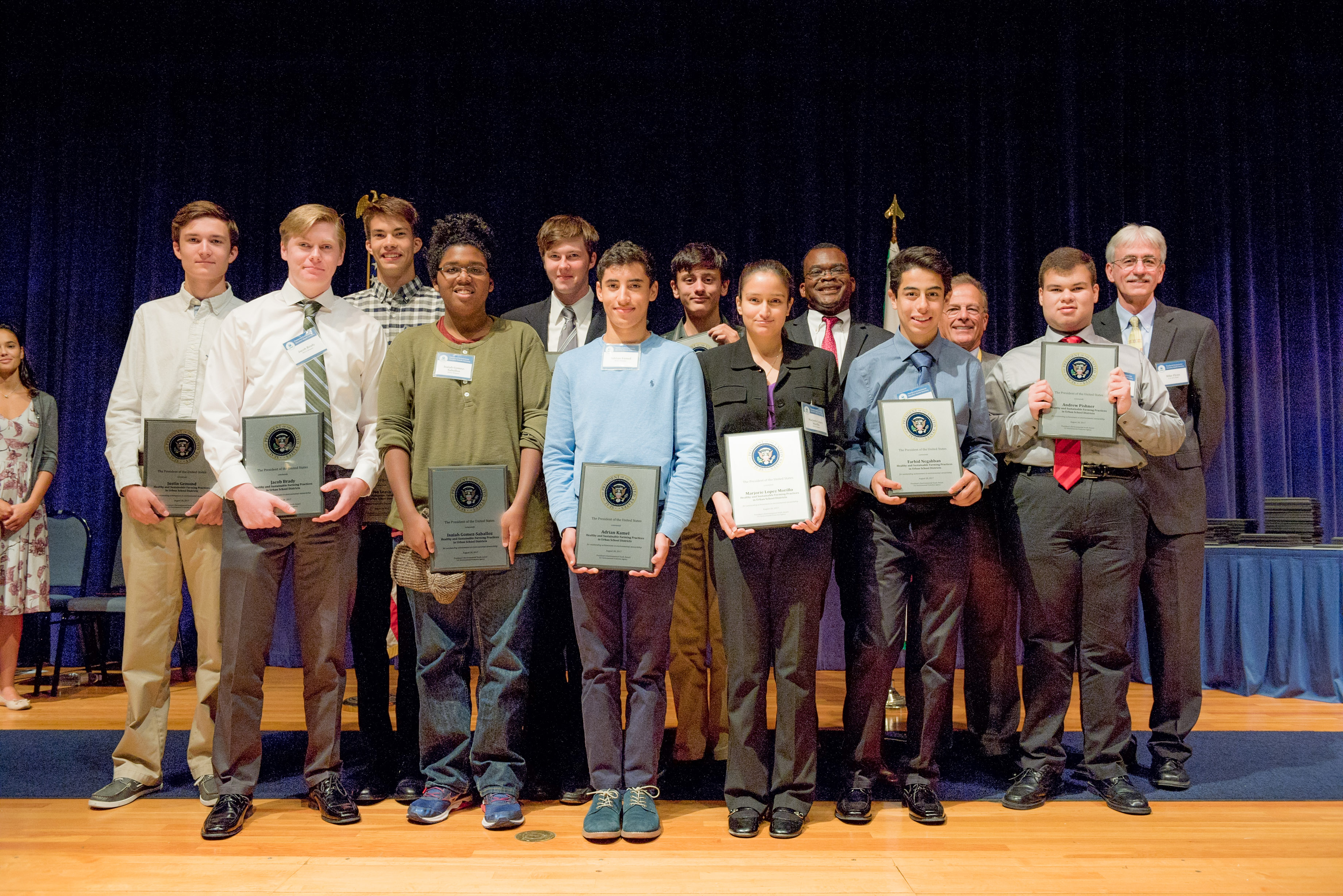 EPA Mid-Atlantic Region PEYA winners: George Mason High School Environmental Group. From left, Jacob Brady, Justin Gemond, Isaiah Gomez-Saballoz, Adrian Kamel, Ian Leach, Eric Lowery, Marjorie Lopez Morillo, Farid Negahban, Andrew Pishner, Matthew Zampella with Acting EPA Deputy Administrator Mike Flynn.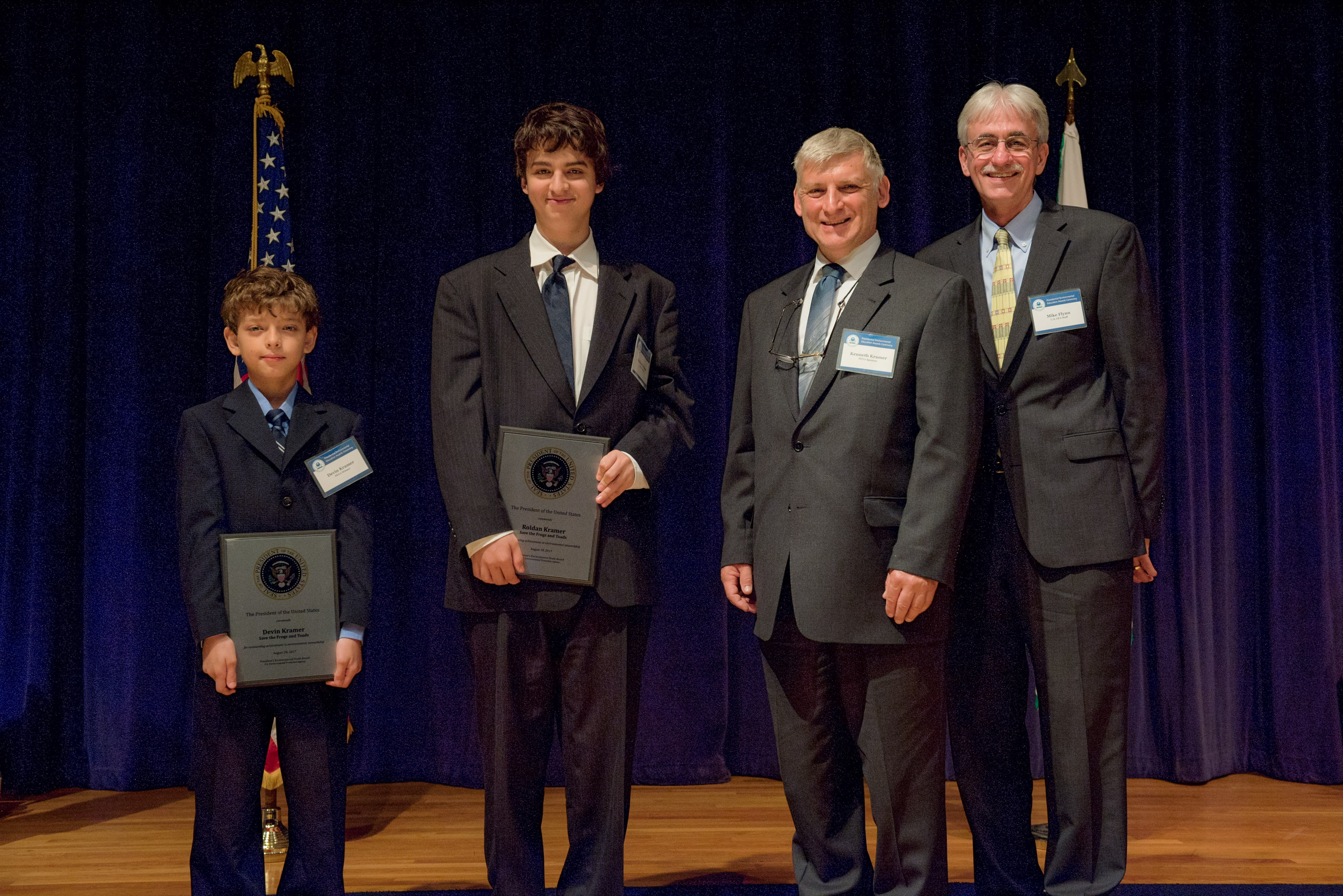 EPA Mid-Atlantic Region PEYA winners: From left, Devin and Roldan Kramer, father Kenneth Kramer with Acting EPA Deputy Administrator Mike Flynn.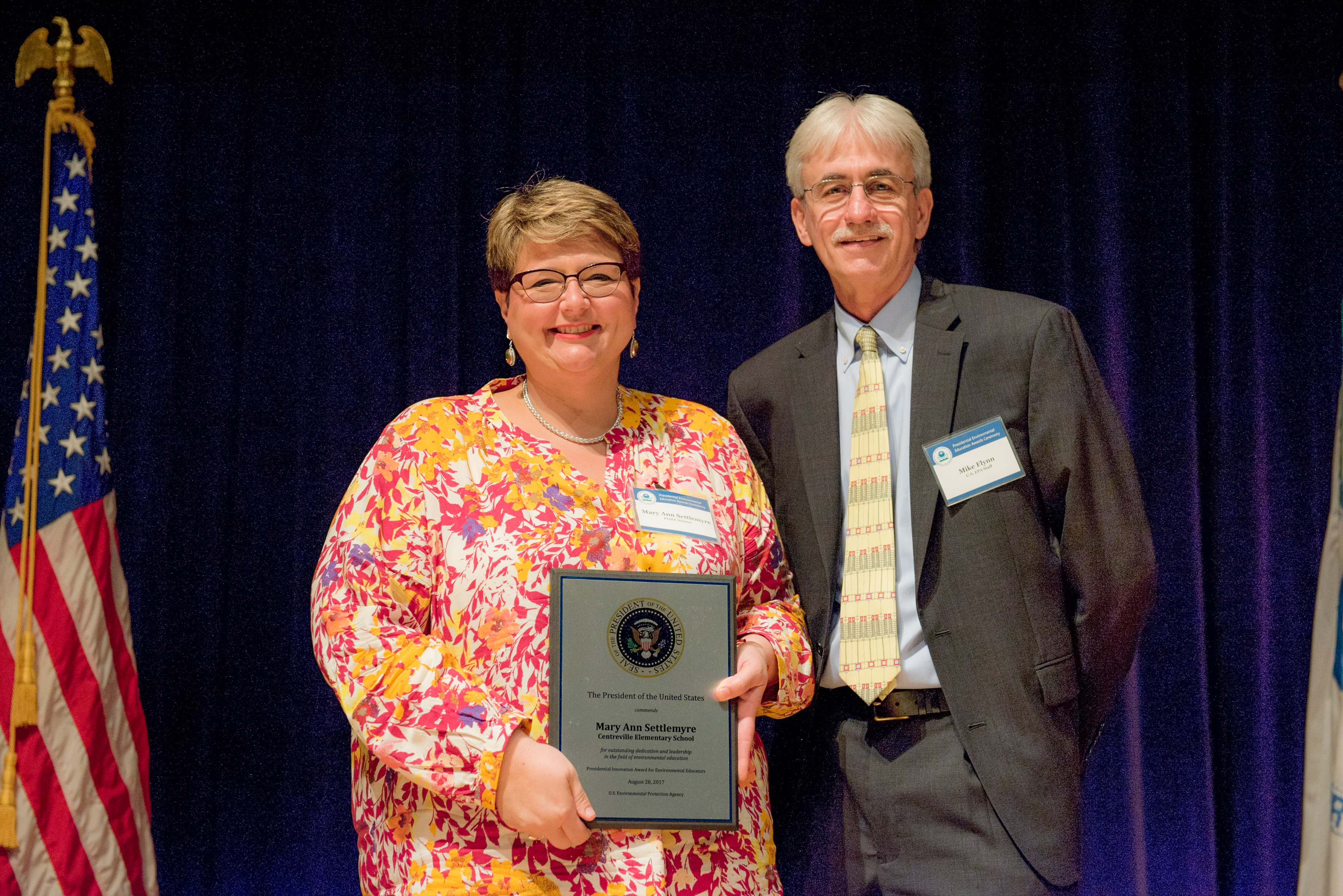 PIAEE winner: Teacher Mary Ann Settlemyre from Centreville, Va. with Acting  EPA Deputy Administrator Mike Flynn.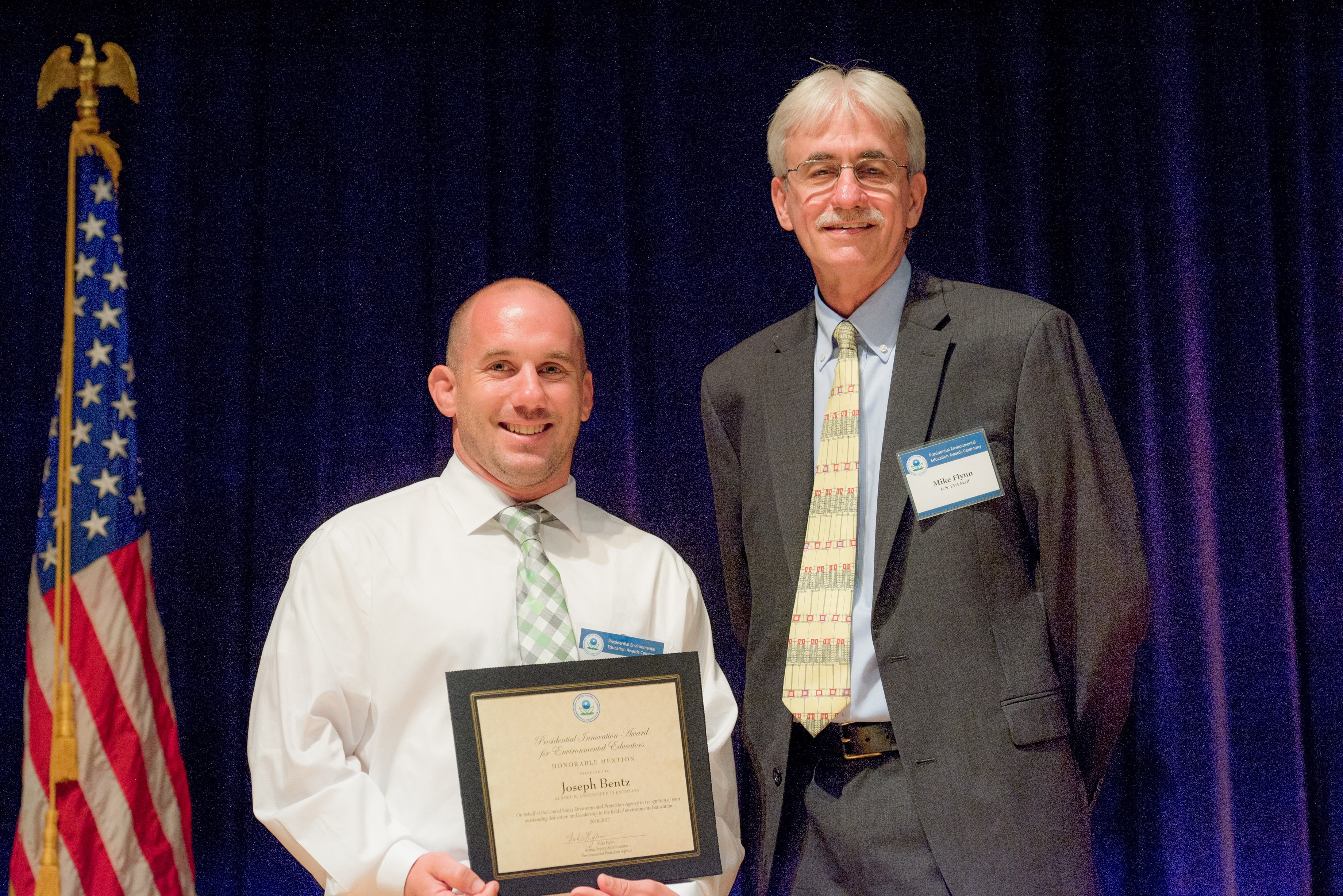 PIAEE honorable mention: Teacher Joseph Bentz from Philadelphia with Acting EPA Deputy Administrator Mike Flynn.