News Releases from
Headquarters
›
Land and Emergency Management (OLEM)
EPA Hurricane Maria Update for January 12, 2018: EPA Ensures Proper Disposal of 65,000 Containers of Hazardous Household Waste in Puerto Rico
EPA to Collect Household Hazardous Waste in Loiza, Puerto Rico the Week of Jan. 15
Continuing its Hurricane Maria response efforts, the U.S Environmental Protection Agency is collecting, each day, more than 1,000 containers of hazardous household materials, orphan containers, white goods and e-waste items in Puerto Rico.  To date, 65,000 containers have been collected in Puerto Rico, keeping these hazardous materials out of the environment and protecting people's health. 
The EPA, working closely with municipalities, has set up more than three dozen household hazardous waste collection locations throughout Puerto Rico.  PSAs, social media, flyers and door-to-door campaigns are in full swing to provide information on drop-off and/or collection locations and curbside pickup. Beginning January 15, there will be a week-long collection of household hazardous waste in Loiza, Puerto Rico.
"We are excited to work with the City of Loiza and its residents to ensure hazardous household materials are properly collected and disposed," said EPA Regional Administrator Pete Lopez. "Keeping these materials out of the landfill protects the community and prevents potential environmental contamination."
"This work in conjunction with the EPA is a great example of how our administration is building partnerships with federal, state and nonprofit organizations. It is important that our citizens follow the instructions provided by the EPA and our Recycling Office, so that we can keep Loíza clean. Our thanks to the EPA staff for the speed with which we have worked on this project. "- Dr. Julia M. Nazario Fuentes, mayor of Loíza.
Household hazardous waste includes aerosol cans, household cleaners and chemicals, paint, and electronic items such as computers and televisions. Household hazardous materials also include car and marine batteries, which have become a major concern due to the large volume of batteries being used by residents who are without power. Household hazardous waste should not be thrown out with regular trash as it can contaminate the land, waterways, and groundwater.
Beginning the week of Jan. 15 and ending on Jan. 19, EPA personnel will collect household hazardous waste from the curbside in Loiza communities:
Monday, Jan. 15: Vistas del Océano, Los Brown, Palmarenas, Los Millonarios, La Gallera, El Cabo, Jardines de Loiza Agencias de Gobierno y Oficinas Municipales, Comercios Medianía Alta y Baja
Tuesday, Jan. 16: Villas de Loíza, Loiza State, Country View, Palmarejo, Parcelas Vieques, Villa Cristiana, Las Carreras, El Ceiba, Melilla, La Barraca, Comercios Villas de Loíza y Casco Urbano
Wednesday, Jan. 17: Villa Cañona I y II, Urb. Santiago, Callejón, Romaco, Sector Maturí, Las Cuevas, Villa Hueso, Colobó, Villa Colobó, Tocones, Pueblo del Niño, Portal de Loiza, Miñi Miñi, Comercios Medianía Alta y Escuelas 
Thursday, Jan. 18: Parcelas Suarez, El Mamey, Santillana, Los Rohena, Torrecilla Baja, Comercios Torrecilla Baja
Friday, Jan. 19: Recogidos Especiales y Mantenimiento de Vehículos, Recogido de Comercios Medianía Alta, Baja y Casco Urbano 
Residents are advised to segregate such hazardous household waste from their regular trash and put it near a sidewalk or road in front of their property. Care must be taken to avoid blocking stormwater drains. Labels must be left on the bottles or containers.  When transporting household hazardous waste to the roadside, residents are being asked to seal containers tightly, and bring their waste in its original container, if possible. If the original container is leaking, or residents are using a different container, they should label the container with its current contents. Products should not be mixed, as it can cause a very dangerous, and sometimes fatal, chemical reaction.
We can take these items:
✓ Spray paint
✓ Car and marine batteries
✓ Household batteries
✓ Fluorescent bulbs
✓ Paints and paint thinners
✓ Household cleaners & solvents
✓ Pesticides, weed killer, insect repellents
✓ Propane
✓ Gasoline
✓ Auto fluids
✓ TVs & computers
✓ Fire extinguishers
We CANNOT take these items:
× Explosives / Radioactive materials
× Asbestos
× Electrical appliances with plugs or batteries
× Large appliances (air conditioners, refrigerators, stoves, washers & dryers, etc.)
× Curbside debris (regular household trash, trees, branches)
× Medical / Infectious waste
For questions about EPA's household hazardous waste collection program in Puerto Rico, the public can call EPA toll free at 888-283-7626 during regular business hours.  For Spanish speakers, please call EPA's Caribbean Environmental Protection Division at 787-977-5865.
For more information and photos, visit EPA's Hurricane Maria website
EPA hazardous household waste collection program, Puerto Rico. Photo: Courtesy of U.S. EPA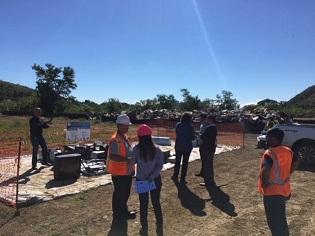 EPA hazardous household waste collection program Puerto Rico.
Photo: Courtesy of U.S. EPA