News Releases from
Headquarters
EPA Hurricane Maria Update for Monday, October 2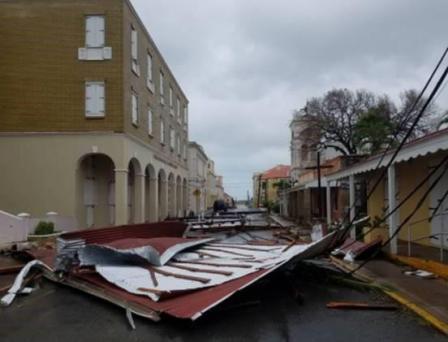 Debris blocking streets in San Juan, Puerto Rico (Photo credit: U.S. EPA, September 26, 2017)WASHINGTON (October 2, 2017) –  U.S. Environmental Protection Agency (EPA) continues to coordinate closely with federal, commonwealth, territory, and local partners as the Agency responds to the impact of Hurricane Maria. EPA is supporting the Federal Emergency Management Agency (FEMA) through its assistance to the governments of Puerto Rico and the U.S. Virgin Islands (USVI).
EPA is focused on environmental impacts and potential threats to human health caused by Hurricane Maria, as well as the safety of those in the affected areas. Our priority is getting clean drinking water to residents, which includes sampling, analysis and lab support, and getting wastewater treatment systems up and running.
Wastewater Management
USVI:

In St. Croix, two EPA water assessment and sampling teams, joined by representatives of the USVI government, have sampled 66 public drinking water systems. For the systems where a problem has been detected, steps have been taken to disinfect the water system.

Puerto Rico:

EPA is continuing to coordinate with local governments in Puerto Rico and the USVI to assess the conditions of drinking water and wastewater treatment plants.
In Puerto Rico, more than one-third of wastewater treatment plants serviced by the Puerto Rico Aqueduct and Sewer Authority (PRASA) are out of service.  PRASA services 96% of the population in Puerto Rico.
Five sewer trunks have collapsed and a number of main trunk sewer lines have been washed away during flash floods, causing raw sewage to enter waterways, including major rivers like the Rio Grande de Loiza, as well as other streams and coastal waters.
Water Safety
Floods and other disasters can damage drinking water wells and lead to aquifer and well contamination. Flood waters can contaminate well water with livestock waste, human sewage, chemicals, and other contaminants which can lead to illness when used for drinking, bathing, and other hygiene activities. The Center for Disease Control and Prevention (CDC) suggests the following guidance for water safety:
After an emergency, especially after flooding, drinking water may not be available or safe to drink for personal use.
If you don't have safe bottled water, you should boil water to make it safe.
DO NOT DRINK water that has an unusual odor or color, or that you know or suspect might be contaminated with fuel or toxic chemicals; use a different source of water.
Water from sources outside the home must be treated as described by the CDC, including rainwater, streams, rivers, and other moving bodies of water, ponds and lakes, or natural springs.
More information on making water safe can be found at: Making Water Safe in an Emergency  or CDC's Hurricane Response page.
Debris Management
EPA is also working on debris management planning with FEMA, the U.S. Army Corps of Engineers and the Puerto Rico and USVI governments to develop options for the management of vegetative materials, hazardous waste, construction debris, wet debris, and household hazardous waste in Puerto Rico and the USVI.
Personnel
About 166 personnel are currently involved in hurricane response efforts.
EPA Region 2's Caribbean Environmental Protection Division office has officially re-opened for business today.
About 26 personnel are on the ground in USVI to assist with response efforts.
About 45 personnel are on the ground in Puerto Rico to assist with response efforts.
Additional assessment teams made up of made up of On-Scene Coordinators, Remedial Project Managers, technical assistance contractors, community and public information officers continue to deploy to Puerto Rico and the USVI.
EPA continues to re-assess Superfund sites, oil sites, and chemical facilities in both Puerto Rico and the USVI to determine if the sites were affected by Hurricane Maria and if there is a potential for contamination to cause off-site impacts. Assessment teams are also working to get labs back on line so that environmental samples can be locally analyzed. In Puerto Rico, evaluations of three government-owned laboratories where water and wastewater samples are tested were conducted; the labs in Arecibo and Cayugas were found to have significant damage, while the lab in Mayaguez is operational.
EPA has important resources available online in English and Spanish about floodwaters, hazardous debris, household hazardous waste, and other hurricane impacts. EPA will continue to provide regular updates about EPA's response to Hurricane Maria. For information and updates, visit: www.epa.gov/hurricane-maria. 
###