News Releases from
Headquarters
EPA Hurricane Maria Update for Sunday, October 15th
WASHINGTON (October 15, 2017)—The U.S. Environmental Protection Agency (EPA) continues to coordinate closely with federal, commonwealth, territory, and local partners as the Agency responds to the impact of Hurricane Maria.  EPA is focused on environmental impacts and potential threats to human health as well as the safety of those in the affected areas.  EPA is continuing to coordinate with local governments in Puerto Rico and the USVI to assess the conditions of drinking water, which includes sampling, analysis and lab support, and getting wastewater treatment systems up and running. EPA's missions also include oil and chemical spill response, oil and chemical facility assessments and debris management. 
The EPA added an area of Dorado to the Superfund list in September 2016 because there is some contamination in the groundwater aquifer underlying this area, particularly in the western part of the area. The EPA is in the process of examining the precise extent and location of this contaminated groundwater plume. Data gathered by EPA in 2015 showed that some wells in the western part of the area are contaminated, while some wells in the eastern portion of the area meet drinking water standards.  The entire area, including many wells regardless of contamination levels, was included in the designated Superfund site boundaries as a precautionary measure because groundwater contamination can move over time and EPA wants to study the entire area. When contamination over drinking water standards is detected in wells, those wells are locked down and taken out of service.
Two wells on the eastern side of the area – known as the Santa Rosa and Nevarez wells – have not historically shown contamination in excess of drinking water standards and are sometimes used by PRASA to provide drinking water to people in the community. The EPA is working closely with the Puerto Rico government to ensure public safety and protect the community. The Puerto Rico Department of Health and the Puerto Rico Aqueduct and Sewer Authority sample these wells regularly to check for chemical and bacteria contamination. On October 14, EPA took samples from the Santa Rosa well to compliment the Puerto Rico government's efforts and to further confirm that water from these wells meet drinking water standards. EPA also visited the Nevarez well, but did not take a sample because the well had no power. In addition, EPA took samples at three locations in western portion of the site that are being used by some people for drinking water, despite fences and warning signs that had been posted around these wells. Results of the bacteria portion of this testing should be available by midweek and chemical analysis will be complete by the end of next week.
The EPA is working with FEMA and Puerto Rico and local officials to ensure that an adequate supply of clean water is available for the Dorado community. Yesterday, the EPA re-installed fences to re-secure the contaminated wells. EPA also provided information to the Dorado community emphasizing that they must avoid using wells on the western portion of the site.
EPA teams have completed assessments at 23 fixed facilities in USVI that are regulated under the Risk Management Plan (RMP), Facility Response Plan FRP), or Spill Prevention, Control, and Countermeasure (SPCC) programs.
EPA also completed assessments at 17 permitted hazardous waste facilities in Puerto Rico to determine if significant impacts from Hurricane Maria had occurred. No significant concerns were identified at any of the facilities.
Personnel
EPA continues to deploy personnel to Puerto Rico and the U.S. Virgin Islands as conditions allow. As of October 14, 2017:
About 245 personnel are currently involved in hurricane response efforts.
About 63 personnel are on the ground in USVI to assist with response efforts.
About 85 personnel are on the ground in Puerto Rico to assist with response efforts.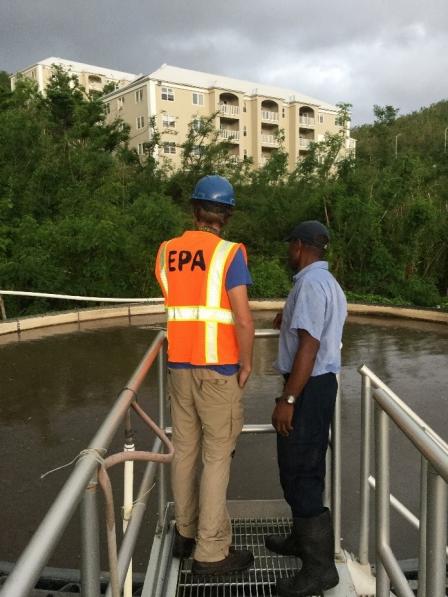 EPA conducting assessment of wastewater treatment facility, St. Thomas, USVI. Photo courtesy of EPA.Debris Management
EPA continues to work with FEMA, the U.S. Army Corps of Engineers and the Puerto Rico and USVI governments on debris management. EPA will assist with the handling and disposal of orphan containers, household hazardous waste, medical waste and e-waste. EPA plans to conduct air monitoring at collection areas and during all hazardous materials operations.  
Marine Operations
EPA is working with the US Coast Guard on marine operations to assess sunken vessels on the eastern coast of Puerto Rico and USVI. Teams will locate and evaluate the condition of sunken vessels and assist with the disposal of recovered oil and hazardous materials.  
Assessment of Superfund Sites, Oil Sites and Regulated Facilities
EPA continues to re-assess Superfund sites, oil sites, and chemical facilities in both Puerto Rico and the USVI to determine if the sites were affected by Hurricane Maria and if there is a potential for contamination to cause off-site impacts.  
Drinking Water and Wastewater Management
In USVI, EPA continues to coordinate drinking water sampling with the U.S. Virgin Islands Department of Natural Resources. In Puerto Rico, the EPA continues to focus on assessing both drinking water and wastewater systems and continues to work closely with the government of Puerto Rico.
Water Safety
Raw sewage continues to be released into waterways and is expected to continue until repairs can be made and power is restored. Water contaminated with livestock waste, human sewage, chemicals, and other contaminants can lead to illness when used for drinking, bathing, and other hygiene activities. According to the Centers for Disease Control and Prevention (CDC), people should not use the water from rivers, streams and coastal water to drink, bathe, wash, or to cook with unless first boiling this water for a minimum of one minute. If boiling the water is not possible, water may be disinfected with bleach. To learn more about making water safe in an emergency, go to CDC's Making Water Safe in an Emergency web page.
For information and updates, visit: https://www.epa.gov/hurricane-maria 
###