News Releases from
Headquarters
EPA Hurricane Maria Update for Thursday, September 28
WASHINGTON (September 28, 2017) –  U.S. Environmental Protection Agency (EPA) continues to coordinate closely with federal, commonwealth, territory, and local partners as the Agency responds to the impact of Hurricane Maria. EPA is supporting the Federal Emergency Management Agency (FEMA) through its assistance to the governments of Puerto Rico and the U.S. Virgin Islands (USVI). EPA is focused on environmental impacts and potential threats to human health caused by Hurricane Maria, as well as the safety of those in the affected areas. Our priority is getting clean drinking water to residents, which includes sampling, analysis and lab support, and getting wastewater systems up and running.
About 137 personnel are currently involved in hurricane response efforts.
Assessment teams made up of On-Scene Coordinators, Remedial Project Managers, technical assistance contractors, and public information officers continue to deploy to Puerto Rico and the USVI. This includes eighteen more EPA responders who deployed to the USVI today. We have begun re-assessing Superfund sites, oil sites, and chemical facilities in Puerto Rico and the USVI as part of EPA's response to Hurricane Maria. A team of EPA employees are co-located with FEMA in its coordination centers in both San Juan and St. Croix, USVI, to facilitate efficient interaction with local governments and other federal agencies.
In Puerto Rico, EPA assessment teams completed preliminary assessments of the Battery Recycling Company Superfund site in Arecibo and the Corozal Well Superfund site in Corozal, and Puma Caribe (CAPECO) Superfund site, which is also a major hub for oil storage and transportation in Puerto Rico. Site visits by EPA personnel determined there was no significant damage by Hurricane Maria.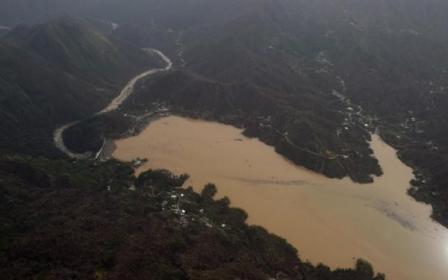 Impacted lake in northern Puerto Rico on Sept. 26, 2017. Photo Courtesy of the Puerto Rico Air National Guard.In the USVI, we are working to get labs back on line so that environmental samples can be locally analyzed. We are also working with the USVI government to assess the conditions of wastewater treatment plants on all three islands.  
In St. Croix, USVI, two EPA water assessment and sampling teams, joined by representatives of the USVI government, have sampled 38 public drinking water systems. For the systems where a problem has been detected, steps have been taken to disinfect the water system. Sample results are being provided to the USVI government and other system owners/operators to inform and assist them in getting their drinking water systems back up and running.
EPA has important resources available online in English and Spanish about floodwaters, hazardous debris, household hazardous waste, and other hurricane impacts. EPA will continue to provide regular updates about EPA's response to Hurricane Maria. For information and updates, visit: www.epa.gov/hurricane-maria. 
###