News Releases from
Region 01
EPA New England Trains 30 Federal and State Environmental Workers on the National Rivers and Streams Assessment
North Chelmsford hosts Training on assessing the health of local waters
North Chelmsford, Mass. – The U.S. Environmental Protection Agency (EPA) held a four-day training session last week at the EPA Chelmsford Laboratory for approximately 30 state and federal workers participating in the EPA National Rivers and Streams Assessment (NRSA), the third nationwide survey of the condition of rivers and streams. Training for the group included a visit to the Merrimack River in North Chelmsford to practice water and fish sampling techniques.
"EPA is proud to have coordinated this training with the cooperation of the Town of Chelmsford. Working alongside our state and local partners is how environmental solutions are best accomplished, and we sincerely appreciate the teamwork here in New England to work together for a cleaner and healthier environment," said EPA New England Regional Administrator Alexandra Dunn.
The training will prepare staff to participate in the National Rivers and Streams Assessment which is a nationwide survey measuring the health of waterways nationwide to evaluate the effectiveness of protection and restoration efforts and take action to prevent pollution.
Background  
The Town of Chelmsford Conservation Commission gave EPA permission to use the Deep Brook Reservation for the wadeable stream portion of the training, which had a variety of habitat and diverse stream conditions making it ideal for trainees to learn. The training was imparted by EPA staff and its contractors for state staff from Vermont, New Hampshire, Connecticut, and EPA staff.  EPA Lab boats and equipment were used in the training, and some staff received special training in fish sampling so they can help in Vermont and New Hampshire using EPA's two electrofishing boats.  
The NRSA will be conducted at about 24 sites in each state – that were chosen randomly through a computer program – over this summer and the next. A total of 1,808 sample sites were selected nationwide, half from rivers and half from streams. This survey of rivers and streams is done every five years as part of the yearly National Aquatic Resource Surveys. In other years, the survey covers wetlands, coastal waters, and lakes. It will address rivers and streams for next two years.
The survey is designed to estimate portions of rivers and streams that are in good, fair, or poor condition, and serves as a scientific report card on the waters surveyed. It will examine ecological, water quality, and recreational indicators, and assess how widespread key "stressors," such as nutrients, fish tissue contaminants, and bacteria, are across the country.
The survey is a collaborative effort that involves many state environmental and natural resource agencies, federal agencies, universities, and other organizations. In many states, state water quality staff will conduct the water quality sampling and habitat assessments. In others, field work will be conducted by staff under contract to EPA.
 
Those trained will take measurements at each site, using consistent procedures so that results can be compared nationally. To sample one site, it takes a daily field team of four to five people. Conduct a variety of measurements including temperature, dissolved oxygen, nutrients, and acidity. They also use the condition of the habitat and bacteria as indicators of possible fecal contamination; the type and abundance of fish; and contaminants in fish tissue.
Data will be made available to the public in 2021 as part of the final report on the condition of our rivers and streams. Between the time sites are sampled and the national report is published, samples will be analyzed in the lab, data will be entered into a database and analyzed, and a draft report will be written and reviewed. EPA will release the results in a variety of formats to reach a range of audiences, examples include a streamlined written report, factsheet, storymap and data dashboard.
For more information on the National Rivers and Streams Assessment: https://www.epa.gov/national-aquatic-resource-surveys
For more information on EPA's regional laboratory in Chelmsford, Mass.: https://www.epa.gov/aboutepa/about-region-1s-new-england-regional-laboratory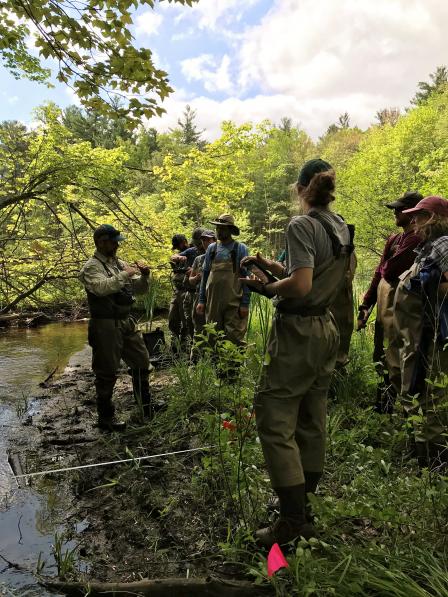 (Photo Credit US EPA)