News Releases from
Region 10
EPA's top tips to prevent carbon monoxide (CO) poisoning in your home, workshop or garage
Carbon Monoxide(CO) is a KILLER!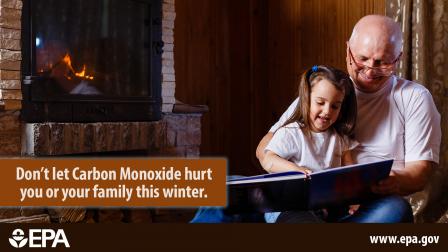 Every year, close to 500 people die and almost 50,000 people visit U.S. hospital emergency rooms from accidental CO poisoning. CO is found in fumes produced by gas ranges, vehicles, portable generators, camp stoves, lanterns, or by burning charcoal and wood. CO from these sources can build up in enclosed or even partially enclosed spaces, silently poisoning people and animals.
Recognize the Symptoms of CO poisoning
The most common CO poisoning symptoms are headache, dizziness, weakness, nausea, vomiting, chest pain, and confusion. People who are sleeping or who have been drinking alcohol can die from CO poisoning before ever having symptoms.
You Can Prevent CO Poisoning
Make sure you have both a working smoke AND CO detector (or all-in-one unit) in your indoor spaces. Smoke is visible, but CO is an invisible threat. Treat your detectors to fresh batteries every six months.
Never leave a parked vehicle motor running in a garage or other enclosed or even partially enclosed space.
Never run a generator, pressure washer, or any gasoline-powered engine in your basement, garage, or other enclosed space - even if all the doors or windows are open.
Keep all vents, chimneys and flues unobstructed and free of debris, especially in high winds. Flying debris and blowing snow can block chimneys and flues, sending CO streaming into the space.
Never use charcoal grills, hibachis, lanterns, generators or portable camping stoves inside a home, tent, or camper.
If you suspect that someone is suffering from CO poisoning, move them to fresh air right away and consult your doctor or other health care professional IMMEDIATELY.
#  #  #
*For more information, please visit the Center for Disease Control & Prevention's excellent Carbon Monoxide Poisoning website .