News Releases from
Region 09
U.S. EPA awards $40,000 to UC Riverside for innovative technology project
For Immediate Release:  May 24, 2018
Media Contact: Margot Perez-Sullivan, 415-947-4149, perezsullivan.margot@epa.gov
SAN FRANCISCO – Today, the U.S. Environmental Protection Agency (EPA) awarded the University of California, Riverside a grant to further develop an ammonia air scrubbing and filtration system. The $42,240 People, Prosperity and the Planet (P3) grant will advance water reuse, waste recycling and cost effectiveness.
"These students are applying what they have learned in the classroom to create innovative solutions to environmental challenges," said EPA Administrator Scott Pruitt. "These awards support the next generation of scientists and engineers in their commitment to environmental protection, while helping states, tribes, and local communities find solutions to their environmental issues."
"We applaud these students for their focus on compelling, complex environmental issues," said Mike Stoker, Administrator for the EPA's Pacific Southwest office. "The innovative research funded today will help us better protect human health and the environment."
"Research opportunities like this one are the cornerstone on which students construct lifelong careers in scientific research, environmental stewardship, and public service. I have no doubt our talented and motivated students will make huge strides toward accomplishing their goals, thanks to the fruitful partnership between UC Riverside and the EPA," said the team's faculty advisor, Kelley Barsanti, an assistant professor of chemical and environmental engineering and the Center for Environmental Research & Technology at UC Riverside.
Nationally, EPA awarded more than $557,000 in funding for eight student teams through the P3 Grants Program during Phase II. These teams, made up of college students from across the country, are developing sustainable technologies to solve current environmental and public health challenges.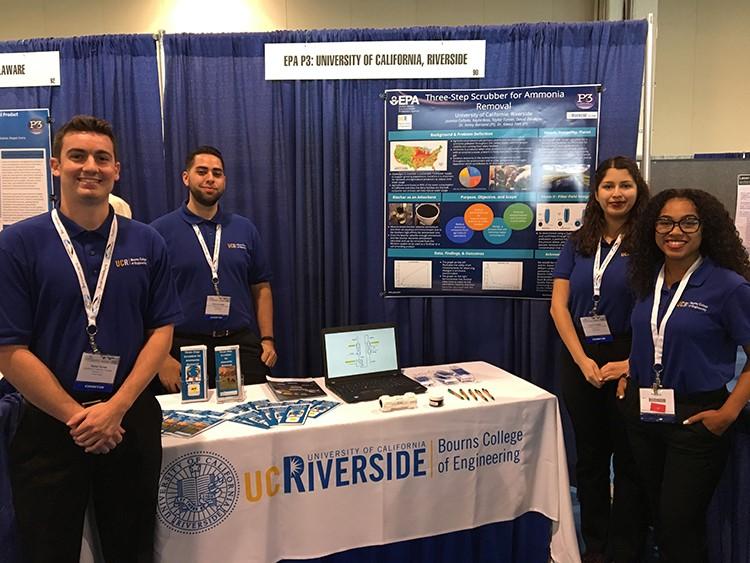 EPA P3 Phase II winners from the University of California, Riverside
P3 Phase II winners include:
Montclair State University – Montclair, NJ
Clarkson University – Potsdam, NY
Kennesaw State University – Kennesaw, GA
University of Cincinnati – Cincinnati, OH
Texas Woman's University – Denton, TX
California State University, Chico – Chico, CA
Butte College – Oroville, CA
University of California, Riverside – Riverside, CA
Background
The P3 program is a two-phase research grants program that challenges students to research, develop, and design innovative projects addressing environmental and public health challenges. Phase I serves as a "proof of concept," where teams are awarded a $15,000 grant to develop their idea and showcase their research in the spring at EPA's National Sustainable Design Expo. These teams are then eligible to compete for a Phase II grant of up to $75,000 to implement their design in a real-world setting.
Past P3 winners have gone on to start businesses based on ideas and products developed through their P3 project. For example, a 2007 P3 winning team from University of California Berkeley went on to create SimpleWaterExit, a water treatment company that specializes in household water treatment systems. Another successful 2007 P3 team from the University of Virginia created the Learning Barge, as a part of the Elizabeth River ProjectExit. The Learning Barge is the world's first floating wetland classroom and America's Greenest Vessel. It's a "steward ship," teaching children that live nearby about environmental stewardship and how to make the river swimmable and fishable by 2020.
To learn more about the projects of the 2018 P3 Phase II winners, visit: https://www.epa.gov/P3/20172018-p3-grant-recipients
For more information on the P3 Program, visit: http://www.epa.gov/P3