News Releases from
Region 09
U.S. EPA Awards $91,000 to Groundwork San Diego to Educate Students and Community on Water Conservation
LOS ANGELES-- The U.S. Environmental Protection Agency has awarded a $91,000 environmental education grant to Groundwork San Diego - Chollas Creek to develop and implement a water use and conservation curriculum. The project will improve environmental literacy and stewardship in the Encanto community in southeastern San Diego, and is expected to reach at least 560 students, 24 educators and 50 community members.
The project, "EarthLab Academy: Protecting Water Resources and Enhancing Environmental Literacy," will use a combination of student learning experiences, professional development, and workshops to equip students, teachers, and community members with tools to make informed environmental decisions. The project will be housed at Groundwork's Earthlab, a four-acre open space parcel near five participating schools. The lab uses the cultural and natural environment as a context for curriculum to emphasize scientific inquiry and environmental stewardship.
"Through projects like these, Groundwork is helping provide the next generation of leaders with the tools to tackle environmental issues." said Alexis Strauss, EPA's Acting Regional Administrator for the Pacific Southwest. "Conserving water and other resources is critical to the San Diego region, and EPA is pleased to support an effort benefiting the broader community."
"Groundwork San Diego - Chollas Creek is pleased to partner with the EPA to advance our shared goal of bringing environmental justice to low-income communities," said Leslie Reynolds, Executive Director of Groundwork San Diego - Chollas Creek. "The project will be delivered at the EarthLab Climate Action Center, and will work with students and families to address environmental issues in communities that suffer from the highest water and air pollution and public health challenges in the region."
Groundwork San Diego - Chollas Creek's partners on this project include the San Diego Unified School District, the University of California San Diego, San Diego Air & Space Museum, Elementary Institute of Science, Reuben H. Fleet Science Center, Living Coast Discovery Center, Math for America San Diego, San Diego Natural History Museum, PEAK Energy Center, Suzie's Farm, San Diego Whale Watch, and the Torrey Pines State Natural Reserve.
The EPA Environmental Education Local Grants Program supports environmental education projects that increase public awareness about environmental issues and provide communities with skills needed to protect the environment.
For more information on Environmental Education Grants, please visit: www.epa.gov/education/environmental-education-ee-grants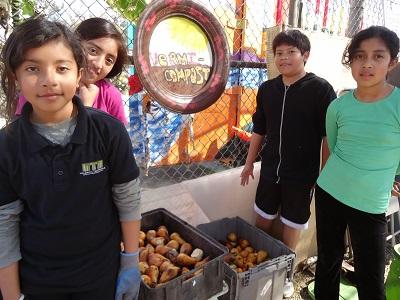 Middle school students ready the outdoor EarthLab Climate Action Center for the summer EPA-sponsored learning academy. Photo credit: Groundwork San Diego - Chollas Creek