News Releases from
Region 07
City of Omaha Invited by EPA to Apply for $55-Million Water Infrastructure Finance and Innovation Act Loan
2017 loans will help improve water quality for 20 million Americans by accelerating investment in our nation's water infrastructure
Environmental News

(Lenexa, Kan., July 19, 2017) - The U.S. Environmental Protection Agency (EPA) is inviting the city of Omaha, Neb., to apply for a $55-million Water Infrastructure Finance and Innovation Act (WIFIA) loan to help finance improvements to the city's wastewater treatment system.
After a robust, statutorily-required review process, Omaha was selected as one of 12 projects nationwide from a group of 43 prospective borrowers, representing large and small communities, who submitted letters of interest to EPA in response to the 2017 WIFIA Notice of Funding Availability (NOFA).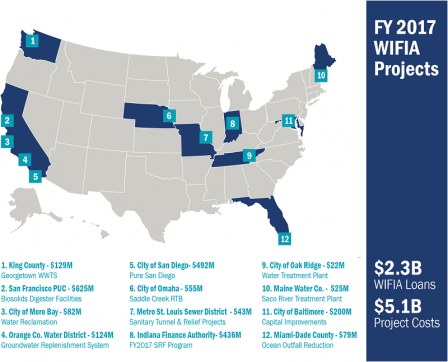 In fiscal year 2017, the WIFIA program received $25 million, including an additional $8 million in the Consolidated Appropriations Act of 2017 which was signed into law by President Donald Trump on May 5, 2017. This year's projects will also leverage more than a billion dollars in private capital and other funding sources, including EPA's State Revolving Fund (SRF) loans, to help finance a total of $5.1 billion in water infrastructure investments. The selected projects demonstrate the broad range of project types that the WIFIA program can finance, including wastewater, drinking water, stormwater, and water recycling projects.
"Rebuilding America's infrastructure is a critical pillar of the president's agenda," said EPA Administrator Scott Pruitt. "These large-scale projects will improve water quality for 20 million Americans, especially those communities that need it the most, such as rural and urban communities."
"I am pleased the EPA is taking steps to address the combined sewer overflow issues in Omaha's Saddle Creek Basin. Investment in this important infrastructure project will improve water quality in the Omaha metro area and help keep Nebraska families healthy and safe," said U.S. Sen. Deb Fischer of Nebraska.
The city of Omaha's letter of interest outlines plans to construct a new retention treatment basin to address combined sewer overflows in the Saddle Creek Basin, as required by the city's consent decree, Clean Water Act permit, and long-term control plan. This project would address water quality concerns in Papillion Creek and the Missouri River by removing 1.2 billion gallons of combined sewage discharged into the Little Papillion Creek, along with floatables and other solids from combined sewer overflows.
The Water Infrastructure Finance and Innovation Act established by Congress in 2014 requires EPA to follow a selection framework that includes an assessment of letters of interest by performing an eligibility screening, a preliminary creditworthiness assessment, and an evaluation of the selection criteria. The WIFIA program selection criteria and respective weights are available in the WIFIA Handbook  [https://wcms.epa.gov/sites/production/files/2017-07/documents/program_handbook_7-18-17_final.pdf] (Appendix C, Page 53).
Established by the Water Infrastructure Finance and Innovation Act of 2014, the WIFIA program is a new federal loan and guarantee program at EPA that aims to accelerate investment in our nation's water infrastructure by providing long-term, low-cost supplemental credit assistance for regionally and nationally significant projects. The WIFIA program's funding in President Trump's FY18 budget is $20 million, an amount that should fund approximately $1 billion in loans. For more information about the WIFIA program, visit: www.epa.gov/wifia.
# # #
Learn more about EPA's WIFIA program
WIFIA project fact sheets
Learn more about EPA Region 7
View all Region 7 news releases