News Releases from
Headquarters
EPA Administrator Pruitt and Congressman Conaway Discuss Environmental and Economic Issues Important to Texas and the Nation
WASHINGTON -- Environmental Protection Agency Administrator Scott Pruitt met with U.S. Representative Mike Conaway (TX-11) on Wednesday in the Congressman's Washington, D.C., office.  The two discussed environmental and economic issues important to both the nation and the people of the State of Texas.

"I appreciated the opportunity to meet with Congressman Conaway today and discuss the issues important to our nation and to the people of Texas," said Administrator Pruitt. "The people of Texas and their elected representatives deserve an EPA that is focused on the basics of protecting the environment, engaging with state and local partners, and ensuring sensible regulations for economic growth."

"Today's meeting with Administrator Pruitt was a great step toward establishing an open dialogue with the EPA. There are many issues that still need to be addressed to help relieve rural America from burdensome regulations, but I am excited Administrator Pruitt is committed to addressing the concerns of America's farmers and ranchers. I look forward to working with him on these issues," said Congressman Conaway.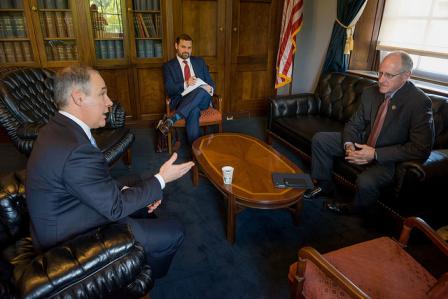 Pictured: EPA Administrator Scott Pruitt and Congressman Mike Conaway (TX-11) meet on Capitol Hill.

As they become available, more photos, B-roll video, and MP3 audio actualities of the meeting will be at this link: https://www.epa.gov/newsroom/multimedia-administrator-scott-pruitts-meeting-rep-mike-conaway

R071