News Releases from
Region 07
EPA Announces Selection of New Deputy Regional Administrator
Environmental News
FOR IMMEDIATE RELEASE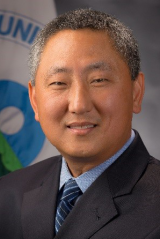 Edward H. Chu(Lenexa, Kan., Aug. 10, 2016) - EPA is pleased to announce the selection of Edward H. Chu as the new Deputy Regional Administrator for EPA Region 7 in Lenexa, Kan. EPA Region 7 encompasses Iowa, Kansas, Missouri, Nebraska and nine tribal nations.
"Ed has a results-driven track record in environmental management," said Region 7 Administrator Mark Hague. "He brings a diverse background to the Heartland, with leadership and expertise that will be valuable as we face great challenges and even greater opportunities."
Ed has almost 30 years of experience in environmental and energy policy. He has served in critical senior roles within EPA and at the White House Council on Environmental Quality. Ed has held key leadership positions since arriving at EPA in 1995. Most recently, Ed was the Assistant Regional Administrator for the Pacific Northwest and Alaska Region (Region 10), serving four states and 271 federally recognized tribes. He also served as the Assistant Regional Administrator for the Southeast Region (Region 4), the most populous EPA region, serving eight states and six federally recognized tribes.
Prior to public service, Ed spent seven years as an energy and environment consultant. He received a Bachelor of Arts from Michigan State University and a Master of Public Policy from University of Michigan.
# # #
Learn more about EPA Region 7
View all Region 7 news releases
Connect with EPA Region 7 on Facebook: www.facebook.com/eparegion7
Follow us on Twitter: @EPARegion7