News Releases from
Region 02
EPA Grant Funds Teacher Training Through The College of New Jersey
(New York, N.Y.) The U.S. Environmental Protection Agency today announced a $91,000 environmental education grant to The College of New Jersey. The grant funding will be used to provide training to teachers in New Jersey. The training is designed to increase environmental literacy and promote the protection of local water sources in their communities and schools. More than 30 grants totaling $3.3 million were awarded nationwide.
The teachers trained through this project will develop, in collaboration with their students, school-specific projects at ten local elementary schools. All participating schools are located in New Jersey, and within 20 miles of The College of New Jersey. 
 "This grant gives local teachers the tools and resources they need in order to incorporate important environmental concepts in the classroom," Administrator Pruitt said. "I look forward to seeing how these funds are used to promote the protection of clean water in communities across New Jersey."
 "The College of New Jersey is extremely grateful to the EPA for this important grant award," said The College of New Jersey Associate Vice President for Communications Dave Muha, "It will provide the teachers and students with crucial environmental sustainability education projects that will have implications not only for the participating schools but the surrounding communities as well. Our goal is to instill a capacity to exert influence over the environmental health in these areas in order to inspire direct and lasting change."
Using the EPA grant, The College of New Jersey will work through its Sustainability Institute, which is the college's "think and do" tank managing cutting edge research and outreach programs, to establish an intensive professional development series for teachers focused on how best to integrate information about the environment into a classroom's curriculum.  A major focus of the training will be on the protection of local water sources.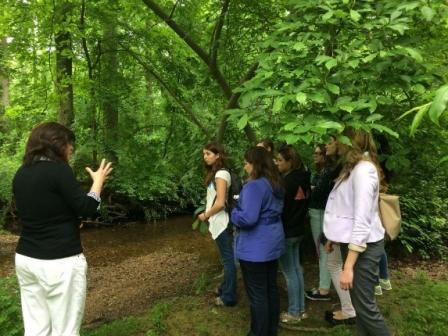 The College of New Jersey students learning how to connect learning to local environments
For more information about EPA's environmental education program: https://www.epa.gov/education.
17-040