News Releases from
Region 02
EPA Recognizes Jersey City, N.J., Superfund Site for Excellence in Reuse
(New York, N.Y. –  June 28, 2018) Today, U.S. Environmental Protection Agency (EPA) Regional Administrator Pete Lopez today presented New Jersey Department of Environmental Protection (NJDEP), Jersey City and Prologis, Inc. – the company responsible for the cleanup and reuse of the site – with the Excellence in Site Reuse Award. NJDEP Deputy Commissioner Debbie Mans, Jersey City Deputy Mayor Marcos Vigil and representatives from Prologis, Inc. accepted the Excellence in Site Reuse Award for work at the PJP Landfill Superfund site in Jersey City, N.J.
The award recognizes Superfund site partners who have collaborated with EPA to support redeveloping Superfund sites in ways that are beneficial to the community and compatible with the cleanup.  The PJP Landfill Superfund site is home to a newly constructed warehouse and distribution center, continued commercial use, public open space and restored wetlands.
"This has truly been a collaborative effort between local, state and federal agencies and the community to turn this once environmentally compromised site into an economic and community asset," said EPA Regional Administrator Pete Lopez. "The Excellence in Reuse award underscores how Superfund cleanups translate into tangible benefits for local communities, businesses and an area's entire ecosystem. Redevelopment of this site will continue bringing economic, ecological and recreational benefits to the Jersey City community."
"This is truly an environmental success story, one in which a landfill that once was notorious for long-burning underground fires and exposed wastes has been reclaimed for productive commercial use," DEP Commissioner Catherine R. McCabe said. "We are proud to accept this award, which acknowledges the many years of hard work the DEP – in partnership with the EPA, Jersey City and Prologis – has dedicated to turning a major environmental problem for the city into a project that is creating jobs and economic development."
"The City is excited to be involved with the transformation of the once blighted landfill into a viable, mixed-use waterfront property for the public to enjoy," said Jersey City Deputy Mayor Marcos Vigil.
"When we acquired this former landfill back in 2008, we knew it would take a great deal of tenacity and teamwork to transform a site many thought could never be developed," said Prologis' Senior Vice President Steve Campbell. "The key to success was a public-private partnership that allowed Prologis to work closely with Waste Management Corporation, the EPA, the New Jersey Department of Environmental Protection, New Jersey local and state political leadership and, most importantly, the local community. The outcome has been positive for both the environment and the regional economy."
A past and present view of part of the PJP Landfill Superfund site beneath the Pulaski skyway, Jersey City, N.J., and future location of a community park. Photo credits: New Jersey Department of Environmental Protection (archival photo), Courtesy of EPA (cleaned-up, present day).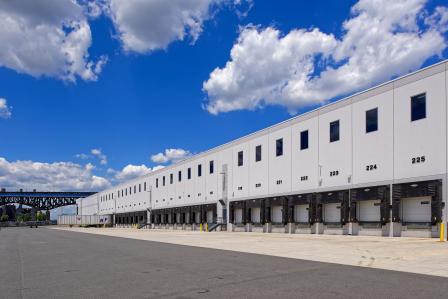 Today, the site has been redeveloped and includes a Prologis distribution center. (Photo Credit: Courtesy of Prologis)
From about 1970 to 1974, the PJP Landfill Company operated a commercial landfill at the site, accepting chemical and industrial waste. Landfill operations contaminated groundwater, soil and sediment with hazardous chemicals and for over a decade, between 1970 and 1985, the landfill had frequent subsurface fires. In 1983, EPA added the site to the National Priorities List.
NJDEP addressed subsurface fires and other immediate concerns in the mid 1980's by capping a 45-acre portion of the site. In addition, NJDEP excavated and re-compacted over one million cubic yards of contaminated materials.  NJDEP also removed drums and capped about half of the landfill.  When outside parties expressed interest in purchasing the site property for potential redevelopment, NJDEP and EPA redesigned the cap to accommodate redevelopment.
In March 2008, AMB Corporation purchased a portion of the site for a large warehouse.  Jersey City purchased 32 acres of cleaned up land in 2010, with the goal to create green space and a park on its portion of the site – the Skyway Park.  The park, currently in its planning phase, will address a community need for open space and waterfront access.  In 2014, Prologis completed the Pulaski Distribution Center, a Leadership in Energy and Environmental Design (LEED)- certified warehouse for retail packaging and distribution operations.  
Businesses on the site employ about 1,223 people, providing estimated annual employment income of nearly $53 million.  In 2016, site properties generated $1.8 million in tax revenues, and had a total estimated property value of $24 million.
Remaining acreage at the site has been designated for wetlands and habitat restoration.
For a fact sheet about the PJP Landfill redevelopment, and for more Superfund redevelopment success stories, visit: www.epa.gov/superfund/pjp-landfill and https://www.epa.gov/superfund-redevelopment-initiative
Follow EPA Region 2 on Twitter at http://twitter.com/eparegion2 and visit our Facebook page, http://facebook.com/eparegion2.
18-047