News Releases from
Region 10
EPA, State of Alaska, and Zender Environmental Health and Research Group to honor environmental job training graduates from Alaska Native Villages
The Environmental Protection Agency, the State of Alaska, and Zender Environmental Health and Research Group will honor graduates of Zender's Rural Alaska Community Environmental Job Training Program for successfully completing training for possible careers in environmental health and cleanup work.
The program trains and helps place graduates in local environmental jobs and is targeted to unemployed and underemployed residents of remote Alaska Native Villages impacted by environmental health issues.  Seventeen students will graduate from the job training program at an April 30th ceremony in Anchorage.
The job training was made possible through a $192,300 EPA Environmental Workforce Development and Job Training grant awarded to Zender Environmental Health and Research Group.
EPA's Environmental Workforce Development and Job Training grants, also known as Brownfields Job Training grants, fund recruiting, entry level training, career counseling and job placement for careers in environmental health including contamination remediation, hazardous material handling, and more. 
"EPA Brownfields job training programs are an important resource for remote Alaska communities and others impacted by hazardous waste sites.  They provide unemployed and underemployed citizens with valuable technical skills that enable them to get good jobs in their communities," said Sheryl Bilbrey, Director of the EPA Region 10 Office of Environmental Cleanup. 
"EPA is proud to partner with Zender Environmental Health and Research Group and the State of Alaska to provide a path to careers in site cleanup and construction and bring much needed environmental improvements to remote Alaska communities," she added.
The intensive four-week program includes training in HAZWOPER, spill and emergency response, refrigerant recovery, landfill operation, hazardous material backhaul, and water and soil sample collection. Program graduates can earn 10 college credits through the University of Alaska, Fairbanks and up to 15 state or federal certifications including HAZWOPER, OSHA 10 Construction Safety, Confined Space Entry, Forklift Operations, and Certified Erosion and Sediment Control Lead, National Incident Command System, DOT Hazmat, CPR/First Aid.
"We're tremendously proud of our graduates," said Dr. Lynn Zender, Executive Director of Zender Environmental Health and Research Group. "Without hesitation we're able to recommend each student to Alaska's contractors and rural employers as hardworking and dependable employees. And when we hear about a community that has suddenly started to turn its waste management situation around, it is often a past student that is behind it."
In addition to receiving EPA grant funding and technical assistance, Zender Environmental Health and Research Group program partners include the Alaska Department of Environmental Conservation, Alaska Department of Labor, Association of Village Council Presidents, Kawerak Inc., University of Washington Department of Environmental and Occupational Health Sciences, Solid Waste Association of North America, and the University of Alaska at Fairbanks. The State of Alaska contributed additional funds through its Department of Labor State Training and Employment Program and Department of Environmental Conservation employees also served as training instructors.
More information on EPA's Brownfields program: https://www.epa.gov/brownfields.
More information on the Rural Alaska Community Environmental Job Training Program: http://www.zendergroup.org/racejt.html.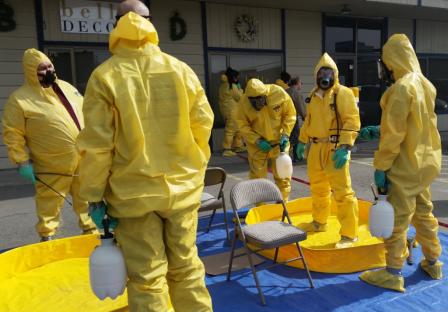 The Zender Environmental Health and Research Group's Rural Alaska Community Environmental Job Training Program trains students in hazmat response, spill and emergency response, contamination remediation, and more. (Photo by Zender Environmental, 2017)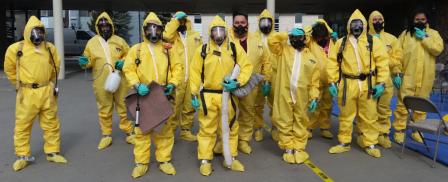 Zender Environmental Health and Research Group's Rural Alaska Community Environmental Job Training Program trains students in HAZWOPER, spill and emergency response, contamination remediation, hazardous material handling, and more. The program helps place graduates in remote local environmental jobs and is targeted to unemployed and underemployed residents of remote Alaska Native Villages. (Photo by Zender Environmental, 2017)