News Releases from
Headquarters
›
Water (OW)
EPA Wraps Up Community Engagement Event in Kansas
Leavenworth, KS  – Today, the U.S. Environmental Protection Agency (EPA) wrapped up the per- and polyfluoroalkyl substances (PFAS) community engagement in Leavenworth, Kansas with nearly 100 attendees. Most importantly, EPA heard directly from the public at the listening session. Participants, including community groups from the Heartland, spoke about their experiences, concerns, and suggestions on PFAS.
"I am grateful to our federal, state, and tribal partners for engaging on this emerging issue today. We are fortunate to work with such driven leaders and scientists. We recognize there may not be a one-size-fits-all approach, which is why engaging with the Great Plains community is so important as we move forward," said Regional Administrator Jim Gulliford.
"We support the EPA's efforts to engage Kansas stakeholders and the general public on this important issue," said Environment Director Leo Henning, Kansas Department of  Health and Environment. "We look forward to working collaboratively with our federal, state and local partners to examine the PFAS impact in Kansas so that we can take proactive steps to protect our water supplies and citizens."
Today's community engagement included panels with leaders from EPA's Office of Research and Development, Region 7 Drinking Water Management Branch, the National Tribal Toxics Council, and the Agency for Toxic Substances and Disease Registry.
All in all, EPA interacted with more than 1000 people throughout the summer at these community engagement events and heard from approximately 200 citizens from Exeter, New Hampshire to Leavenworth, Kansas. 
EPA has made addressing PFAS a priority, and EPA is moving expeditiously on the following actions:
EPA will initiate steps to evaluate the need for a maximum contaminant level (MCL) for PFOA and PFOS. We will convene our federal partners and examine everything we know about PFOA and PFOS in drinking water.
EPA is beginning the necessary steps to propose designating PFOA and PFOS as "hazardous substances" through one of the available statutory mechanisms, including potentially CERCLA Section 102.
EPA is currently developing groundwater cleanup recommendations for PFOA and PFOS at contaminated sites and will complete this task by fall of this year.
EPA is taking action in close collaboration with our federal and state partners to develop toxicity values for GenX and PFBS later this year.
Background
Throughout the summer, EPA has conducted similar engagements with communities impacted by PFAS. Community Engagements have been held in Exeter, New Hampshire (June 25-26); Horsham, Pennsylvania (July 25); Colorado Springs, Colorado (August 7-8); and Fayetteville, North Carolina (August 14). The EPA also engaged with tribal representatives at the Tribal Lands and Environment Forum in Spokane, Washington, on August 15.
These community engagement events are critical to understand ways the Agency can best support the work that's being done at the state, local, and tribal levels. Using information from the National Leadership Summit, community engagements, and public input provided by the docket, EPA plans to develop a PFAS Management Plan for release later this year.
To ensure that everyone who would like to provide input to the EPA has the opportunity to do so, the Agency has opened a docket for input from the public and will be accepting comments until September 28, 2018. Comments may be submitted at https://www.regulations.gov/docket?D=EPA-HQ-OW-2018-0270
To learn more about PFAS, please visit: https://www.epa.gov/pfas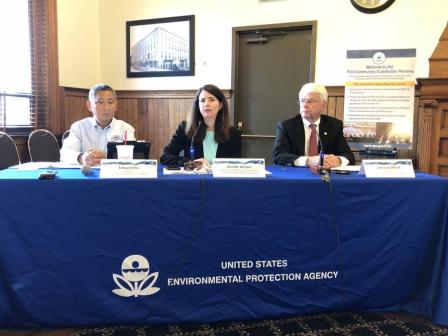 Regional Administrator Jim Gulliford, Office of Ground Water and Drinking Water Deputy Director Jennifer McLain, Deputy Regional Administrator Ed Chu kick off the Leavenworth community engagement.