News Releases from
Headquarters
›
Air and Radiation (OAR)
EPA's Indoor airPLUS Program Honors Partners with 2018 Indoor airPLUS Leader Award
WASHINGTON — The U.S. Environmental Protection Agency (EPA) has recognized eight organizations with 2018 Indoor airPLUS Leader Awards, including two Leaders of the Year, for their ongoing commitment to building healthier homes with the Indoor airPLUS Program. The esteemed 2018 Leaders of the Year, awarded in both the Homebuilder and Home Energy Rater categories, include Fulton Homes (Tempe, AZ) and Energy Inspectors Corporation (Las Vegas, NV). EPA selected these two partners for their outstanding program participation and promotion of indoor air quality.

Additional 2018 Leader Award winners in the Homebuilder category include Thrive Home Builders, Denver, CO (Affordable and Large Builder); Charis Homes, North Canton, OH (Small Builder); C & B Construction, Cottonwood, AZ (Small Builder); and Mandalay Homes, Phoenix, AZ (Large Builder). Additional Home Energy Raters recognized with the Indoor airPLUS Leader Award include E3 Energy LLC (Flagstaff, AZ) and Steven Winter Associates, Inc. (Norwalk, CT).
 
"This year's Leader Award winners have shown continued success by implementing the Indoor airPLUS label with enhanced indoor air quality protections for their homebuyers," said EPA Office of Air and Radiation Assistant Administrator Bill Wehrum. "I would like to extend my congratulations to all of the well-deserving recipients for their dedication to building safer and healthier homes for American families."
The Indoor airPLUS Leader Awards were formally presented along with the announcement of the Leader of the Year Winners at the EEBA High Performance Home Summit, October 16-18, 2018 in San Diego, California.  
 
The Indoor airPLUS Leader Awards recognize industry partners who construct and verify Indoor airPLUS labeled homes, designed and built for improved indoor air quality (IAQ). This annual award recognizes market leading organizations that promote safer, healthier, and more comfortable indoor environments by participating in Indoor airPLUS and offering enhanced IAQ protections for new homebuyers.
 
Created on the foundation of EPA's ENERGY STAR Certified Homes Program, Indoor airPLUS encourages builders and raters to embrace construction practices to help minimize exposure to airborne pollutants and contaminants. Homes that earn the Indoor airPLUS label offer superior comfort, durability, indoor air quality, and peace of mind for home buyers.
 
Learn more about the 2018 Indoor airPLUS Leader Awards or the Indoor airPLUS Program.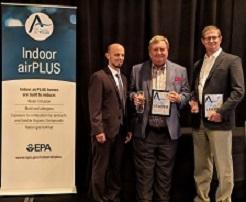 From left to right: Nick Hurst, Indoor airPLUS
Program Manager; Dennis Webb, Fulton Homes;
Greg Cobb, Energy Inspectors.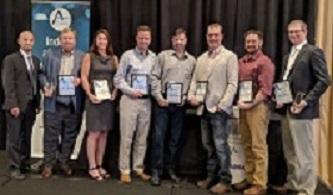 From left to right: Nick Hurst, US EPA; Dennis Webb, Fulton Homes; Karla Butterfield, Steven Winter Associates; Stephen Myers, Thrive Home Builders; Chris Spannagel, C&B Custom Homes; Justin Erickson, E3 Energy; Geoff Farrell, Mandalay Homes; Greg Cobb, Energy Inspectors; Glenna Wilson, Charis Homes (not pictured)