News Releases from
Region 07
University of Nebraska-Lincoln and Saint Louis University to Receive Funds from EPA's Urban Waters Small Grants Program
Environmental News
FOR IMMEDIATE RELEASE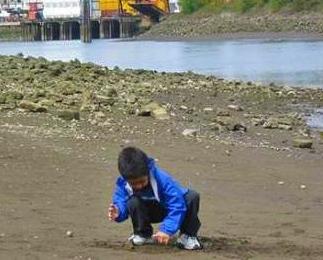 Child playing on river sandbar(Lenexa, Kan., Oct. 11, 2016) - The University of Nebraska-Lincoln and Saint Louis University are among 22 organizations or institutions across the country to receive funding from EPA's Urban Waters Small Grants Program for a range of projects designed to help protect and restore urban waters, support community revitalization and address related priorities.
"Often underserved communities in our nation's cities face disproportionate impacts from pollution, and too often they lack the resources to do something about it," said Joel Beauvais, EPA deputy assistant administrator for Water. "EPA provides support to empower these communities to improve the quality of their waterways and to help reconnect people and businesses with the water they depend on."
The University of Nebraska-Lincoln, of Lincoln, Neb., will receive $59,935 for a project to improve stormwater and green infrastructure training and assistance for Omaha's workforces, students and residents.
Saint Louis University, of St. Louis, Mo., will receive $58,793 for a project to evaluate whether the use of brine pretreatment as an alternative to chloride as road salt will help reduce local chloride water pollution.
The grants to UN-L and SLU are part of a $1.3 million package of grants to universities, foundations and nonprofit groups in 18 states, announced today by EPA in Washington, D.C.
EPA's Urban Waters Small Grants are competed and awarded every two years. Since its inception in 2012, the program has awarded approximately $6.6 million to 114 grantees in the U.S. and Puerto Rico, with individual award amounts of up to $60,000.
To learn more about this year's funded projects, visit EPA's website.
# # #
Learn more about EPA Region 7
View all Region 7 news releases
Connect with EPA Region 7 on Facebook: www.facebook.com/eparegion7
Follow us on Twitter: @EPARegion7