Journey to Justice
In November 2021, EPA Administrator Michael S. Regan began a Journey to Justice tour to spotlight longstanding environmental justice concerns. Administrator Regan made a commitment to take the perspective of the overburdened and underserved residents who have suffered back to DC to drive policymaking.
EPA continues to take actions as a direct result of conversations with communities on this tour, as we renew our focus on environmental justice while protecting human health and the environment of all people, no matter the color of their skin, their zip code, or how much money they have in their pockets.
Read more details below about Administrator Regan's Journey to Justice trip to Mississippi, Louisiana, and Texas and learn about agency actions taken in response to his visit.
"The pollution concerns have been impacting these communities for decades. Our actions will begin to help not only the communities I visited on this tour, but also others across the country who have suffered from environmental injustices."

- Administrator Michael S. Regan
In direct response to concerns from residents in overburdened neighborhoods, EPA is announcing specific actions in each of the areas that he visited on the tour.
---
Agency-Wide Actions
Directed the Office of Enforcement and Compliance Assurance (OECA) to aggressively use its authority to conduct unannounced inspections at suspected non-compliant facilities, as needed, to protect public health.
Launching a new Multi-Scale Monitoring Project called the Pollution Accountability Team (PAT) – which combines air pollution monitoring with boots-on-the-ground inspectors – to provide strong environmental compliance and pollution monitoring in the south.
Making $20 million in grants available from the American Rescue Plan to enhance local air monitoring for pollutants of greatest concern in overburdened communities.
Taking steps to apply the best available science to solutions for communities facing severe pollution, including a proposed screening methodology to evaluate chemical risk to fenceline communities and a notice reaffirming EPA's peer-reviewed scientific assessment showing that ethylene oxide is significantly more toxic than previously understood.
Mississippi
In Jackson, Administrator Regan saw firsthand the longstanding water infrastructure challenges and the impacts these problems have on the community including children at Wilkins Elementary School, where the Administrator was to visit students and faculty until school was canceled due to low water pressure.
On January 25, 2022, EPA issued a Notice of Noncompliance to the city for not timely repairing and maintaining equipment necessary to reliably produce drinking water. 
Administrator Regan will be sending follow-up letters to elected officials to stress the importance of dedicating federal infrastructure funds, including nearly $79 million allocated to Mississippi from the Bipartisan Infrastructure Law to solve some of most dire water needs in Jackson and other areas of need across Mississippi.
Louisiana
Administrator Regan met with residents in New Orleans, St. John the Baptist Parish, St. James Parish, and Mossville, where he saw the impacts of pollution, climate change and crumbling water infrastructure.
The new Pollution Accountability Team will start as the pilot air monitoring project in Mossville, St. James Parish and St. John the Baptist Parish. As part of the Administration's commitment to transparency, EPA Region 6 will make this data available to the public.
EPA will also invest more than $600,000 to procure mobile air pollution monitoring equipment and will work with local organizations to host trainings for community members to familiarize them with the technology.
In St. John the Baptist Parish, EPA used its authority to require the Denka facility to install fenceline monitors to identify sources of emissions onsite, allowing the EPA and communities to better understand air pollutants in a quick, reliable way. This month, Denka complied with EPA's request to install these monitors.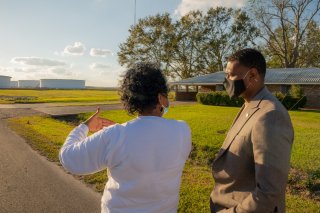 In St. James Parish, EPA announced support for the U.S. Army Corps of Engineers' decision to require a more robust Environmental Impact Statement as a permit for a proposed Formosa plant expansion is considered.
EPA Region 6 issued a Notice of Violation and Opportunity to Confer (NOVOC) to Nucor Steel Louisiana LLC in St. James Parish, requiring them to address unauthorized emissions of hydrogen sulfide and sulfuric acid mist, and exceedance of permitted limits for sulfur dioxide emissions at their Direct Reduced Iron (DRI) facility.
EPA announced a significant increase in inspections of industrial facilities in the Mossville area to assess compliance at facilities that present potentially elevated risks to the community based on recent EPA helicopter flyovers and mobile air monitoring of the area.
EPA Region 6 issued a Notice of Potential Violation and Opportunity to Confer (NOPVOC) Letter to Sasol Chemicals USA, LLC – a facility that uses natural gas and by-products from refinery operations to produce specialty chemicals.
In New Orleans' Gordon Plaza neighborhood, an affordable housing development built on a former landfill, EPA will expedite a review of the site to begin in March 2022. The solutions discussed would support relocation of community members off the land, provide economic opportunity for the City, advance clean energy, and lower greenhouse gas emissions in the area.
Texas
Administrator Regan spoke with residents in Houston – including the Fifth Ward, Kashmere Gardens and the Houston Ship Channel – about impacts of air and water pollution from nearby facilities on the community.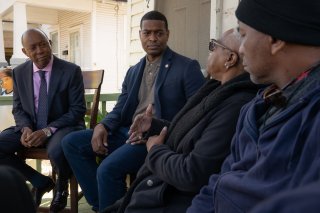 EPA is proposing to formally reject the Texas Commission on Environmental Quality's less protective risk value for ethylene oxide (EtO). EPA is committed to leading with the best available science in this and future rulemakings to reduce emissions of this chemical and better protect people's health.
EPA announced completion of a review of a proposed Union Pacific Railroad permit renewal and corrective actions that govern cleanup of contamination at the Houston Wood Preserving Works site.
EPA is monitoring Texas Commission on Environmental Quality's installation and operation of additional air monitors. These air monitors will supplement the existing monitoring network and capture the pollution that residents in these communities face.
In response to the call for improved accessibility to language and interpretation services, EPA is establishing a partnership with Texas Environmental Justice Advocacy Services ( T.E.J.A.S) under the Beyond Translation (BT) Plus program to improve communication, especially when it comes to information on environmental risk and enforcement.