Savannah Capacity Building Pilot Project
Pilot Update
A series of highly productive meetings were conducted on February 27-28, 2018 involving local project partners to build upon the outcomes of the needs assessment previously conducted. Activities included facilitated stakeholder dialogues and training sessions involving community leaders, port officials, city government officials, and community/business roundtable members in Savannah. 
Participants expanded their familiarity with EPA's capacity building toolkit as the tools were utilized for process guidance and reference materials throughout the site visit. Through collaborative exercises, participants shared an understanding of their respective organization's decision-making processes and identified opportunities for integrating considerations representing other stakeholders' priority interests. In addition, project partners discussed local environmental conditions and strategies for making improvements to be addressed as implementation of the pilot continues.
Capacity Building Pilot Project Kickoff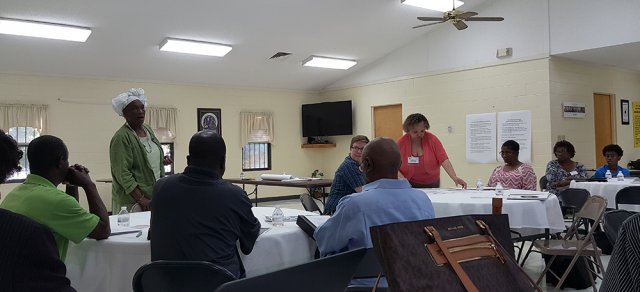 Community Stakeholders Dialogue at Hudson Hill Community CenterOn May 8 and 9, 2017, the EPA, along with port industry and community stakeholders, participated in a series of meetings and activities to launch the Near-port Community Capacity Building Pilot Project in Savannah, Georgia. Key organizations involved in the meetings were Harambee House, and the Port of Savannah, as well as city officials and other local stakeholders and community members.
Project participants attended tours of the port and nearby communities to view local conditions and gain a better understanding of the perspectives of those involved with and affected by port-related activities. EPA served as a resource in assessing initial needs during both separate and joint dialogues with port officials and community leaders. These dialogues led to development of initial planning goals for further action in subsequent pilot project meetings. EPA's collaboratively-developed capacity building engagement tools were utilized to assess and prioritize stakeholder needs and specific objectives for the project, including improved human health, environmental, and economic outcomes.  
Kickoff Event Photos
Port of Savannah Tour
Georgia Ports Authority, Port of Savannah Meeting
Port of Savannah Tour
Harambee House/Citzens for Enviromental Justice Meeting