Heat Island Newsroom
Welcome to EPA's Heat Island Newsroom, which includes recent issues of the Heat Island Newsletter and other notable news items. To receive the newsletter and notices of heat island-related conferences by email, sign up for EPA's Heat Island Newsletter. For the latest sector events and webinars, visit the Calendar page.
🔒 Some journals have restricted access. If you are unable to gain access through your local or organizational library, please contact the Heat Island Reduction Program.
June 10, 2022 Newsletter
EPA Updates
EPA Launches EJScreen 2.0!
In February, EPA released an updated and redesigned EJScreen, the Agency's publicly available, award-winning environmental justice (EJ) screening and mapping tool. This version expands insights into EJ community concerns, using new data on environmental burdens, socioeconomic factors, climate change, health, and critical service gaps.
White House Releases the Climate and Economic Justice Screening Tool
The White House Council on Environmental Quality released a beta version of a new Climate and Economic Justice Screening Tool to help federal agencies identify disadvantaged communities that are marginalized, underserved, and overburdened by pollution. The tool provides socioeconomic, environmental, and climate information to inform decisions that may affect these communities. It identifies disadvantaged communities through publicly available, nationally consistent datasets.
Heat Islands News and Resources
General Heat Islands
American Planning Association Report Addresses Urban Heat Resilience
The newly published Planning for Urban Heat Resilience report provides planners with a framework for incorporating heat resilience into their work and for reducing urban heat in their cities. It provides guidance on setting urban heat goals, developing heat management strategies, coordinating across planning efforts, and ensuring inclusive participation in the planning process. 
Intergovernmental Panel on Climate Change (IPCC) Report Emphasizes Extreme Heat, Heat Islands
The most recent IPCC Assessment Report underscores the impact of climate change on heat islands and extreme heat events, and emphasizes the importance of taking actions to cool urban environments. The report finds urban expansion and destruction of green space can increase local heat islands, with up to 3.6°F of warming. It reports with high confidence that future heat health risks are expected to be greater in urban areas due to the heat island effect. The report also addresses societal impacts of heat islands, including lower labor productivity, unequal economic stress on residents, and thermal inequity. It suggests interventions such as green roofs and cool roofs can reduce the heat island effect. 
California Aims to Build Extreme Heat Resilience through New Action Plan
California released an Extreme Heat Action Plan outlining actions to adapt and strengthen resilience to higher temperatures, more frequent and severe heat waves, and heat islands. The plan calls for establishing a heat island effect index, supporting local and tribal heat action plans that cool heat islands, and driving heat resilience through updated building codes. The state also offers Sustainable Transportation Planning Grants, which include funding eligibility for heat islands and extreme heat reduction activities as part of mobility planning. 
Equity
Three Cities Build Tree Equity Through Urban Forestry Initiatives
Camden and Newark, New Jersey, and Baltimore, Maryland have maintained higher levels of tree equity than other cities through municipal urban forestry programs that focus on community engagement and partnerships with local nonprofit organizations. In Camden, the New Jersey Tree Foundation enlisted the help of 15,000 volunteers. Newark's Office of Sustainability uses the i-Tree tool to prioritize neighborhoods for planting. Similarly, TreeBaltimore created a street tree inventory, which informed a planting map. Leaders in all three cities cite the importance of community outreach for increasing the number of trees on private property to cool local heat islands. 
Community Engagement Advances Tree Equity in Washington, DC
An article published in Trees, Forests, and People documents methods to expand community participation in tree stewardship in Washington, DC's Ward 8, which experiences the highest levels of tree inequity in the city. Researchers conducted interviews with residents and identified six drivers or barriers to expanding the tree canopy: emotional, aesthetic, health, environment, gentrification, and maintenance. Through this effort, the researchers gathered 660 commitments to plant free trees on private property. 
New Boston Heat Resilience Plan to Focus on Environmental Justice Communities
Boston, Massachusetts Mayor Michelle Wu announced the release of Heat Resilience Solutions for Boston, a citywide heat plan with 26 strategies to address urban heat and protect residents, such as a citywide cooling network (e.g., cooling centers, outdoor heat relief spaces), increased shade on municipal sites, and home energy retrofits. The plan centers on environmental justice and equity and focuses on five communities that experience disproportionate temperature increases. Additionally, the city is taking immediate action to provide relief during heat waves, including 30 pop-up cooling kits for community organizations, a new Cool Roof Grant program, and a community-wide 'cool bus stop' design challenge.
Cool Materials
New Research for Los Angeles Shows Cool Materials Decrease Heat Impacts
A study published in the International Journal of Biometeorology models the impacts of increased tree canopy and high albedo/reflective roofs and pavements on heat in Los Angeles, California. The researchers developed four different albedo and tree cover scenarios, ranging from moderate to aggressive action, to evaluate how they may lessen the impact of heat waves and reduce mortality. The study revealed that aggressive action to increase albedo and tree canopy could decrease daytime air temperatures by 3.6–5.4°F (2–3°C) and reduce heat mortality by up to 25%, compared to the less aggressive actions.
Green Roofs and Green Walls
New Study Reveals Green Walls Can Reduce Local Heat Islands by 14° F
A review published in Renewable and Sustainable Energy Reviews examined 51 articles containing 647 case studies on the effects of green wall installation on building energy use and surrounding heat islands. The case studies showed that green walls can reduce energy demand for heating and air conditioning by up to 16.5% and 51%, respectively, and can reduce heat island intensity by up to 9°F. In highly urbanized areas, with narrow streets and high-rise buildings, green wall installation can reduce air temperatures by up to 14°F.
Research Highlights
Tool and Analysis Highlight
February 24, 2022 Newsletter
EPA Updates
Refreshed Climate Change and Heat Islands Webpage! 
Check out the refreshed content on our Climate Change and Heat Islands webpage for updated information and data, which covers:
Compound effects of climate change and heat islands, and 
Climate change benefits of reducing heat islands.
The page also links to EPA's Climate Change Indicators to explore historical trends such as heat wave frequency and season length. 
How Climate Change Influences Seasonality: EPA Report
A new EPA report explores how climate change is shifting the timing, variability, and duration of seasonal events. Using data from EPA's Climate Change Indicators, the report summarizes observational evidence across four themes of changes: (1) temperature and precipitation patterns, (2) warmer and shorter winters, (3) seasonality and extreme events, and (4) biological changes to a warming world. The report highlights that heat waves are occurring almost three times more frequently in recent years compared to the 50-year average, and that 46 of 50 major U.S. cities experienced an increase in heat wave frequency between the 1960s and 2010s. 
EPA Environmental Justice Grants Target Heat Islands 
In December 2021, EPA announced $14.1 million in environmental justice grant funding for 133 grants. Five have a direct heat island or heat equity focus, including grants awarded to organizations in Arlington, Mass.; New Haven, Conn.; Ridgeland, Miss.; Kansas City, Mo.; and Honolulu, Hawaii. Many of the grants will work to raise awareness of extreme heat and heat island issues at the community level through engagement in workshops, surveys, and school partnerships. Engagement will also seek to develop community-driven solutions such as alert networks and community gardens.
April 26–28, 2022 | National Integrated Heat Health Information System (NIHHIS) Meeting
Registration is open for the NIHHIS National Meeting, which will bring together federal agencies, state and local governments, private and public partners, and community leaders to discuss heat and health, focusing on engaging communities and developing a shared vision for community heat resilience. This free virtual meeting runs from April 26 to 28. EPA is one of eight federal agencies participating in NIHHIS. 
Heat Islands News and Resources
General Heat Islands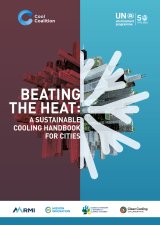 United Nations Environment Programme (UNEP) Handbook Supports Cooling Initiatives 
UNEP, The Cool Coalition, the Clean Cooling Collaborative, and other collaborators released a new handbook designed to provide cities with action steps to support cooling efforts and initiatives. The multi-pronged approach addresses reducing heat at the urban scale, reducing cooling and energy consumption needs in buildings, and implementing more efficient cooling techniques. This handbook also provides recommendations on advancing heat equity for underserved communities in the decision-making and planning processes.
New Heat Officer and Economic Assessment Seek to Reduce Heat in Phoenix, Ariz.
Phoenix appointed Dr. David Hondula, an Arizona State University heat researcher, as the director of its Office of Heat Response and Mitigation. Dr. Hondula stated that his first priorities are to increase tree and shade cover and work on cooling in the built environment. A new economic assessment of heat in Phoenix may also inform future actions. The assessment, which was led by The Nature Conservancy and conducted by AECOM, quantifies the total costs of inaction (e.g., healthcare costs, electricity consumption) at $1.9–$2.7 billion, and benefits from action (e.g., cool roofs, increased tree canopy) at $7.9–$15.3 billion from lower energy use, fewer health impacts, and increased productivity. Enhanced aesthetics, improved air quality, lower greenhouse gas emissions, and reduced stormwater would provide additional benefits. 
Urban Heat Stress Persists at Night
In a recent study🔒, researchers at the Department of Energy's Pacific Northwest National Laboratory gathered data from 80 cities to examine heat stress on warm days by calculating the number of hours when the heat index was above 80°F. They found that residents living in urban areas in the eastern and central United States experience an additional two to six hours of uncomfortable weather per day than residents in nearby rural areas. The greatest differences between urban and rural areas occurred at night, with heat index increases of 3.5 to 9.0°F in cities compared to outlying areas; during the day, these differences ranged from -1.5 to 1.0°F.
Equity
Low-Income and People of Color Face Greater Impacts of Extreme Heat in Los Angeles, Calif.
Los Angeles County released a Climate Vulnerability Assessment that evaluated future changes in the frequency and severity of extreme heat, and identified the groups and areas most impacted. The assessment finds the region will experience an additional 30 extreme heat days per year by 2050. While Latino community members make up 48.5% of the county's population overall, they comprise 66.9% of the population in areas that are deemed highly vulnerable to extreme heat. The assessment outlines several adaptive strategies that can reduce urban heat including parks, tree canopy coverage, reflective building surfaces, and cool pavements. 
Cool Materials
Cool Roof Rating Council (CRRC) Begins New Cool Wall Rating Program
CRRC is now offering a first-of-its-kind product rating for exterior wall products based on solar reflectance and thermal emittance properties. The ratings will be published on the CRRC Rated Wall Products Directory with CRRC Product Labels. These ratings will help users identify products that may reduce building energy use and/or reduce heat islands. CRRC developed the program over several years, in collaboration with industry and end users.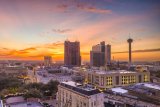 San Antonio, Texas Pilots Cool Pavement Project as Part of Its Climate Plan
Part of San Antonio's Climate Ready, Action, and Adaptation Plan aims to meet current and future challenges of climate change using cool pavement technology on city streets. In a pilot program, the city layered a reflective and light-colored material on top of existing pavement. The pilot decreased surface temperatures between 9 and 12°F (it did not measure ambient air temperatures). The city hopes the cool pavement coating will decrease air temperatures by several degrees when used at a large scale.
New Cool Pavement Program Seeks to Reduce Temperatures in Tucson, Ariz.
Researchers from the University of Arizona are implementing a cool pavement program in Tucson that uses a solar-reflective surface treatment on roadways. The treatment is designed to help reduce surface temperatures by reflecting sunlight, which helps prevent streets from absorbing and retaining heat. The city plans to analyze the ability of the pavement to reduce surface and air temperatures in May 2022, and potentially expand the program to other roadways.
Trees and Vegetation
Somerville, Mass. Aims to Increase and Diversify Tree Canopy Cover
Somerville released an Urban Forest Management Plan, funded by the Massachusetts Department of Conservation and Recreation and the U.S. Forest Service. The plan assesses the condition of the city's current canopy cover and provides recommendations to increase the canopy coverage from 14.6% to 16.0%, decrease invasive species, increase the diversity of native species, and reduce urban heat. The heat island index is one of highest-weighted factors the city will consider when it prioritizes locations for planting.
Cedar Rapids, Iowa to Build Resilience with Increased Tree Canopy
Cedar Rapids developed a Climate Action Plan that aims to reduce greenhouse gases and build resilience to climate hazards. The plan prioritizes 24 actions, including heat island reduction measures such as increasing green infrastructure and tree canopy in vulnerable neighborhoods. After losing 65% of its tree canopy in a 2020 derecho (a widespread, long-lived windstorm), the public identified planting trees for increasing shade and reducing heat as a top priority. Efforts to grow the tree canopy will include a tree planting program called ReLeaf.
November 3, 2021 Newsletter
EPA Updates
How Climate Change Disproportionately Impacts Four Socially Vulnerable Populations: EPA Report This EPA report explores how four socially vulnerable populations, defined based on income, educational attainment, race and ethnicity, and age, are impacted by climate change. The report quantifies the risk to these groups across six categories, including extreme temperature and health. According to the study, Black and African American individuals are 40% more likely to live in areas with the highest projected increases in extreme temperature-related deaths.
Interagency Effort Seeks to Protect Workers and Communities from Extreme Heat A new effort co-led by EPA, the U.S. Department of Health and Human Services, and the National Oceanic and Atmospheric Administration will embark on a series of actions involving several federal agencies to respond to extreme heat and reduce heat-related illness. The Department of Labor's Office of Safety and Health Administration (OSHA) is launching a multi-prong initiative on occupational heat exposure to protect outdoor workers, including agricultural, construction, and delivery workers, as well as indoor workers, including those in warehouses, factories, and kitchens. OSHA is also launching a rulemaking process to develop a workplace heat standard. Other actions include an EPA effort to establish cooling centers at schools, a heat resilience innovation challenge through the Department of Homeland Security, and reducing urban heat through enhancing tree cover. 
Explore EPA's Green Infrastructure Handbook EPA's Green Streets Handbook is intended to help state and local governments, designers, and others develop site design strategies and green infrastructure practices for roads, alleys, and parking lots. The handbook provides a framework and strategies to be used when identifying areas suitable for green infrastructure practices or systems, including permeable pavement. 
Environmental Justice Listserv For up-to-date information about Environmental Justice funding opportunities, events, and webinars, subscribe to EPA's Environmental Justice listserv by sending a blank email to join-epa-ej@lists.epa.gov.  
Heat Islands News and Resources
Funding and Technical Assistance Opportunities
Application for Summer 2022 Heat Island Mapping Campaign Closes January 14, 2022
The National Integrated Heat Health Information System (NIHHIS) opened applications on October 28, 2021 for its 2022 cohort of urban heat island mapping campaigns. Over the past 5 years, the campaigns have supported over 40 communities across the United States in mapping local heat islands. Results of the campaigns include high-resolution air temperature and humidity data, and a detailed analysis of the distribution of heat throughout a summer day in each community. The application period will close on January 14, 2022.
USDA Community Forest and Open Space Conservation Program – Applications due January 10, 2022
The U.S. Forest Service is requesting applications for a competitive grant program designed to establish community forests by protecting forest land from conversion to non-forest uses. The grants are also intended to provide community benefits such as environmental benefits including clean air, water, and wildlife habitat; forest-based educational programs; and recreational benefits.
General Heat Islands
New Orleans, Newark, New York City, Houston, and San Francisco among Cities with Most Intense Heat Islands 
In a recent report, Climate Central created an index to evaluate the intensity of heat islands and applied it to 159 cities across the United States. The study measured heat island intensity based on albedo, percentage of greenery, population density, building height, and design of city streets. Results showed the cities, on average, had temperature scores 4–9 degrees higher than surrounding, less-developed areas. The five most intense heat islands were found in New Orleans, LA; Newark, NJ; New York City, NY; Houston, TX; and San Francisco, CA.
Future Extreme Heat May Drive Measurable Economic and Social Consequences
The Atlantic Council released a report analyzing the impacts of heat under current and future climate conditions. Using climate model projections to analyze labor conditions across U.S. counties, the report reveals how heat stress disproportionately impacts racial groups. Without intervention, extreme heat is expected to cost nearly $500 billion annually due to labor-productivity losses and claim nearly 60,000 lives per year by 2050.
Cool Materials
Cool Pavements and Other Technologies Could Help Mitigate the Impacts of Phoenix's Extreme Heat
Last year, Phoenix, AZ, selected eight neighborhoods from each City Council District to receive cool pavement treatment. After the first year, the pilot project revealed that cool pavement surface temperatures were lower than traditional pavement surfaces at all times of the day, with afternoon temperatures being on average 10–12 degrees Fahrenheit lower. A video released by the Public Broadcasting Service (PBS) also highlighted studies of surface temperatures across Phoenix neighborhoods and reviewed the impacts of cooling strategies. In addition to cool pavements, many neighborhoods are planting trees, painting white roofs, and doing more to help cool the city. 
Jersey City Climate Plan Specifies Cool Roofs for Large Buildings
Jersey City, NJ, released a climate plan that aims to reduce greenhouse gas emissions, adapt and build resilience to climate change, and ensure equitable solutions for residents. To reduce the local heat island effect, new buildings over 25,000 square feet will need to use their roof space for solar panels, green roofs, or cool roofs by 2022. 
Equity and Public Health
Low-Income Communities and People of Color Face Magnifying Impacts of Extreme Heat
An article published in Nature reviews how extreme heat disproportionately impacts low-income communities and people of color based on historical redlining, impervious surfaces, and lack of vegetation and trees. A University of North Carolina Chapel Hill researcher combined satellite measurements of urban temperatures with census data from 175 cities across the United States. The study revealed that in 97% of cities, communities of color were exposed to temperatures 1 degree Celsius higher, on average, than non-Hispanic, white communities. 
Rising Risk of Electrical Grid Failures during Heat Waves Could Have Deadly Impacts
The New York Times published an article exploring research published in Environmental Science & Technology🔒 that analyzes the risk of overlapping extreme heat events and power failures. Researchers evaluated temperatures from heat waves across different neighborhoods in Detroit, MI; Phoenix, AZ; and Atlanta, GA; and modeled how a citywide black out would impact indoor temperatures during heat waves. The results showed that an estimated 70% and 68% of Atlanta and Detroit populations, respectively, would experience indoor air temperatures that would expose them to a risk of heat stroke, while 100% of the Phoenix population would experience similarly dangerous indoor temperatures. 
Trees and Vegetation
Cleveland Aims to Reach 30% Tree Cover by 2040 to Combat Heat
In this video, PBS interviews several individuals regarding city-wide efforts in Cleveland, OH, to increase its tree canopy to achieve 30% city tree cover by 2040. The City of Cleveland and the Cleveland Tree Coalition will dedicate $1 million each year for the next 10 years to preserve the tree canopy and plant new trees. The video highlights that Cleveland will need to plant 300,000 new trees over the next decade to reach this goal, while also preserving the current tree canopy from disease, pests, and weather.
Comprehensive Set of Climate Adaptation Actions for Urban Forests
A new Urban Forest Climate and Health Adaptation Menu developed by the U.S. Forest Service is designed to help natural resource managers and community leaders identify urban forestry actions suitable for certain landscapes and projects. It suggests a range of adaptation tactics across nine separate strategies for optimizing climate and human health outcomes of urban forestry projects, including heat island reduction.