Educate Motivate Innovate (EMI) Climate Justice Initiative
The Educate Motivate Innovate (EMI) Climate Justice Initiative strives to engage the next generation of climate justice leaders and expand partnerships with Minority Serving Institutions by offering an opportunity for climate justice leaders to present their work at the EMI Workshop during the National Environmental Justice Conference and Training Program.
For information on how to apply for this opportunity, please visit:
What is the Educate Motivate Innovate (EMI) Initiative?
This national initiative showcases student projects that address the relationship between climate change and its impacts on minority, American Indian Tribes and Alaska Natives, and vulnerable and underserved communities. EMI is a working group comprised of representatives from different federal agencies.
Who is eligible to participate?
The EMI Call for Student Climate Justice Abstracts is open to undergraduate and graduate students attending Minority-Serving Institutions, including: Historically Black Colleges and Universities, Tribal Colleges and Universities, Hispanic Serving Institutions, and Asian American and Native American Pacific Islander Serving Institutions.
While each MSI may submit more than one abstract, we will not accept more than one abstract from any given institution. A maximum of five student abstracts will be accepted.
Is travel involved?
Yes, selected students will travel to Washington, D.C. to present their abstracts during the EMI Workshop, which will be held in conjunction with the National Environmental Justice Conference (NEJC) and Training Program. Students will also be able to share their work during the student poster presentations.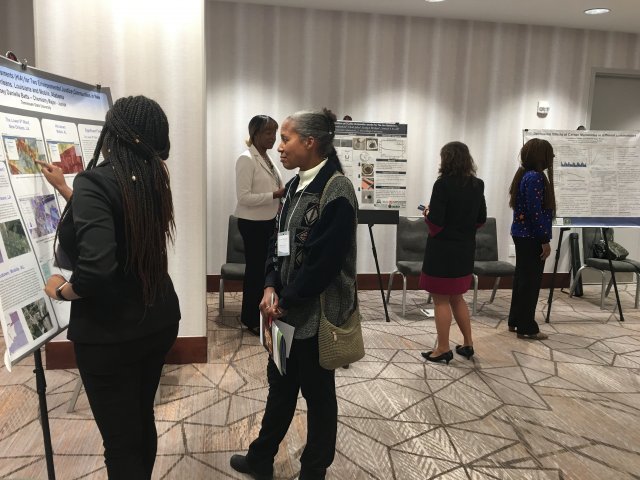 Meet the EMI Student Panelists
Click here to meet the students on the 2020 EMI panel.
Click here to meet the students on the 2019 EMI panel. 
Click here to meet the students on the 2018 EMI panel.
Click here to meet the students on the 2017 EMI panel.
This is a chance for our next generation of climate justice leaders to engage with environmental elders and activists as well as influential members of academia, government and non-governmental organizations.
If you are interested in participating in the EMI Workshop, then please submit your Project Abstract to Joanna Mounce Stancil (joannastancil@fs.fed.us). You can learn more about the expectations for abstracts below.
Submitting a Student Climate Justice Abstract

Are there specific topic areas that should be addressed in an abstract?
The EMI encourages students to develop projects that explore climate justice in relationship to public health disparities, cultural and traditional practices, economic development, and environmental justice (EJ) communities.
What should be included in my abstract?
Abstract submissions should not exceed two pages double-spaced. Selected students will have approximately 20 minutes to present their work during the EMI workshop.
All abstracts should include:
Title
Student and professor contact information
Project statement to include discovery questions or issues being addressed
Project type – for example: survey, community field project, development of new tools or resources, etc.
Structured of your presentation at the workshop – for example: power point, demonstration, video, etc.
Name of the targeted environmental justice community, issues faced, and their level of involvement
How does this project relate to climate justice?
What are the benefits of this project to the environmental justice community at large?
What tools, methods, and resources, including those developed or offered by the federal government, were used during the project?
What progress, findings, results, or accomplishments have you witnessed to date?
If this is an ongoing project, then what is the next phase or steps of the project?
What challenges and/or lessons were learned from the project?
How will the abstracts be evaluated?
Abstracts will be evaluated by:
Relevance of abstracts to topic area;
Originality of project or research question; and
Wider significance for advancing climate justice efforts.
How do I get additional information?