Radiological Technology Demonstration
The US EPA and DHS Wide Area Urban Radiological Containment, Mitigation, and Clean up Technology Demonstration was held at Battelle in Columbus, Ohio, June 22‐25, 2016. This highly successful event provided responders options for response to a wide area radiological incident, such as a dirty bomb explosion or a nuclear accident, by showing the responders the operation feasibility of the tools in real time while the end users deployed the technologies. While no live rad agents were employed in this demo, critical operational insight was gained by the response community. This event continues the applied rad cleanup research conducted by NHSRC at bench and pilot scales over the last several years. In attendance were senior officials from the Department of Homeland Security, Ohio EPA, Columbus, OH City Council, Battelle Memorial Institute, first responders from the U.S. and Canada, EPA responders, technology vendors, representatives from FEMA, New York City, the Navajo Nation, the United Kingdom, ORD‐NHSRC and many others.
Michael Tobin, emergency management planner from Charlotte, NC had this to say about the demonstration,  "It's a great advantage to us to have the federal authorities look at these products, be able to test them, with input obviously from the local response organizations that are going to respond, to see what is the best product on the market."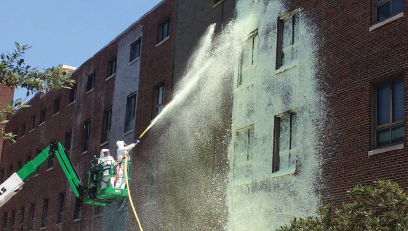 Watch the Toolbox of Technology  Exitvideo to learn more.