About the Director of EPA's Office of Continuous Improvement
Stefan Martiyan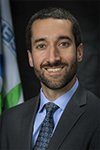 Stefan Martiyan is the Acting Director of the EPA's Office of Continuous Improvement (OCI). OCI is located within the Office of the Chief Financial Officer and is tasked to coordinate the agency-wide implementation of the EPA's continuous improvement program. This program uses Lean process improvement principles and tools to help ensure that all parts of EPA set ambitious and achievable targets for their work, measure their results, and improve their processes to bridge gaps between targets and results. OCI helps EPA teams use visual management with regularly updated performance and workflow data to monitor progress toward achieving EPA's Strategic Plan targets.​
Prior to joining OCI, Stefan worked in the EPA's Office of Acquisition Solutions (OAS) for nearly 10 years and most recently as a branch chief in the Headquarters Acquisition Division. With the support of his former staff, Stefan led a successful continuous improvement project that quickly eliminated a behind-schedule work backlog and significantly increased compliance numbers with regard to processing time.
Stefan joined the EPA in 2008 as part of the U.S. Department of the Interior's Government-wide Acquisition Management Intern Program, which also availed him the opportunity to work for the U.S. Department of Defense in support of the Pentagon on research and development projects, enterprise-wide IT-related acquisitions and facilities management. Prior to working for the federal government, he managed a private English language school in The People's Republic of China.
Stefan graduated from the University of Maryland of College Park with a bachelor's degree in Business Finance and received a Master's Certificate in Government Contracting from George Washington University. He is the son of a retired Army officer and he now lives with his wife and two children in the Annapolis area.