EPA's Role in International Climate Adaptation and Resilience
EPA provides analytical tools and expertise to broad-based international partnerships focused on local and regional level efforts to adapt, build resilience and develop more sustainably.
Current Work
---
UNEP Global Adaptation Network (GAN)
The Global Adaptation Network (GAN) of the United Nations Environment Programme (UNEP) builds climate resilience in vulnerable communities, ecosystems and economies by translating complex data into simple, results oriented information that can be used by communities to help them lead their own climate adaptation actions. 
EPA partnered with the UN GAN Secretariat and steering committee members to initiate and launch a series of pilot "Learning Exchanges" to help local communities build climate resilience and adapt to climate change. The program facilitates face-to-face exchanges of adaptation information and know-how between local communities that can often be geographically distant.  Between 2016-2017, exchanges took place between:
four cities in Mozambique and South Africa; 
faith-based organizations in India and Malawi; 
members in Latin America of REGATTA (UN Regional Getaway for Technology Transfer and Climate Change Action for Latin America and the Caribbean), one of the GAN's regional networks;
the Mexican Center for Research in Food and Development and the Chilean Ministry of Environment, and 
adaptation practitioners in Colombia and Honduras.
In addition to the activities listed above, since 2017, working with several international partners, GAN has conducted four international training workshops on how to deploy the EPIC model locally, to enhance local government capacity to adapt and develop more sustainably by drawing up on the intellectual resources of local universities in several cities in Africa. 
GAN has also made a long-term commitment to expanding local networks of implementers of the EPIC model in Africa and Asia. With support from GAN, the first EPIC training workshop for 30 pairs of Asian city and university officials took place over 3 days in May 2021. GAN has also instituted a bi-monthly online newsletter and a podcast series on adaptation and resilience. 
More information on the GAN can be found on its updated web platform.
​Learn more:
---
Durban Adaptation Charter (DAC)
The Durban Adaptation Charter for Local Governments (DAC) was the outcome of a local government convention held in Durban, South Africa, in December 2011.  By signing the DAC, elected officials agreed to take actions to adapt to climate change and build resilience. To date, approximately 1000 elected local and urban government officials from developing country cities and municipalities have signed the DAC. In 2012, EPA and several international partners began efforts to transform the DAC to an action-based platform that will facilitate the sharing of knowledge, tools, information and experiences between developing country cities, and between developing and developed country cities, and facilitate trainings on adaptation and resilience.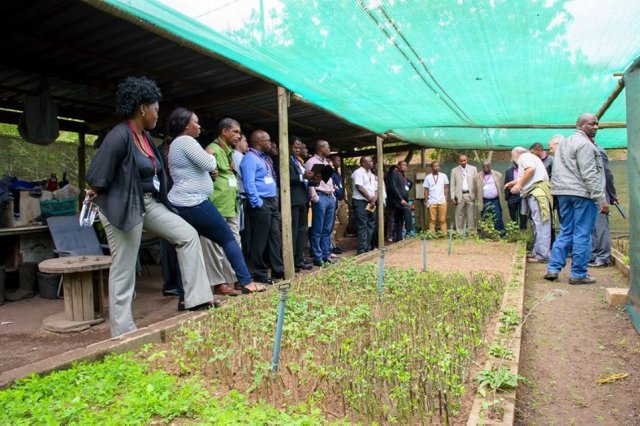 Notable DAC accomplishments to date include:
Sharing of adaptation measures and management practices, through city-to-city exchanges between Durban, South Africa; Nacala, Quelimane and Pemba in Mozambique; and Mombasa, Kenya; Windhoek, Namibia; and Dar es Salaam, Tanzania. 
Development of a Durban-based local climate adaptation compact (Central KwaZulu-Natal Climate Change Compact or CKZNCCC) to coordinate regional adaptation and resilience activities.  The Durban compact was modeled after the SE Florida Regional Climate Change Compact. In early 2019, CKZNCCC members agreed to work together to implement several community-based river management projects.
In 2017 the Mozambican cities of Nacala, Pemba, Quelimane, Mocimboa da Praia and Ilha de Moçambique formed the Compact of Northern Mozambique Coastal Cities, modeled after Durban, South Africa's CKZNCCC.
In 2019, the South African Province of Mpumalanga declared its intention to establish its own regional climate compact modeled after the CKZNCCC.
Discussions are currently underway between Durban, South Africa; Lusaka, Zambia; Harare, Zimbabwe; Mombasa, Kenya; and Windhoek, Namibia regarding the development of climate compacts in these cities modeled after the CKZNCCC in Durban.
The South African government has also urged all major metro areas in South Africa to form local compacts modeled after the CKZNCC in Durban.
Many DAC cities and regional compact members are now also implementing the EPIC model as an additional tool to help local governments and communities increase their capacity to adapt, build resilience and develop more sustainably. A decade after its launch, the DAC is now one of the longest adaptation-focused initiatives in existence offering insights to other cities of the Global South on pathways to adaptation action.
Learn more:
---
EPIC (Educational Partnerships for Innovation in Communities)
The EPIC model pairs local governments and communities with university students and faculty, to enhance local capacity to enact effective solutions to address adaptation, resilience and local development. To date, the EPIC model has been implemented by more than 70 university-based programs in more than 300 diverse communities globally, to complete more than 1700 projects  mobilizing more than a million hours of expert-supervised student effort. 
In 2017, EPA worked with the EPIC Network Secretariat and other international partners to present the EPIC model (which originated in North America) for the first time, to cities and universities from developing countries globally through a training workshop funded by the National Science Foundation (NSF) and the UN Global Adaptation Network (GAN).  In November 2017, a second regional training on the EPIC model in Cape Town, South Africa for sub-Saharan cities and universities led to the formation of the EPIC Africa regional network.
With support from the international START (global changes SysTem for Analysis, Research and Training) program, in early 2020, members of the EPIC Africa regional network, along with OITA and several other international partners, including the UN GAN and the EPIC Network Secretariat, hosted the first Africa-led EPIC training for other Africans in Durban, South Africa, thereby expanding the EPIC Africa regional network of African cities and universities implementing the EPIC model in their respective settings. Ten pairs of university and local government officials participated.  
Since early 2018, several EPIC projects have been completed or are currently underway in Lusaka, Zambia; Nairobi, Kenya; Durban, South Africa; Nacala, Mozambique; and Mombasa, Kenya.
Highlights of some of the activities to date include:
In Lusaka, Zambia, officials worked with universities to produce detailed maps showing which areas were most prone to risks related to flooding, sewage, and unmanaged trash. This information was a key input in the production of a strategic plan to redevelop the Kanyama informal settlement. The EPIC model has already saved Lusaka over $100,000 while providing practical learning opportunities to area students. More recently, the University worked with the City Council to develop a set of Covid-19 community safety protocols.
In Durban, South Africa, students completed the mapping of sources and types of solid waste and waste discharge of dwellings and flood-prone areas within the Palmiet informal community. Led by local leaders, work is underway to manage waste, clear drainages and help restore ecosystems along the banks of the flood prone Palmiet river area as a means of improving community health and resilience. Palmiet leaders are now sharing their best practices and lessons learned with leaders in six other South African watersheds.
In Nairobi, Kenya, based on the ideas and early work of students from the University of Nairobi, the governor of Nairobi contracted UN Habitat and the Stockholm Environment Institute to remove waste and make infrastructure repairs along a pilot section of Luthuli Street in the central business district (CBD).  It has since been free of waste, generating more pedestrian traffic and attracting customers to the small businesses located in the CBD.
In Mombasa, Kenya, the local university worked with local government officials to produce a unique set of Covid-19 safety protocols permitted sanitizing large numbers of people while remaining sensitive to Muslim religious norms.
In Nacala, Mozambique, as a result of an EPIC partnership, local governments and communities have implemented an early warning system for dangerous weather and climate events.  Local government officials have also set in motion an initiative to replant mangroves along the coast as an ecosystem-based way to enhance the coastal resilience of Nacala.
With support from the GAN, in May 2021, the EPIC-Network and its partners hosted a first training workshop on the EPIC model for university and local government officials from various parts of Asia, with over 60 officials participating.  Plans are also underway to introduce the EPIC model to city and university officials in Latin America. 
Learn more:
---
OECD Joint DAC-EPOC Task Team on Climate Change and Development
From 2011-2015, EPA participated in the Joint Development Assistance Committee-Environment Policy Committee (DAC-EPOC) Task Team on Climate Change and Development Co-Operation of the Organization for Economic Cooperation and Development (OECD), to assess the effectiveness and cost of climate resilience and adaptation measures.
During this period, the following reports on resilience and adaptation were published as part of this cooperative effort. The last in this series of reports, Climate Change Risks and Adaptation: Linking Policy and Economics, was originally published in 2015, and updated in 2020.
---
Contacts
For additional information on EPA's international climate adaptation and resilience programs, contact:
Anthony Socci, PhD
U.S. Environmental Protection Agency
Office of International and Tribal Affairs (2670R)
1200 Pennsylvania Ave., NW
Washington, DC 20460