Healthy Urban Communities in Connecticut
On this page:
On related pages:
---
Community Development Pyramid
Evolution of the Environmental Justice Movement in Hartford, CT Case Study:
During the 1960's and 1970's Hartford lost much of its manufacturing base, and the middle class fled to the suburbs. In 1990, Hartford's population was approximately 130,000 people, with 70% minority including 36% Black and 34% Latino. Residents live in an area of 18.4 square miles with 17 neighborhoods. Hartford is the 8th poorest city in the country and hosts a regional landfill, sewage treatment plant, sewage sludge incinerator, trash-to-energy incinerator, and four small electrical generation plants. The trash-to-energy incinerator contributes 56% of the non-traffic air pollution. Two major interstate highways (I-84 and I-91) border Hartford and four state high-ways traverse the city producing 70% of the mobile source carbon monoxide. Childhood lead poisoning rates are twice the state average. The Connecticut River, an American Heritage River, has a fish consumption alert due to high levels of mercury in the watershed. The Park River and Piper Brook have high bacteria levels and metals contamination from combined sewer overflows, point source and non-point source runoff. Sprawl and lack of investment created 339 acres of vacant land and nearly 1,000 abandoned buildings. Hartford is a city where money is made, but not locally invested.
Click on each phase of the pyramid to examine the role of the EPA and community partners to create a new climate in Hartford where the community's voice influences decisions that are reversing years of environmental injustice and are changing the quality of the environment where they live, work and play.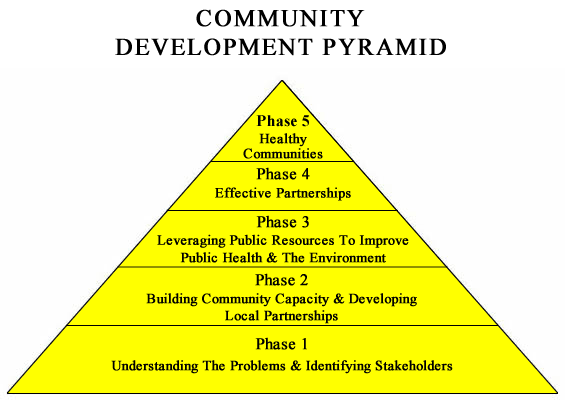 Click each phase for additional information.
---
Partners
Bridgeport Community Health Center
Building Parent Power
Christian Activities Council
Citizen's Research Education Network
Clay Arsenal Neighborhood Revitalization Zone
Connecticut Bicycle Collaborative
Connecticut Citizen's Research Group
Connecticut Coalition for Environmental Justice
Connecticut Indoor Environments Resource Team
Consolidated School Districts of New Britain
East End Community Council
Eastern Connecticut Resource and Conservation Development Area
Fairfield County Environmental Justice Network
Hartford Area Rally Together
Hartford Environmental Justice Network
Hartford Health & Human Services
Hispanic Health Council
Organized North Eastern / Clay Hill and North End
Park River Watershed Revitalization Initiative
Pliny Block Association
Southside Institutional Neighborhood Association
UCONN's Environmental Division
UCONN Environmental Research Institute
Upper Albany Merchants Association
Upper Albany Neighborhood Collaborative