Healthy Urban Communities in Massachusetts
On this page:
On related pages:
---
Community Development Pyramid
Urban Environmental Infrastructure in Boston, MA Case Study:
Boston has always been a city full of neighborhood activism, so it was not difficult to find groups, issues or communities to work with. Many Boston neighborhoods launched community-based efforts to protect the urban environment, but were faced with many daunting obstacles. Federal, state and municipal environmental laws were numerous, confusing, and often not designed to meet resident needs. The legal and technical resources required to solve urban problems were nonexistent because mainstream environ-mental groups generally ignored inner city environmental issues and focused on wildlife habitat and ecosystem preservation. There was also little public education on the connections between the urban economy, environment and public health.
Click on each phase of the pyramid to examine the EPA's efforts to service community needs by developing a sustainable infrastructure so local stakeholders and residents have a forum to get information, raise their concerns, and access resources to improve the health and environmental quality in Boston neighborhoods.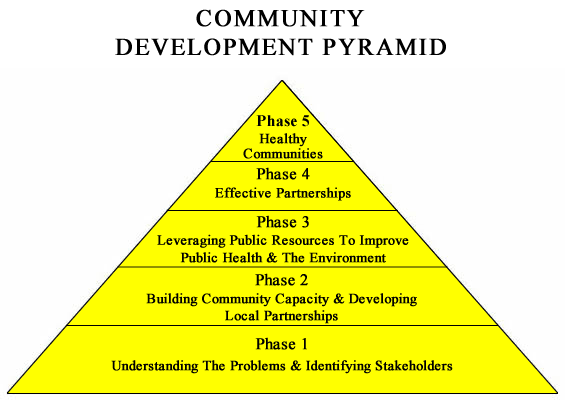 Click each phase for additional information.
---
Partners
Ari Henta Hastings House
Boston University, School of Public Health
Chelsea Community Connection Coalition
City of Boston, Office of Sustainable Boston
Coalition to Protect Chinatown
Committee for Boston Public Housing
Dimlock, Codman Square, South Boston and Bowdoin Street Health Centers
Earthworks
East Boston Ecumenical Community Committee
East Boston Recreation, Master Planning, Advisory Council
Environmental Diversity Forum
Freedom House
Garden Futures
Greater Boston Environmental Justice Network
Massachusetts Department of Fisheries, Wildlife and Environmental Law Enforcement Riverways Programs
Massachusetts Environmental Collaborative
Metropolitan Area Planning Council
NELCC
Neighborhoods Against Urban Pollution
Notifications of Oil or Hazardous Substances Database
Revision House
Roxbury Environmental Empowerment Program
Second Nature
STRIVE
Suffolk County Conservation
Urban Ecology Institute
Urban Revival, Inc.