Success Stories for HUC in Massachusetts
On this page:
---
Effective Partnerships Working to Virtually Eliminate Childhood Lead Poisoning in Boston, MA
Since the passing of the Anti Lead Law in 1978, total childhood lead poisoning cases have dropped, but is still found in 1 million children nationwide. Many of these cases are concentrated in low-income, diverse, urban cities. EPA New England has partnered with many critical stakeholders to achieve measurable results in reducing childhood lead poisoning in Boston, MA. In 1992, EPA NE created a Regional Lead Strategy to prioritize work to eliminate childhood lead poisoning.
The first step for EPA NE was identifying and working with external partners to produce results. One of the flagship partners that helped contribute to the regional strategy and serve as partner for implementation was Tufts University. Tufts worked with EPA NE to create the New England Lead Coordinating Committee (NELCC) - the first regional collaboration of government agencies and non-profit groups throughout New England, working with public, private, and non-profit health and housing organizations to develop and strengthen a coalition for lead poisoning prevention in New England. The NELCC designed and implements the "Keep it Clean Campaign" to educate home renovators about safe practices to keep children safe from lead poisoning during renovation and remodeling activities. The NELCC also formed and maintains partnerships with hardware stores (e.g. Home Depot, local vendors, etc.) all over New England and ensures that store employees are trained on lead-safe renovation techniques and how to help customers with questions on lead safety and in exchange distribute copies of brochures, posters and carpenter pencils to customers.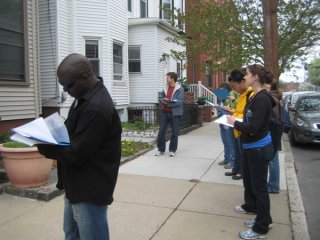 Tufts University and EPA NE worked together to launch the Lead Action Collaborative (LAC) in 1993, a partnership which aims to bring together nonprofits, state, federal and local government agencies, health organizations, and foundations to create a multifaceted approach to combat lead poisoning in Boston. The Lead Safe Yard Project brought environmental information to the public via the latest monitoring, information management, and communications technologies and further built upon previous partnership efforts to address lead poisoning. The objective of the Lead Safe Yard Project is to provide time-relevant soil lead concentration data so that residents can make educated decisions that will reduce the exposure of pre-school children to lead, and reduce the incidence of elevated blood levels throughout a community within the Boston metropolitan area, as well as raise awareness of the residential lead in soil issue and provide a template or tool box that could be used by individuals, community organizers, or local government to mitigate the risk of lead poisoning from residential soil.
Next, the GIS mapping project with the LAC, Tufts University, and EPA NE was conducted to use available data to identify Boston communities with the highest concentrations of elevated blood levels (Pb >10ug/dl)  in children under 7 years old. The neighborhoods of North and South Dorchester, Roxbury, Hyde Park, and Mattapan, identified as Tier 1 neighborhoods, showed the highest lead levels in all of Boston and in fact contain 70% of all lead poisoning cases in the City. While the number of cases in the city as a whole declined 50% between 1994 and 1999, these neighborhoods have not experienced such reductions. In the face of this data, LAC, EPA NE and Tufts brought together legislators, policy makers, government officials and community leaders at the "Lets End it Here!" Summit in Boston and came up with the "Boston Blueprint to End Childhood Lead Poisoning." The Blueprint lays out a detailed strategy to address and eradicate lead poisoning over the next five years. To achieve this goal, the Blueprint will work to bring together groups working on lead issues in a collaborative effort that is community driven, promotes education and creates a unified approach to improve Boston neighborhoods and make homes safe for children. The EPA is continuing work with the LAC and other community partners to create detailed profiles for all Tier 1 neighborhoods, in part by deploying a local community tool to identify potential risks on a street-by-street, house-by-house level (e.g. presence of peeling paint, bare soil, gardens, etc.).
In recent years, EPA has continued to work closely on tracking implementation of the Boston Blueprint and has created a Community Assessment Tool to help investigate and document neighborhood conditions on a street by street, lot by lot basis to identify areas and housing with a high risk of lead poisoning. Volunteers from the community head out into neighborhoods to identify housing conditions that may indicate a potential for lead poisoning including peeling or chipping paint, housing conditions, presence of children, type of ground cover, and other information. The information will be used and mapped to identify areas in need of assistance and will allow partners working on the Boston Blueprint to focus available efforts to the areas with the greatest needs. The National Center for Healthy Housing and Abt Associates, working with the LAC and other stakeholders including the EPA and City of Boston, have developed a pilot web based housing registry called LeadSafeHomes.Info. The website is a powerful tool for targeting lead poisoning prevention efforts in Boston. It provides key information for parents, homeowners, tenants, community groups and policy makers to maximize the value of lead poisoning prevention efforts and resources. LeadSafeHomes.info also provides address-specific information for all of Massachusetts and community level information about childhood lead poisoning in Boston neighborhoods. The website was launched to the public on May 14, 2004 in Boston, MA.
These combined partnership efforts have already produced impressive measurable results. Elevated blood lead levels in Boston children have dropped from 1,123 cases in 2001 to 278 cases in 2009. In fact, in 2009 only 11 children in Boston had elevated blood levels of 25 ug/dl or higher. Recent data from the Boston Childhood Lead Poisoning Prevention Program also reports that Fenway is Boston's first neighborhood with zero lead poisoned children.  EPA NE and community partners are now poised to build upon successes and achieve the mutual goals of virtually ending childhood lead poisoning in Boston in the next few years.
---
The Food Project, Inc.: Cultivating Partnerships for Healthy Urban Soils and Communities
The Food Project, Inc. worked to establish the best practices for urban agriculture in areas with high levels of lead contamination. The project's two key goals were to expand the capacity of inner-city Boston communities to grow fresh, healthy food using chemical-free, lead safe techniques and to promote the value of urban agriculture among a broad spectrum of audiences. The project efforts were aimed at the Boston neighborhoods of Dorchester and Roxbury, as well as East Boston, Jamaica Plain, Mattapan, and Roslindale. These neighborhoods have significant proportions of low-income households and were target areas in a recent food and fitness assessment by the Boston Collaborative for Food and Fitness, because they suffer from the most significant public health disparities in the city. The project was intended to increase community knowledge and capacity to understand and practice the most cost-effective lead safe food growing techniques for the urban environment. Through its work, the organization wanted to have a positive effect on the health and wellness of the individuals and the community. To do so, it created and preserved urban natural resources and green/open space while simultaneously increasing the neighborhood production of fresh, healthy foods in a neighborhood where such foods are not readily available.
To achieve its goals, the organization collaborated with a broad spectrum of stakeholders on two main projects. The Build-a-Garden project combined the talents and energy of the group's youth interns to build raised bed gardens for community members and community organizations. The project also provided critical material resources and training workshops to those audiences. Next, the Urban Learning Farm, the Food Project's second project, served as an urban agriculture demonstration site in the Dudley Street neighborhood. This facility hosted workshops for both backyard gardeners and youth from nearby elementary schools and partner organizations.
The Food Project, along with its youth interns and partner organizations, worked to provide elementary school children as well as some older youth with experimental learning opportunities at the Urban Learning Farm, deliver weekly workshops and one-on-one consulting on safe-gardening techniques to urban backyard gardeners, and increase the ability of inner-city households and organizations to grow their own food safely through the "Build-a-Garden" Program. Additionally, the project aimed to assist local organizations in maintaining and expanding their vegetable gardens and education to their constituents about healthy eating and urban agriculture. The group guided visitors on urban agriculture tours and lead volunteers from the corporate, faith-based, community and educational sectors in experiential learning activities at the organization's Dorchester farms.
After achieving its goals through the Healthy Communities Grant, the Food Project continues major aspects of its work with the Build-a-Garden project and Urban Learn Farm. Both are growing and involving with the help of collaborating organizations and volunteers, and the projects' positive effects on the neighborhoods and the residents continue to evident throughout the community.
---
The Condor Street Urban Wild Site
The Condor Street Urban Wild is a 4.5 acre site of urban vacant land in East Boston along the Chelsea Creek. The site was owned by a series of industrial companies, the last of which left by the 1970s, leaving behind on-site structures and contamination. The site was then declared an "urban wild" by the Boston Redevelopment Authority (BRA), which aimed to transform the site from a degraded, contaminated, former industrial site, into a safe, attractive, accessible nature area to provide community access to open/green space, passive recreation, and environmental education opportunities to the residents for East Boston and Chelsea, MA. However, despite the fact that residents of these communities have been working for over 20 years to revitalize this property, lack of funding inhibited the project from moving forward for years.
In December 2000, the Urban Environmental Initiative (now the Urban Environmental Program) proposed the Condor Street Urban Wild project as a Supplemental Environmental Project (SEP) for Waste Management of Massachusetts. EPA New England had reached an agreement with Waste Management that resulted in a penalty amount of $3.1 million due to its violations involving crushing of refrigerators and air conditioners during curbside trash pick up operations without first removing the refrigerant. Approximately $900,000 was required to help support the construction of the Condor Street Urban Wild. The plan included adding trees and plants to provide air quality benefits, restoring the wildlife habitat, and enhancing water quality through recreation of salt marsh. A trust fund was established to help continue maintenance of the site for fifteen years after its restoration. Since the public participated in the conceptual design process, the plans for the site reconstruction reflected their priorities and interests. The project aimed to provide much needed green and opens space to the residents of the surrounding communities. The project recreated salt marsh and upland habitats, as well as created a path and boardwalk system for safe public access to the Chelsea Creek. Upon its completion, this became the first location for community residents to safely access the creek.
The Groundbreaking Ceremony in August 2002 launched the construction of the site; by October 2003 the site was opened to the public with a ceremony including EPA New England Regional Administrator Robert W. Varney, Acting Administrator Marianna Lamont Horinko, Mayor Meninio, and local artist B. Amore. The opening ceremony was attended by over one hundred people.
Site of the Condor Street Urban Wild before revitalization work began in 2002.

Site of the Condor Street Urban Wild before revitalization work began in 2002.

Site of the Condor Street Urban Wild before revitalization work began in 2002.

The Condor Street Urban Wild was opened to the public in October, 2003.

The Condor Street Urban Wild was opened to the public in October, 2003.

The Condor Street Urban Wild was opened to the public in October, 2003.