Healthy Urban Communities in Rhode Island
On this page:
On related pages:
---
Community Development Pyramid
Lead Poisoning Prevention in Providence, RI Case Study:
Lead poisoning is a preventable disease, which makes the health effects on children from lead exposure especially tragic. Childhood lead poisoning is one of the most serious environmental health problems in the state of Rhode Island. The prevalence of children with elevated blood lead levels in the state of Rhode Island is more than double the U.S. rate. For Hispanic children, the rate in Rhode Island is nearly six times the national rate. In 1995, one out of every three children tested in the City of Providence under the age of six had elevated blood lead levels.
Lead poisoning is linked to housing conditions and the burden of lead poisoning is disproportionately borne by low-income families, especially those who live in Providence's absentee-owned rental properties. These deteriorating structures and the hazards they create affect the quality of life of entire neighborhoods. Rhode Island has the fourth oldest housing stock in the nation, with 43% of the stock built before 1940 and over 75% built before 1970. Nearly 300,000 housing units in Rhode Island have potential lead paint hazards and associated lead-contaminated yards. Of these units, over 90,000 are low income households. Low income households account for nearly 30% of the homeowners in Rhode Island. Overall, 31% of the low-income owners have housing problems and the rate rises to 41% for minority owner households. Hispanic owner house-holds have the highest percentage with 43.8% experiencing housing problems. In addition to poor housing quality, Providence also has nearly 4,000 city-owned urban residential vacant lots which are host to illegal dumping and a home for rats.
Click on each phase of the pyramid to examine the value and success of the EPA's multi-stakeholder, community-based approach to focus federal resources to support community priorities and create safer environments to reduce the number of children with lead poisoning in Providence.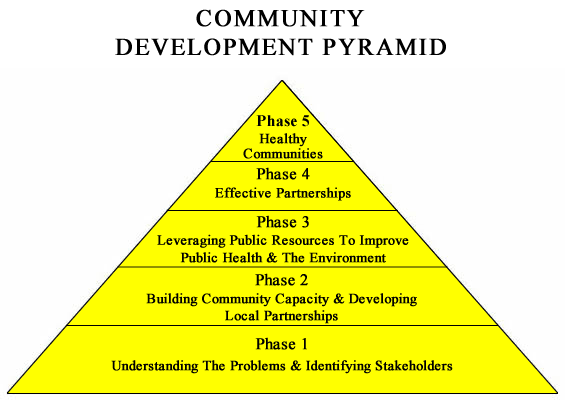 Click each phase for additional information.
---
Partners
The following links exit the site
Allen AME Church
AMEN Inc.
Center for Hispanic Policy and Advocacy
City of North Providence, Mayor's Office
City of Providence, Office of Neighborhood Environmental Affairs
Clean Water Action
Environmental Diversity Education Forum
Friends of the Mossasuck
Greater Elmwood Neighborhood Services
Keep Providence Beautiful
Northern Rhode Island Conservation District
Progreso Latino
Providence Department of Planning
Providence Environmental Strike Team and Environmental Court
Providence Neighborhood Housing Corporation
South Providence Development Corporation
Southeast Asian Development Corporation
Woonasquatucket River Greenway Project