Success Stories for HUC in Connecticut
On this page:
---
Groundwork Bridgeport: Vacant Lot Restoration and Demonstration Project
Groundwork Bridgeport is a grassroots non-profit organization started in 1998. The organization was awarded a Healthy Communities Grant with the purpose of collaborating with the Park City Brownfields Partnership, the East Side Community Council (ESCC) and the East End Community Council (EECC) to transform at least two vacant blighted lots to healthy green/open space in neighborhoods that are subject to urban decay. In conjunction with this project, the organizations planned to involve the community (ESCC and EECC) to work on the vacant lot to greenspace transformation in order to bring a sense of community pride as well as to promote environmental education by including permanent signs on how contamination affects properties and their population.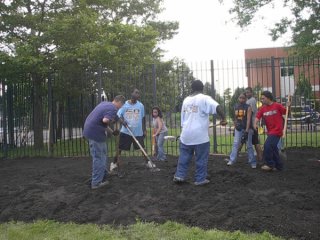 The areas decided upon for restoration were two city-owned lots in the East Side and a site in the East End, the two neediest areas in the City both of which are prone to environmental issues, have few parks and playgrounds, and include some of the lowest-income families.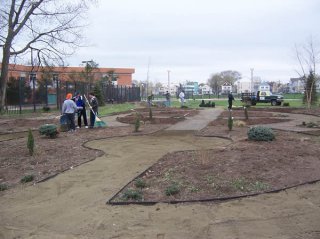 The outcome of the organization and its partners' efforts was tremendous. The two vacant lots near Luis Marin School were successfully converted into an outdoor classroom and environmental demonstrations site. High school and elementary school students participated in building the site and developing the technical resource materials for the teachers to use with their classes at the site. This outdoor classroom is now used on a daily basis. Furthermore, the work helped to educate the youth about the benefits of environmental awareness, responsibility and stewardship. The students learned how contaminants get into the soil and how to avoid this problem, along with gaining an understanding and respect of the importance of plants in their environment. The health benefits of this new area are sure to make a strong positive impact on the students as well. Decreased exposure to contamination and promotion of physical exercise are the main health benefits of the project. Encouraging children to walk in the parks potentially decreases obesity levels and the addition of oxygen producing plantings, shrubs and trees potentially decreases asthma.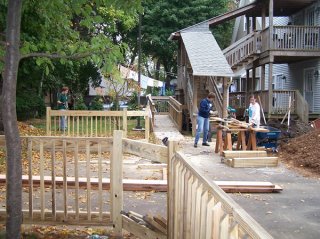 Additionally, the area behind the ReFocus Outreach Ministry was cleaned and converted into a community meeting area, recreational area, and garden, in partnership with the East End Community Council, General Electric, Fairfield University, and residents of the Ministry. Educational presentations, focused on topics including job opportunities, sun exposure, asthma, environmental hazards, exercise, recycling, support groups, etc, are held in the meeting area for residents and neighborhood residents to participate. The garden is host to vegetables and flowers, which are raised by the residents and the recreational area is used by the resident women and their babies.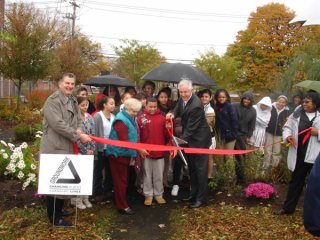 The sustainability of these projects where taken into account in the initial planning of the project. The organization is still working with the student and teachers of Luis Marin School science club and the city to maintain the condition of the outdoor classroom, include it in city-wide clean up days, and enhance the technical discussion material by working with the science club. The organization also stays in close contact with the staff of ReFocus Outreach Ministry and will work with them to maintain the site along with the resident women, who will do most of the site maintenance as part of the chores. The goal is to keep these areas enjoyable and beneficial to the residents for years to come.
Both of these projects make an immeasurable contribution to the creation and maintenance of Bridgeport as a livable community. Inner-city people are encouraged to experience nature and learn about its role and importance in their everyday lives in a healthy environment. Luis Marin School's science club and outdoor classroom engage students in the sciences and encourage environmental education. Overall, the Groundwork Bridgeport project was a huge success that has made, and will continue to make, a positive impact on the lives of Bridgeport residents.
---
Greater Waterbury Interfaith Ministries: Brass City Harvest
The Greater Waterbury Interfaith Ministries project Brass City Harvest was created to provide education, outreach and training on soil testing, remediation, mitigation and encapsulation methods for a variety of stakeholders in the City of Waterbury, Connecticut. The project goals included soil testing and analysis for at least 30 urban gardens, development of multicultural education and outreach materials on soil toxins and public knowledge and awareness of soil toxins and reduce risk to community residents from exposure to soil toxins. Waterbury is a post-industrial municipality, and low income residents are clustered in an area of high environmental contamination, blight, and urban decay. The project addressed environmental and public health protection by providing outreach to low-income inner city dwellers who disproportionately suffer from poor environmental conditions.
The project's first action was employing numerous methods to provide outreach to residents through community association meetings, weekly farmers' market booths/information table, AM radio WATR and public service announcements on Galaxia (Hispanic AM radio), and local newsprint. The group distributed hundreds of handouts and copies of articles from EPA's North Boston back yard project. A bilingual flier was made available at community meetings, Hispanic church functions, and at the weekly farmer's market for non-English proficient residents. Additionally, two Spanish public service announcements aired on Galaxia AM radio. These efforts resulted in the group successfully maintaining a database and creating a soil sampling location map marked with push pins that is housed at the Connecticut Agricultural Extension Center. Sites of high contamination of heavy metals and locations of former heavy industries are outlined on the map as well. Past soil testing by Yale University and the Connecticut Agricultural Extension Center were made part of the database. The information was then shared with the Waterbury Health Department and has been incorporated in their grant requests to the US Department of Housing & Urban Development for their lead abatement programs.
The organization also achieved its goal of creating productive green space in the target neighborhood. Community gardens on Hill Street, Burton Street, Branch Street, and Grant Street were successfully developed in collaboration with several other organizations including the Police Activity League and the Walnut-Orange-Walsh Learning Center. The group also teamed up with the Waterbury Police Activity League and attenuated lead, arsenic and other heavy metal contamination in a one acre piece of park land that borders the Crownbrook and Overlook neighborhoods to create an urban farm. The farm is now part of a community program conducted by youth employed by the Northwest Regional Workforce Investment Board and the produce is distributed charitably to the youth workers, St. Vincent de Paul Soup Kitchen, and Waterbury Baptist Ministries' Food Pantry. Through this work as well, Brass City Harvest established a relationship with the Connecticut Agricultural Extension Station, who provided technical assistance with the project.
The Ministries will continue to expand their urban agriculture programs and routinely test garden soil and attenuate any soil conditions as has been done under the grant program. Continued community education about the importance of raised garden beds is an important part of the project's sustainability. The project is part of a sustainable community food system that provides healthier, livable neighborhoods through the eradication of vacant, blighted land, creation of new green space and productive agricultural space. The lessons learned through the implementation of the project have improved, and will continue to improve, the quality of life for urban residents of some of the poorest neighborhoods in Waterbury. Additionally, the Waterbury Interfaith Ministries received new CDBG funding for 2011 that will allow the organization to expand its community gardening program into the south end of the city.
Burton Street Community Garden from the Beginning...
Burton Street Community Garden After Environmental Reclamation
Fulton Farm - Environmental Reclamation and Attenuation
Fulton Farm - A Youth Engaged Public-Private Project
Fulton Farm Stand - Operated by Youth
Crownbrook Greenhouse & Children's Community Garden - Before
Crownbrook Greenhouse & Children's Community Garden - After
---
Consolidated School Districts of New Britain: Improving Lead Education Materials, a Multilingual Approach
The Consolidated School Districts of New Britain in partnership with the New Britain Health Department began this project with the intent to create low literacy, educational material in multiple languages for residents in the town of New Britain. The goals and objectives of this project addressed environmental and public health protection primarily by educating the community.
According to the 2000 US Census, approximately 31% of the adults over the age of 25 years old living in the City of New Britain do not have a high school diploma or equivalent degree. The School District serves approximately 12,000 students. 41.4% of these students come from non-English speaking homes. There are over 1150 students enrolled in pre-kindergarten and kindergarten programs. In New Britain, 52.5% of the housing units are rental units. Children living in these units are at great risk for lead exposure. Of the children screened for lead during the 2005-2006 school year, 25 % were found to have lead levels greater than 10 ud/dl. It is the goal of this project to develop and distribute multilingual low literacy lead poisoning prevention education and outreach materials for parents in target communities in New Britain, Connecticut.
In order for the organization to achieve these goals, they would conduct outreach to families via community events, school meetings, and health fairs to encourage participation of preschool aged children in New Britain Health Department's annual school lead screening events. New education material was developed and existing lead prevention education material would be reduced to a 4th grade literacy level. The goals aimed at educating the parents were to distribute new lead educational materials in multiple different languages to parents of all students enrolled in New Britain Health Department's Annual School Lead Screenings and provide lead awareness and outreach training to existing district and public health staff and volunteers, with the objective of training several parent, high school, and nurse volunteers in lead poisoning signs/symptoms awareness and to assist with lead screening event promotion. The organization also planned to translate new information into Spanish, Polish, and Arabic languages to ensure all residents had access to appropriate educational materials. The existing free lead screening program would be advertised in at least three minority and/or non-English print, video, or audio media outlets. Finally, the organization will train individuals to participate in city and/or school district sponsored programs such as school and community health fairs, city wide health and recreation events, and preschool/kindergarten new student orientation programs to further provide information about lead poisoning prevention.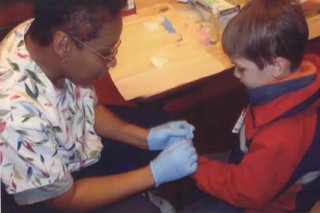 During the organization's implementation of these goals, it managed to increase participation in the New Britain Health Department annual school lead screening to 630 pre-kindergarten and kindergarten students, a 53.5% increase. Low literacy educational material in Spanish, Polish, Bosnian, Somalian, Chinese and Arabic were created through a professional education service. These materials were distributed to the 630 students who participated in the lead screening, as well as through the New Britain Heath Departments clinic, Human Resources Inc office, all the pediatricians' offices, Licensed Day Care Centers, Head Start Programs, the Visiting Nurses Association (VNA) and may also be used by the Connecticut Department of Public Health to be distributed statewide. The group successfully trained nine additional Parent Volunteers and two high school students that helped make phone calls to recruit parents to participate in the lead screenings. Twenty school nurses were trained in the identification of lead poisoning signs and symptoms, and appropriate follow-up services. Other media were used to promote the lead screenings as well, these included Spanish and Polish media, La Voz and Polski Express, and two bulletin boards located in the New England Community.
All in all, the objectives of the Consolidated School Districts of New Britain were met with great success. There were a total of six trainings and sixteen health fairs that were attended by trained volunteers. The organization noticed that, through this work, it was clear the New Britain residents wanted the information but needed it in a format that was understandable; the grant allowed the group to get the information in an understandable format out into the community. The project sustainability can be measured by the fact that the information created through the grant will continue to be given out to the community as well as to all the partners in the community that request it. The education and outreach produced through project will continue to promote and provide the awareness and the knowledge of lead poisoning within the community and will lead to lower incidence of lead poisoning throughout the city of New Britain, which is the definitive goal of the Consolidated School Districts organization.
---
Bridgeport CARE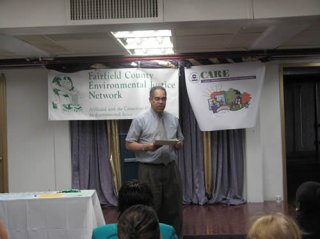 The City of Bridgeport, Connecticut is the state's largest city at 140,885 people residing in a land area of 16 square miles. However, the poverty rate is 18.4%, more than double the state level of 7.9%. Bridgeport CARE is a community-based, community-driven EPA funded program created to convene a multi-stakeholder partnership to help the community understand existing and potential sources of risk to residents' health and set priorities for the reduction of specific pollutants and environmental toxins. The program was launched in October 2007 with a grant to the Connecticut Coalition for Environmental Justice (CCEJ). CCEJ created a broad based partnership of more than twenty-five stakeholders representing, NGO's, academic institutions, local businesses and industry, government representation from local, state and federal sectors, private health companies and residents. The partnership identified nearly forty environmental and public health concerns of importance to the residents of Bridgeport including increased incidence of asthma and lead poisoning, mixed zoning, exposure to dust and air toxics from industrial sources, illegal dumping, vacant and contaminated properties, as well as mold and poor air quality in schools.
The partnership has maintained a bias for action and has utilized its monthly meetings to bring in speakers with relevant knowledge and expertise to address the community's immediate concerns. For example, Bridgeport CARE invited Bob Girard, CT DEP Air Bureau to a monthly partners meeting to provide information regarding the State's Air Enforcement Program and complains processing protocol. Residents and CARE partners were frustrated by the lack of action on complains reported to city and were unclear as to which government entity maintained regulatory authority to address specific concerns.
Bridgeport CARE sponsored two successful EPA facilitated community forums with industry representatives and other key stakeholders to address specific community concerns (dust, noise, idling) requiring immediate attention. The first meeting was to address concerns related to the resumption of Connecticut Light & Power's Transmission Line construction project. Community impacts from the project included a substantial increase in diesel truck traffic, noise and dust from operations throughout the day and night. The second community meeting was with O&G Industries. The community is concerned about increasing asthma rates and respiratory illnesses among their families and friend. O&G recycles construction soils and asphalt. The facility maintains a huge soil pile on its property that is not covered and the height is unrestricted. Dozens of diesel trucks haul their material to and from the facility day and night. The community believes their health is being compromised by this facility and other industrial facilities in their community. Nearly seventy individuals were in attendance at each event. A few positive outcomes from those meetings included: a notice to all truckers hauling construction soil to cover their trucks, reduce speed to mitigate the slamming of their tailgates and to only use designated traffic routes. CT DOT and DMV coordinated having inspectors on site which resulted in over 20K in fines for truck loads being over capacity. Signs were posted to remind truckers of the States' three minute anti idling rule.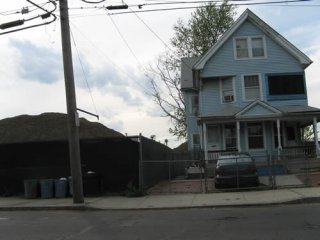 Overall, the Bridgeport CARE project resulted in a number of notable accomplishments. The organization conducted a student air quality monitoring project, utilized survey monkey (an electronic survey tool) to gain input from the broader community regarding priority environmental and public health concerns, researched and mapped with support from EPA's GIS Division environmental and public health data to aid the partnership's process of risk ranking and prioritization. Bridgeport CARE successfully guided the community through the process of collaborative problem solving which resulted in immediate quality of life improvements as well as bridged the communication gap between the community, the city and local industry. Bridgeport CARE has since negotiated landscaping improvements at O&G in an effort to mitigate environmental health concerns and make the facility more visually appealing. At the O&G facility, trees were planted and ivy placed along the fence in front of the facility. The type and number of trees were selected in partnership with Bridgeport CARE. O &G also agreed to expand efforts to control dust by watering the soil piles and utilizing tarp to cover the piles of soil when feasible. The Bridgeport CARE project, in partnership with the Green New Haven CARE project have coauthored a lessons learned document entitled "How to Ensure Effective Community Engagement at Construction Projects: Lessons Learned from Two CARE Communities in Connecticut". This document was created as a resource for other communities planning construction projects. It is hoped that these lessons will be considered by all stakeholders in order to ensure meaningful public involvement, to ease the burden on affected communities, and to minimize construction-related conflicts. For a complete copy of the lessons learned document go to: 
After thoughtful review of the local environmental and public health data, the CARE partnership prioritized asthma, tools for schools implementation and the promotion of recycling as their top priorities for action. Bridgeport CARE hopes to continue their efforts to reduce risks from exposure to toxics through a Level II CARE Grant. Currently, Bridgeport CARE in partnership with the East End Neighborhood Revitalization Zone, East End Community Council and Fairfield Environmental Justice Network are working with the City to address ongoing zoning and permitting concerns. Bridgeport CARE will continue to work on maintaining momentum with the CARE Roadmap process, facilitating relationships between key sectors of the community, keeping members engaged in the CARE process, and continuing recruitment efforts to ensure broad based representation of stakeholders in addressing community issues.
---
The Children's Museum in West Hartford: "Park River Assessment Program"
Founded in 1972, the Children's Museum is a non-profit institute that seeks to increase public understanding of science, mathematics, technology and the environment through exhibits and programs. The Park River Assessment Program project worked with community partners to initiate a community watershed enhancement program for the Park River Watershed which covers the urban areas of Hartford, New Britain and West Hartford. Preliminary data from the North and South branches of the Park River indicate moderate to severely impaired water quality and the project invited family teams and community youth groups to adopt stream segments, monitor water quality, and conduct stream walks to assess in-stream and riparian conditions. The project promoted community awareness of the river, gather water quality data on all waterways in the project area, identify and photograph areas where improvements or restoration are needed, and engage families in collecting water quality data. Workshops were also held to educate volunteers on the causes and effects of water pollution, provide training on stream walks, water quality monitoring sampling protocols, and sampling techniques. The Children's Museum worked closely with partners, such as the Farmington River Watershed Association's Park River Watershed Revitalization Initiative, and community's volunteers to organize improvement projects including river clean-ups, bank stabilization, wildlife habitat enhancement, plantings to reduce storm water flow and improve flood control, and others as needed.
The successes of the program included the recruitment of over fifteen families/youth groups for participation, half of stream segments identified were assessed, volunteers received technical support and were accompanied on the majority of the stream walks and water quality monitoring activities. The water quality data was generated and analyzed to create GIS maps of the watershed, nine sites were selected for improvement/restoration projects, and forty-five additional volunteer teams were recruited in the second year of the project.
Volunteer sorting macroinvertebrates.

Volunteers identifying macroinvertebrates.

Project partner measuring channel width.

Streamwalk training kids June 2008

Streamwalk training kids June 2008.

Volunteer at storm water outfall.

Volunteer getting ready to sort macroinvertebrates.

Volunteer surveying stream habitat.

Volunteers at blocked stream channel culvert.

Volunteers at storm water outfall.

Volunteers call it a day.

Volunteers collecting macroinvertebrates.

Volunteers collecting macroinvertebrates.

Volunteers measuring stream channel width.

Volunteers recording data.

Volunteers sorting macroinvertebrates.

Volunteers surveying stream habitat stream.