About EPA's Chief Information Officer
Vaughn Noga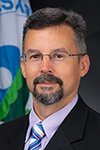 Mr. Noga currently serves as the Chief Information Officer for the Environmental Protection Agency (EPA) as well as the Deputy Assistant Administrator for Environmental Information, Office of Mission Support, within the Agency. Since taking this position in 2018, Mr. Noga has been responsible for a diverse portfolio of over 290 administrative professionals and technical experts consisting of six offices and an Information Technology System Security Staff. With an annual budget of $300 million, Mr. Noga leads the EPA's Environmental Information workforce in delivering innovative, strategically aligned, technically sound, and cost-effective IT solutions.  Most recently, Mr. Noga was selected as an award winner of FedScoop's 2020 Best Bosses in Federal IT.
Mr. Noga's executive leadership within the EPA preceded his current position starting in 2008. He previously held the position of Director, Office of Administration, Office of Administration and Resources Management. In that position he was responsible for facilities and property management, physical and personnel security, and safety and health within the agency.  Additionally, Mr. Noga spent several years in the Office of Technology Operations and Planning as the Deputy Director and then Chief Technology Officer and Director. While serving in that capacity, Mr. Noga was responsible for providing agency services including desktop support, data center hosting, and wide area network operations and the delivery of a wide-variety of information technology services.
Prior to joining the EPA, Mr. Noga worked as a government contractor and is a veteran of the United States Air Force. With over 20 years of IT experience, he also holds a Master of Arts in Information Technology Management, from Webster University, and a Bachelor of Science in Social Psychology from Park College.