Livestock Anaerobic Digester Database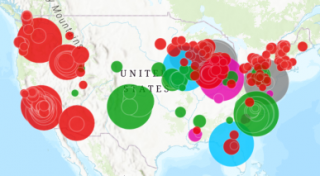 The Livestock Anaerobic Digester Database provides key information on anaerobic digester projects on livestock farms in the United States. Project data is accessible through the database map, database table, or downloadable Excel file. AgSTAR publishes updated data on this website periodically (generally, two times per year) to enhance public access to information and support the development of biogas recovery projects. Because the data are compiled from a variety of voluntary sources, AgSTAR cannot guarantee the accuracy of the information in the Anaerobic Digester Database. While the Program strives to keep the information as updated and accurate as possible, the database is not exhaustive and may not include data for every anaerobic digester project on livestock farms in the United States.
The database map and table list only projects that are in operation. The downloadable Excel file includes projects that are under construction and projects that have been shut down. The Excel file also contains more site-specific information.
Pursuant to 5 CFR § 2635.702(c)(2), names are displayed here as the result of recognition for achievement given under an agency program of recognition for accomplishment in support of the agency's mission. Any reference to a specific company or commercial product or service by trade name, trademark, manufacturer, company, or otherwise does not constitute or imply the endorsement or recommendation of EPA.
AgSTAR Livestock Anaerobic Digester Database (xlsx) (based on data available through May 2022)
Have an update or correction to the Database? Contact AgSTAR to provide your updated information.
Tips:
► Use the Filters row below the column headings to narrow the list.
► Use the Search input to find projects based on a key word.
► Use the Show dropdown to control the number of entries displayed on your screen at one time.
► If necessary, you should be able to scroll horizontally to view all of the columns; use your browser's zoom feature to fit more columns on your screen.
| Project Name | City | State | Digester Type | Biogas Use(s) | Start Year | Animal Types | Co-digestion | Attributes | USDA Funding |
| --- | --- | --- | --- | --- | --- | --- | --- | --- | --- |
| Project Name | City | State | Digester Type | Biogas Use(s) | Start Year | Animal Types | Co-digestion |   | USDA Funding |