Clean Water State Revolving Fund PISCES Program: George F. Ames Performance and Innovation in the SRF Creating Environmental Success Program
The Clean Water State Revolving Fund's George F. Ames Performance and Innovation in the SRF Creating Environmental Success (PISCES) program recognizes CWSRF assistance recipients for exceptional projects and highlights them nationally. Participating state programs each nominate one project that exemplifies one or more of the following evaluation criteria:
Environmental and Public Health Protection
Community Engagement
System Partnerships
Innovative Financing
Problem Solving
Eligible projects must have an executed CWSRF assistance agreement and can be operational or in the planning phase. EPA selects an Exceptional Project from the nominations every year for each of the five evaluation criteria categories. The remaining nominated PISCES projects receive Honorable Mention recognition.
On this page:
---
Projects Recognized by the George F. Ames PISCES Program - 2021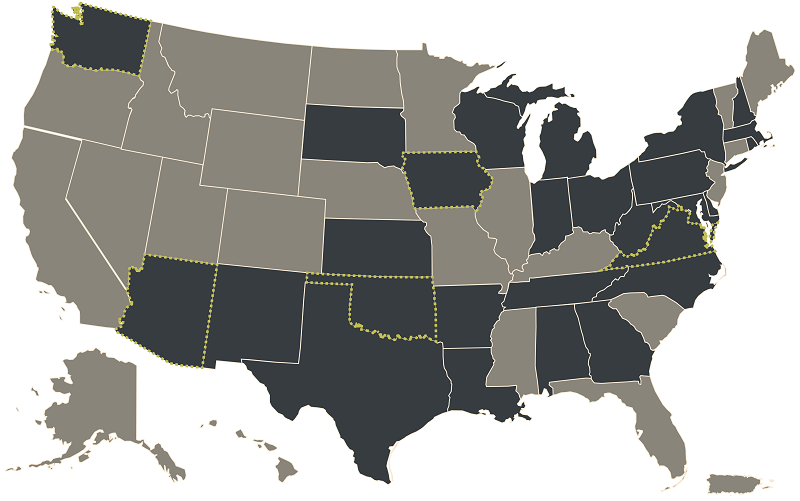 Exceptional Projects are outlined in yellow. Honorable Mention projects are shaded in dark grey.
Table of Exceptional and Honorable Mention Projects
State 
Project
Exceptional Projects
Arizona
Flagstaff Watershed Protection
Washington
Mashel River Protection
Virginia
Agriculture BMPs
Iowa
ReHarvest Pay for Success
Oklahoma
Bartlesville's Indirect Potable Water Reuse Solution
Honorable Mention Projects
Alabama
Mobile Master Plan Phase 1
Arkansas
Clarifier Repair
Delaware
Comfort Burton Land Conservation Sponsorship
Georgia
Stormwater System Improvements
Indiana
Wastewater Improvements
Kansas
Rock Creek Stream Bank Stabilization
Louisiana
North WWTP Improvements
Maryland
Back River WWTP
Massachusetts
York Street Pump Station and Connecticut River Crossing
Michigan
Lansing CSO Sub-Area 034C Project
New Hampshire
Peirce Island WWTF Upgrade
New Mexico
Roosevelt County Fairgrounds Stormwater
New York
Sauquoit Creek Floodplain Restoration
North Carolina
Wardola-Thompson School Creek Restoration
Ohio
Butler Regional WWTP
Pennsylvania
Agricultural BMPs
Rhode Island
Charlotte Hope Plaza Stormwater
South Dakota
Tea Sanitary Sewer Regionalization
Tennessee
WWTP Improvements
Texas
Regional Wastewater Improvements
West Virginia
Wastewater System and Infiltration/Inflow Rehabilitation
Wisconsin
Bluffview Wastewater Treatment Facility Upgrade
2021 PISCES and AQUARIUS Roundtable
On February 16, 2022, EPA hosted a virtual roundtable with state and community representatives to celebrate infrastructure projects recognized for excellence and innovation within the Clean Water State Revolving Fund (SRF) and Drinking Water SRF programs. These exemplary projects demonstrate leadership in innovative financing, partnership, and problem solving while improving water quality and public health protection.
Speakers included: EPA Assistant Administrator for Water Radhika Fox; Executive Director of the Council of Infrastructure Financing Authorities Deirdre Finn; Albuquerque Bernalillo County Water Utility Authority, New Mexico; Town of North Smithfield, Rhode Island; Town of Marana, Arizona; Maryland American Water, Maryland; ReHarvest Partners, Iowa; Garber Farms Inc., Virginia; City of Flagstaff, Arizona; Bartlesville Municipal Authority, Oklahoma; and Nisqually Tribe in Washington State.
Note: The first few minutes of Assistant Administrator Fox's remarks were not recorded.
PISCES Recognition Program Compendiums of Recognized Projects for Previous Years: