PISCES
CWSRF PISCES Program: Performance and Innovation in the SRF Creating Environmental Success
The Clean Water State Revolving Fund's Performance and Innovation in the SRF Creating Environmental Success (PISCES) program allows assistance recipients to gain national recognition for exceptional projects funded by the CWSRF. Participating state programs each nominated one project that demonstrates one or more of the following evaluation criteria:
Water Quality, Public Health, or Economic Benefits
Sustainability
Innovation
Projects eligible for recognition may be any size but must have an executed assistance agreement in place. Projects may be operational or in the planning phase. After all project nominations were reviewed, EPA selected five exceptional projects for further recognition. These five projects demonstrated excellence in matching the PISCES criteria and pushed the envelope for being innovative in using the CWSRF to achieve clean water for their communities. Several additional projects closely demonstrated this level of innovation and are recognized as an Honorable Mention. 
See the PISCES news release.
We hope you enjoy learning about the 2018 PISCES projects and that they inspire continued state and local CWSRF success. For more information:
On this page:
On separate pages:
Projects Recognized by the PISCES Program - 2018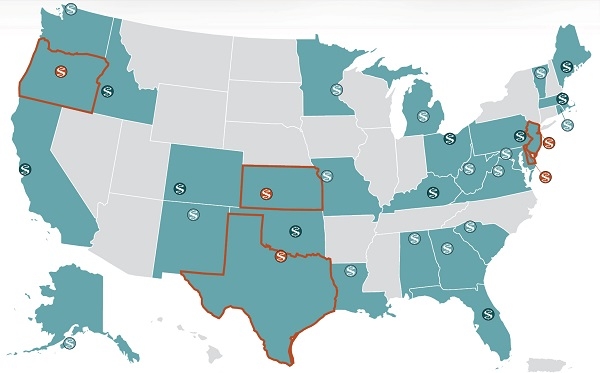 View a larger version of this map
| State | Project Name | Recognition Level |
| --- | --- | --- |
| Delaware | Wilmington Renewable Energy and Biosolids Facility | Exceptional Project |
| Kansas | Dodge City Biogas Reuse to Motor Fuel Project | Exceptional Project |
| New Jersey | South Monmouth Regional Sewerage Authority Pump Station Resiliency | Exceptional Project |
| Oregon | Prineville Crooked River Wetlands Complex | Exceptional Project |
| Texas | Wichita Falls Permanent Reuse Project | Exceptional Project |
| California | Lake Merced Green Infrastructure | Honorable Mention |
| Colorado | Santa Rita Water Reclamation Facility | Honorable Mention |
| Florida | Minuteman Causeway Stormwater/Streetscape Improvements | Honorable Mention |
| Idaho | Nampa Wastewater Treatment Plant Upgrade | Honorable Mention |
| Kentucky | Lincoln County Sanitation District Junction City to Hustonville Sewer | Honorable Mention |
| Maine | Lewiston-Auburn Water Pollution Control Authority Anaerobic Digestion | Honorable Mention |
| Massachusetts | Grafton Wastewater Treatment Plant Improvements | Honorable Mention |
| Ohio | Avon Lake Lateral Loan Program | Honorable Mention |
| Oklahoma | Atoka Reservoir Dam Rehabilitation | Honorable Mention |
| Pennsylvania | Fritz Island Solids and Liquids Treatment Plant Upgrade | Honorable Mention |
| Alabama | Cullman Wastewater Treatment Plant Improvements | Recognized Project |
| Alaska | Kodiak Compost Facility | Recognized Project |
| Georgia | Lake Peachtree Dam Spillway | Recognized Project |
| Louisiana | West Monroe Solar Panel Farm | Recognized Project |
| Maryland | Cumberland Combined Sewer Overflow Storage Facility | Recognized Project |
| Michigan | East Lansing Headworks Upgrades and Outfall Retrofit Into a Relief Interceptor | Recognized Project |
| Minnesota | Afton Stormwater Green Infrastructure and Advanced Wastewater Treatment | Recognized Project |
| Missouri | Liberty Design-Build Wastewater Treatment Facility | Recognized Project |
| New Mexico | Cuba Solids Handling and Effluent Reuse | Recognized Project |
| Rhode Island | Wellington Avenue CSO Treatment Facility Upgrade | Recognized Project |
| South Carolina | Reedy River Basin Sewer Tunnel | Recognized Project |
| Vermont | Waterbury Wastewater Treatment Facility Upgrade | Recognized Project |
| Virginia | Harrisonburg-Rockingham Regional Sewer Authority Biogas Recovery & Reuse | Recognized Project |
| Washington | Squalicum Creek Water Quality and Biotic Integrity Improvements | Recognized Project |
| West Virginia | Pennsboro Wastewater System Improvement Project | Recognized Project |