Des Moines TCE Superfund Site, Des Moines, Iowa - Fact Sheet, June 2021
Site Update
What's Happening at the Site?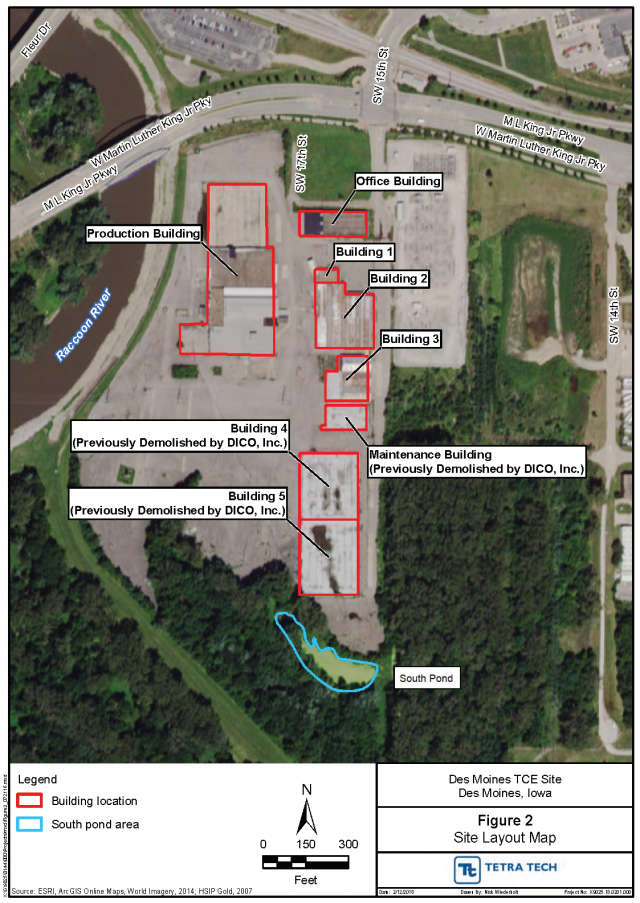 The United States, Dico Inc., and Titan Tire Corporation have reached an agreement resolving judgments owed to the United States and allowing for the transfer of the Dico property, part of the Des Moines TCE Superfund Site, to the city of Des Moines for redevelopment. With proceeds from the settlement, EPA will demolish and dispose of Buildings 1, 2 and 3 (as shown on site map at right), which contain contaminants from historical production operations at the site. EPA also plans to excavate sediments contaminated with pesticides from the South Pond area of the site (outlined in blue on site map) and dispose of those sediments off-site.
Upcoming Work in Your Neighborhood
EPA will be working on building demolition and pond excavation, starting in May 2021, and this work is expected to continue for several months. This work will take place at the intersection of 19th Street and Martin Luther King Jr Pkwy in Des Moines. The work is expected to cause little disruption to the surrounding area.
What Is EPA Cleaning Up?
Trichloroethylene (TCE), polychlorinated biphenyls (PCBs), and several hazardous pesticides, such as aldrin and dieldrin, are considered contaminants of concern (COCs) at the site. EPA's work will ensure that these contaminants do not pose a threat to human health and the environment as the use of the site changes. COCs are chemicals that need to be addressed by a cleanup action because they are a potential threat to human health or the environment.
The Centers for Disease Control and Prevention's Agency for Toxic Substances and Disease Registry (ATSDR) has a series of online summaries about contaminants, called ToxFAQs, where you can find summaries on trichloroethylene (TCE), polychlorinated biphenyls (PCBs), and aldrin/dieldrin. For more information on contaminants at Superfund sites, please visit EPA's website.
Information Repositories
EPA keeps site project information and reference materials for the public to read at information repositories. EPA assessed the ability of the public to access its online repository and determined that the local community has this ability. Copies of cleanup documents for this site are available on EPA's Site Profile Page.
EPA Contact Information
Tonya Howell
Remedial Project Manager
Superfund and Emergency Management Division
U.S. EPA Region 7 (SEMD/REMB/FFPC)
11201 Renner Boulevard
Lenexa, KS 66219
Phone: 913-551-7589
Tim Curry
On-Scene Coordinator
Superfund and Emergency Management Division
U.S. EPA Region 7 (SEMD/AERR)
11201 Renner Boulevard
Lenexa, KS 66219
Phone: 913-551-5129
Pam Houston
Community Involvement Coordinator
Office of Public Affairs
U.S. EPA Region 7 (ORA/OPA)
11201 Renner Boulevard
Lenexa, KS 66219
Phone: 913-551-7699