EPA Collaboration with Australia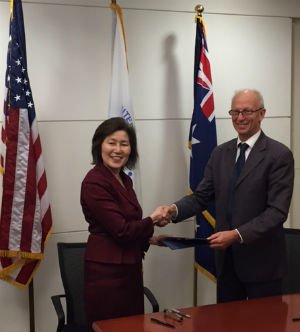 Australia, a key U.S. ally, is an important environmental partner for EPA in the Asia Pacific Region and faces many similar environmental issues that we face in the U.S.  EPA's current cooperation with Australia primarily focuses on water cooperation and sharing of lessons learned in areas of key environmental concern.
Explore our work in Australia: 
---
Activities
Environmental Enforcement and Compliance
Strengthening regional and global environmental enforcement and compliance has been a priority for EPA in our work with Australia. EPA was proud to work with the International Network for Environmental Compliance and Enforcement (INECE) and Australasian Environmental Law Enforcement and Regulators neTwork (AELERT) to support the 2020 conference Environmental Collaboration: Shaping the Future of Regulation, Compliance and Enforcement Together in Adelaide, Australia to convene, exchange knowledge, and strengthen alliances within the international community.
EPA has held exchanges with agencies in Australia on matters including criminal environmental investigations, innovative approaches that foster real-time monitoring such as EPA's Compliance and Emissions Data Reporting Interface (CEDRI) and Enforcement and Compliance History Online (ECHO), and other periodic meetings on civil and criminal enforcement.
 
Building Strong Institutions and Legal Structures
EPA shares our experience and lessons learned with Australian government officials both at the national and state level, the business community, as well as stakeholders, regarding environmental policy development, chemicals, enforcement, and emergency response. Recent information exchanges have focused on topics including resource recovery, "forever chemicals" such as PFAS, data reporting processes, and institutional continuous improvement.
In addition, international research projects foster scientist-to-scientist dialogue and cooperation. Discussions also take place under U.S.-Australia Science &Technology (S&T) Agreement workgroups, led by the U.S. Department of State.   
Improving Access to Clean Water
EPA has had a long standing collaborative relationship with Australia on sustainable water management issues.  Both countries face many common water quality and quantity issues such as increasing growth, drought, flooding, aging infrastructure and climate change, all of which add stress to limited resources.  
In 2011, the EPA Administrator and Australian Environment Minister signed a five-year MOU on water cooperation. Cooperation consisted of policy dialog and exchange of lessons learned, through management and technical staff discussion via video conference and, when appropriate, in face-to-face meetings.  This agreement was renewed in 2016 and is now expired.
Cooperation on Air Quality
EPA and our Australian counterparts have a history of exchanging experiences and lessons on addressing the reduction of air emissions.  Additionally, EPA partners with Australia to address methane emissions through the Global Methane Initiative.
Learn more:
---
Key Partners
The following links exit the site:
---
Learn More About Australia
---
Contacts
For additional information about EPA's work with Australia, contact:
Joshua Novikoff
Office of International and Tribal Affairs (2650R)
U.S. EPA
1200 Pennsylvania Ave., NW
Washington, DC 20460
Email: novikoff.joshua@epa.gov