Apply For or Update Your Renovation Firm's Lead-Safe Certification Today!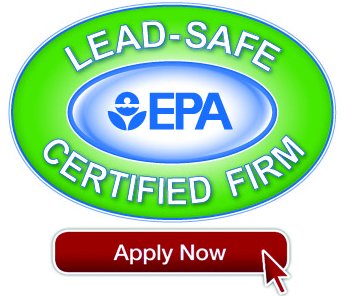 It's easy for renovation firms to apply for EPA's lead-safe certification, renew their certification or provide information updates.  Applications are done online and certificates are emailed in a couple of weeks.  Please add lead.paint@epa.gov to your contacts to ensure delivery of your certificate!
Before you proceed please be aware:
EPA certification does not apply in Alabama

, 

Delaware

, 

Georgia

, 

Iowa

, 

Kansas

, 

Massachusetts

, 

Mississippi

, 

North Carolina

, 

Oklahoma

, 

Oregon

, 

Rhode Island

, 

Utah, Vermont, Washington

, and 

Wisconsin

, 

or in the 

Bois Forte Tribe.   If you work in one of these areas you must apply directly to that program.
All of your employees must be trained, and a "Certified Renovator" must be assigned to each job.
Your certificate and customized logo are also sent to your CDX inbox, so if you don't see the approval in your email check there.  Just keep in mind it may take a week or two for the application to be approved.