Site Update, Dempster Industries Superfund Site, Beatrice, Nebraska – Fact Sheet, April 2022
Site Update
About the Site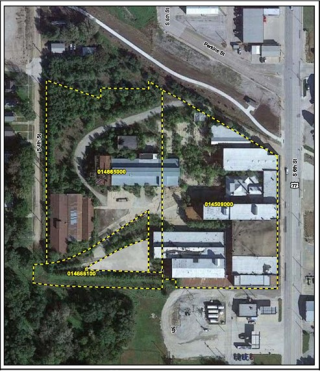 The Dempster Industries Superfund Site (site) is an abandoned industrial facility formerly used by Dempster Industries in Beatrice, Nebraska. It served as the location of an agricultural implement manufacturer for over 100 years, but the site has been vacant since at least 2017. The site covers approximately 10 acres and is improved with 19 buildings that encompass approximately 250,000 square feet of space.
The city of Beatrice, along with the Nebraska Department of Environment and Energy (NDEE), began a site assessment in 2017 and identified contamination associated with historical activities throughout the property. Specifically, the site assessment identified contamination including heavy metals and semi-volatile organic compounds in surface soil and shallow groundwater, and electrical equipment containing polychlorinated biphenyls (PCBs). In February 2021, NDEE contacted EPA about the electrical equipment at the site that was found to be leaking PCB-containing oils onto the concrete floors and walls of the building.
EPA initiated a time-critical removal action for the PCB contamination in the building in November 2021 and removed the spilled PCB-containing oils and electrical equipment. During this removal, EPA also identified many abandoned containers suspected to hold hazardous substances, as well as presumed asbestos-containing materials (PACM) throughout the building. As of February 2022, EPA has begun an assessment of those containers and PACM to determine an appropriate method of removal and disposal for those items.
What is Superfund?
Superfund often refers to hazardous waste sites and EPA's cleanup process. It is the common name for the Comprehensive Environmental Response, Compensation and Liability Act (CERCLA). This federal law authorizes EPA to clean up contaminated sites.
What are Polychlorinated Biphenyls (PCBs)?
PCBs are considered a contaminant of concern (COC) at the site. COCs are chemicals that need to be addressed by a cleanup action because they are a potential threat to human health or the environment. PCBs were domestically manufactured from 1929 until 1979. They were used in hundreds of industrial and commercial applications because they are non-flammable and chemically stable, have a high boiling point, and have electrical insulating properties. At the site, rainfall may exacerbate releases of PCBs to the environment and migration of PCBs to the Blue River.
The Centers for Disease Control and Prevention's Agency for Toxic Substances and Disease Registry (ATSDR) has a series of online summaries about contaminants, called ToxFAQs. You can find a ToxFAQs on PCBs, listed as Polychlorinated Biphenyls.
Information Repositories
Site project information is available to the public at web repositories. To view cleanup documents for this site, please visit EPA's website. If you don't have internet access, you can view these documents online at this location:
Beatrice Public Library
100 N. 16th St.
Beatrice, NE 68310
Phone: 402-223-3584
Contact Information
Kirk Mammoliti
On-Scene Coordinator
U.S. EPA Region 7 (SEMD/AERR/RREP)
11201 Renner Boulevard
Lenexa, KS 66219
Phone: 913-551-7902
Toll-free: 1-800-223-0425
Email: mammoliti.kirk@epa.gov
Amelia Holcomb
Community Involvement Coordinator
U.S. EPA Region 7 (ORA/OPA)
11201 Renner Boulevard
Lenexa, KS 66219
Phone: 913-551-7952
Toll-free: 1-800-223-0425
Email: holcomb.amelia@epa.gov